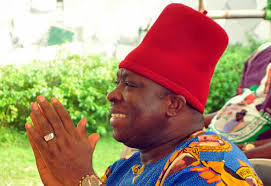 By Izunna Okafor, Awka
The Labour Party (LP) Senatorial Candidate for Anambra Central in the 2023 General Election, Chief Victor Umeh has taken an early lead against other senatorial candidates of the different political parties who contested in the zone, including the incumbent Senator Uche Ekwunife of the People's Democratic Party, PDP.
This was gathered from the details of the results so far announced at the Anambra Central Senatorial Collation Centre, Amawbia, where the results are currently being announced (local government by local government) by the Local Government Collation Officers of the various local government areas in the Central Senatorial District.
Senatorial results of some local government areas have so far been announced at the Collation Centre in the presence of the Senatorial Collation Officer, Prof. Chuka Stephen Enuka.
From the results of three local government areas (Awka North, Njikoka, and Anaocha Local Government Areas) so far announced today, the Labour Party, LP (Victor Umeh) polled a total of 31,782 votes; the All Progressive Grand Alliance, APGA (Dozie Nwankwo) polled a total of 27,572 votes; while the People's Democratic Party, PDP (Uche Ekwunife) polled a total of 20,114 votes, with other parties and their candidate polling lower votes.
Howbeit, the result announcement is still ongoing at the centre.
Anambra Central has been a centre of attention in the 2023 general election, given the calibre of the candidates contesting the seat, their political parties, their political antecedents and people's impression about them, with respect to popular opinion and public interest.
It would be recalled that incumbent Senator Ekwunife, who is currently struggling to retain the third position in the ongoing result announcement, had earlier declared her support for the presidential candidate of PDP, Atiku Abubakar, and rained some verbal attacks on the personalities of the LP presidential candidate, Peter Obi, and the LP senatorial candidate, Victor Umeh, whom she described as incompetent and inexperienced.
This is a developing story. More details later…