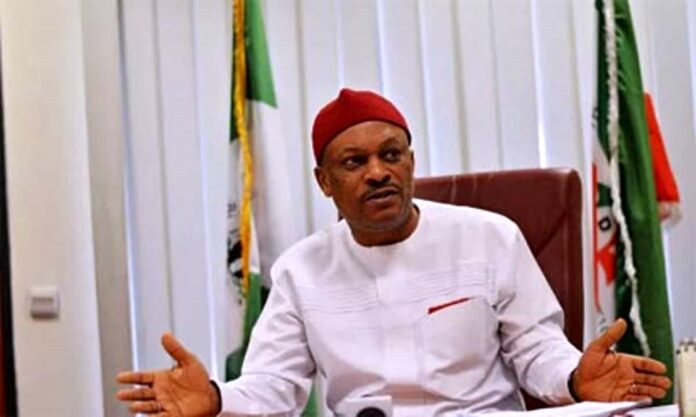 Ahead of this year's Governorship election, in Imo state the Mbaise nation comprising Aboh, Ahiazu and Ezinihitte Mbaise LGAs have passed a vote of confidence on the National Secretary of the Peoples Democratic Party (PDP), Senator Samuel Anyanwu. Popularly referred to as SAMDADDY
Loading ...
Mbaise nation home of former Deputy Speaker, House of Representatives, Emeka Ihedioha, declared Senator Anyanwu as their preferred candidate for the position of governor in the election
Former Chairman of Ahiazu Mbaise Local Government Area, Chief Paul Ogbonna and a former PDP Chairman of Ezinihitte Mbaise Local Government Area, Bodwin Ohaeri moved the motion
According to them, the resolution was to avoid seeing Mbaise people as greedy having taken the party's governorship ticket for two consecutive times.
They added that with the confidence vote on Senator Anyanwu, the issue of where an average Mbaise person belongs to is never in doubt.
Confirming the confidence vote on Senator Anyanwu, a former Attorney General/Commissioner for Justice in the state, Barr Okey Aguwa from Aboh Mbaise said that the decision followed verifiable records of achievement of SAMDADDY when he represented Owerri Senatorial District at the Senate
Barr Aguwa maintained that in 2015 and 2019 respectively, the people of Mbaise supported Emeka Ihedioha, regretting however the mandate given to him was allowed to slip off his palm.
Responding, Senator Samuel Anyanwu thanked them for finding him worthy of the confidence vote, adding that 2023 remains a year the people of Imo state will be saved and recovered from insecurity, maladministration and starvation.
He said that their decision will never be taken for granted, pointing out that the project would only be realized if those at the grassroots unite.
Senator Anyanwu admonished them to resist any form of intimidation, harassment and molestation from any politician before, during and after the elections.