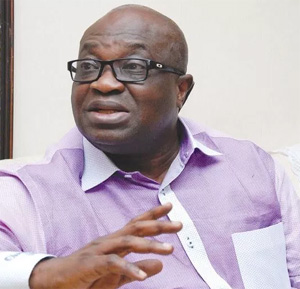 By Okechukwu Keshi Ukegbu
Gov. Okezie Ikpeazu of Abia state has charged lawyers in the country to ensure that the principles of justice and rule of law are upheld in the discharge of their duties.
This is as the governor emphasised the need for lawyers to adopt best global practices.
The governor, who gave this charge while declaring open this year's edition of the Nigerian Bar Association -Section on Public Interest and Development Law (SPIDEL) with the theme "Lawyering in the public interest"  , in Aba also added that public interest lawyers are expected to save lives and protect fundamental rights of the people, especially the poor and vulnerable groups in the society.
Ikpeazu, represented by his deputy, Ude Oko Chukwu, commended the vision of the NBA in inaugurating SPIDEL.
It will be recalled that SPIDEL is NBA's commitment to promoting the rule of law and growth of public interest law in Nigeria, and the governor commends NBA's efforts promoting the idea of pro Bono legal services for those who need them is commendable.
While expressing hope that the conference would provide an opportunity for the members to brainstorm and share ideas aimed at enhancing their performance in serving the public, the governor noted that the outcome would equip them to contain with the challenges of the profession effectively.
The President, Nigeria Bar Association, Mr. Paul Usoro, a senior advocate of Nigeria, described the theme "Lawyering in the public interest" is appropriate, considering the challenges the nation faces today, which include incessant kidnapping, violation of human rights by security agencies, mismanagement of public funds.
According to him, public interest lawyering as a process of legal empowerment aims at capacity building of everyday people towards using the law and institutions to bring about social change.
He said that lawyers have key roles to play in matters of public interest , saying it is a core drive of economic development in a nation, and thanked Gov. Ikpeazu for his magnanimity which made them to host the programme in Abia State as well as appreciated the Governor for appointing their lawyers in his cabinet.
The Attorney General and Minister of Justice, Abubakar Malami (SAN) ,represented by his Special Assistant on Anti Corruption, Biodiun Aikomo, in his speech, explained that the conference  is a sign that NBA is committed to using the law as an instrument of economic development.
He said the conference is an opportunity for lawyers to reinvigorate themselves in ensuring rule of the law prevails, adding that Nigeria is in dire need for eliminating corruption.