Following the mid-night destruction of a church building by unknown persons in the premises of Oyolu-Oze Primary School, the governor had visited the school site on Friday August 15, 2014 and unequivocally condemned the dastardly act and promptly set up a six-man committee headed by the Deputy Governor of the state Dr. Nkem Okeke, to look into the matter.
Receiving the report in the Governor's Lodge in Amawbia, the governor of the State Chief Willie Obiano assured all the parties to the dispute of a fair and dispassionate implementation of the recommendations of the committee.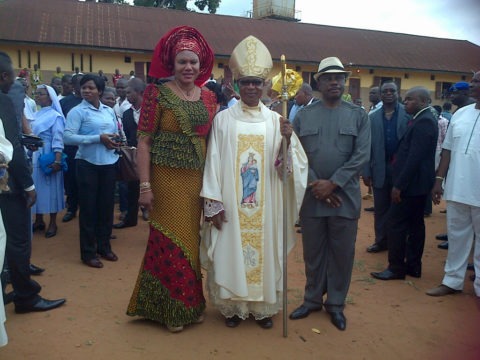 Said he; "I can see the volume of the report and I believe it shows the effort you put into the assignment. I wish to assure you that I will study the recommendations of the Committee and ensure prompt implementation in a manner to will ensure justice and fairness to all parties."
Governor Obiano further reiterated the commitment of his administration to the promotion of justice, peace and fair play and appealed for calmness from all the parties to the dispute while the report was being looked into for final implementation.
Earlier in a brief remark while presenting a bound copy of the Report, the Chairman of the Committee, Dr. Okeke who was represented by the Chief-of-Staff, Professor Joe Asike recalled that the Committee was given two weeks to conclude its investigations and submit its recommendation, adding that members painstakingly devoted their time to meet the deadline.
The Chairman further pointed out that the Committee members took time to listen to all parties to the dispute and examine all documentary evidence and narratives pertaining to the disputed property without fear or favour.
He thanked all the parties for co-operating with the Committee and turning up to give their separate accounts that helped the members of the Committee to arrive at its recommendations in the Report.
The Special Committee set up by the Anambra State government to investigate the immediate and remote causes of the conflicted that erupted between the Diocese on the Niger, the Anglican Communion and the Nkwelle Ezunaka community over the disputed Oyolu-Oze Primary School building has finally submitted its report, raising hopes of imminent resolution of the crisis that has led to a protest march around the commercial city of Onitsha by members of the Anglican Church.