From Ahmad SAKA,Bauchi
Bauchi State Governor Senator Bala Abdulkadir Muhammed of has announced plans to set up a functional cash flow system that will ensure smooth and efficient remittance of state's taxes to the Federation Account.
The governor announced this today thursday when he granted audience, officials of Revenue Mobilization Allocation and Fiscal Commission (RMAFC), Abuja on an advocacy visit at the Council Chambers, Government House, Bauchi."He said that, the cash flow system will go along way in paving way for his administration to settle all the tax liabilities inherited from the previous administrations.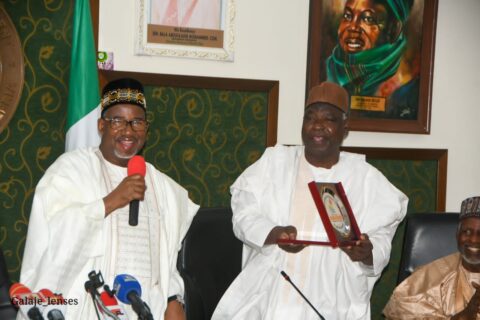 Governor said since coming on board, his administration deemed its necessary to look at the best ways of making meaningful contributions at the federation account through compliance to tax remittance guidelines.
"We are privileged to receive you today. The Revenue Mobilization Allocation and Fiscal Commission has been doing well especially ensuring justice and equity in the disbursement of funds to tiers of government. As a Governor heading a sub-national, I have the responsibility to ensure adequate remittance of revenue to federation."
The governor reassured of the readiness of the state government to work with Revenue Mobilization Allocation and Fiscal Commission to achieve the desired objectives to enhance revenue generation for execution of developmental projects.
Earlier, the Commissioner representing Gombe state in the commission, Kabiru Usman who led the delegation said that Revenue Mobilization Allocation and Fiscal Commission is working round the clock to discharge its responsibilities for economic development.
"Your Excellency, Bauchi State and in particular, your administration is doing well in tax remittance. We will continue to support you to succeed in that regard."