From Ahmad SAKA, Bauchi
Bauchi State Governor Senator Bala Mohammed of Bauchi State has expressed readiness to accept the outcome of today's Gubernatorial Election.
Governor Bala who is the PDP Gubernatorial candidate stated this shortly after casting his ballot at his home town, polling unit 008 Bakin Dutse Yalwan Duguri in Alkaleri Local Government Area of the State.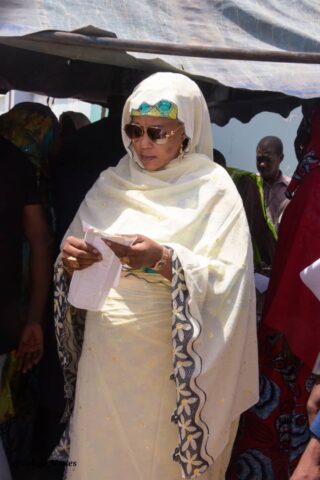 He called on the Independent National Electoral Commission INEC and relevant stakeholders in the conduct of the election to ensure credibility of the entire process.
Governor Bala expressed satisfaction with the turnout of voters and peaceful conduct of the election so far.
The Governor, his wife Hajiya Aisha Bala Mohammed and some of his family members cast their ballots at about 11:30am.
Similarly the election in Alkaleri local Government was generally peaceful, except there was concerned by the voters 8nntge area when they saw a an airforce helicopter hovering the sky.
Governor Bala said he was not aware of the helicopter and its mission and urged voters not to be intimidated to vote peacefully and wait for the outcome of the election.