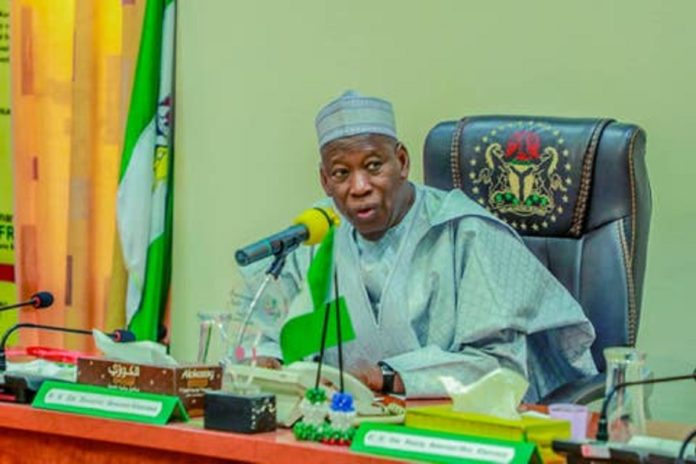 …As legislators, scholars, political leaders, business community back decision 
Deeply concerned with the hardship caused by limited time given for halting use of old Naira notes by the Central Bank of Nigeria (CBN), and for security reasons, Kano state governor Abdullahi Umar Ganduje reveals that the state resolved and wrote to Presidency that, the visit of the President to commission some projects be postponed.
Loading ...
He made this known during his interactive sessions with scholars, legislators, political  leaders and business community in the state at Government House, Kano, Friday, adding that the decision was taken to avoid any unforeseen circumstance.
"As we are waiting for this important visit, we found ourselves in this situation, which puts citizens into untold hardship. For security purpose we wrote to Presidency that President Muhammadu Buhari's visit to Kano be postponed.
We got an acknowledgement copy of the letter. People are really suffering because  of this policy," governor said.
During the meeting with sections of citizens in the state, they accepted that, the decision was a unanimous one. As they all spoke in support of the letter sent to Presidency.
Two serving Senators from the ruling All Progressives Congress (APC), Kabiru Ibrahim Gaya and Barau Jibrin, Twenty members of House of Representatives and Thirty legislators from the State House of Assembly were amongst the groups that put their weight behind the governor.
He lamented that, "There are no banks in most of our rural communities. How these people get new Naira notes is of great concern. Just look at what is happening in our urban areas, people go and spend hours upon hours in banks. And without any assurances of getting the new notes."
Even at Point of Sales (POS) according to the governor, one cannot transact with ease, hinting that, many of them closed shops due to uncertainty.
He emphasized that, Kano being a commercial hub must be heard loudly, insisting that, "This problem affects all of us. Therefore our voice must be heard in all nooks and crannies. We are a commercial hub. As such our position must be loud and clear."
Governor Ganduje reveals further that, under one platform, Nigerian governors  without consideration to party affiliation, sent delegates to President Buhari complaining to him about the hardship caused by the new development.
"Governors from all the political parties put heads together and sent delegates, but to no avail. So also traditional rulers followed the same path, but individually. But up to now there is nothing in that respect," disclosed.
In Kano, according to him, government calls leaders of all sections of people around, whenever situation like this arises. Revealing that, "We invited scholars who were here yesterday. And today we are having this interactive sessions with you business community and our legislators."
To revalidate the position of Kano people, as contained in the letter sent, governor Ganduje would take representatives from sections of the populace to go and see President Buhari and hear from them verbatim.