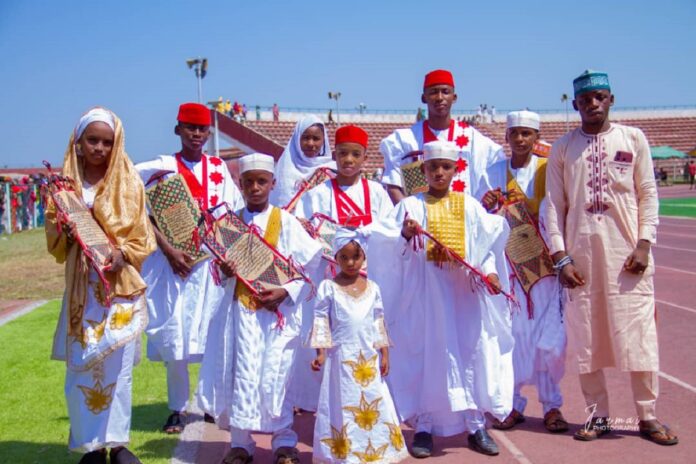 From Ahmed SAKA, Bauchi
Bauchi State Commissioner of Education Dr Aliyu Usman Tilde has suggested that pupils should be enroll in schools to first memorize the Holy Quran within four years and start learning western education to complete primary education within two or three years.
Dr Tilde gave the suggestion yesterday in Bauchi while speaking at the Quranic graduation ceremony of 1775 pupils of Sheikh Dahiru Usman Bauchi Schools across the country at the Abubakar Tafawa Balewa Stadium Bauchi.
He said the system is being practice successfully in Pakistan, if a pupils is enroll in school he will memorize the Holy Quran within four years after that they will learn primary education within two or three years and when then graduated they learn various discipline like medicine, Journalist, Pharmacist medical doctors, lawyers among others and part of the programme there will be lesson of always recitation of the Holy Quran to enable them master it
Commissioner said the system will help pupils to memorize the Holy Quran from their house and in front of their parents , which will reduce Almajiri street begging and child labor while seeking ways to memorize the Holy Quran.
A reknown Islamic Scholar Sheikh Dahiru Bauchi opposed banning of Qur'anic Schools by the Northern Governors which he said their actions contrary to the constitution of Nigeria which guaranteed that every Nigerian has right to live where ever he want in Nigeria.
He said the action of the Governors without bringing a genuine solution or alternative to Almajiri education is harmful and will not help the pupils who are out to learn how to memorise and master Quranic education.
The scholar advised the Governors to support Quranic education and come out with many and multi dymentional ways to improve the system instead of castigating the system.
He pray for peace and stability of Nigeria and advised the Federal Government to listen to the cry of the protesters with a view to solve their problems , I also want the government since it has eyes and ears to respond positively to the yearnings of its citizens who are always crying for poverty , hunger and other problems bedeviled the country.
Sheikh Dahiru appeal to the protesters to stop protesting and embrace dialoque in the best interest of the country.
Presenting the graduands Sayyadi Ibrahim Tahir said this year 1502 pupils memorice the holy Quran from Sokoto, Bauchi, Gombe, Katsina, Kwara, Adamawa , Niger, Borno, and Zamfara states, while 273 learnt the recitation of 60 hizb of the holy Quran.
He said Niger State Government partner with Sheikh Dahiru Bauchi foundation to improve learning of Quranic education in the State.
Chairman of the occasion Alhaji Umaru Dahiru Baraden Bauchi commended Sheikh Dahiru Bauchi for his effort towards the propagation of Islam.