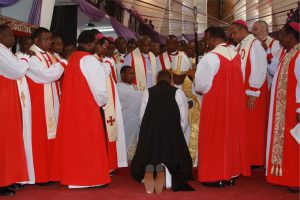 Bishop Of Lagos: Crisis Looms In Anglican Church, Aggrieved Parties Allege Bribery 
–
Loading ...
A serious crisis is brewing in Church of Nigeria (Anglican Communion), following the recent election Rt. Rev. Humphrey Olumakaiye as the new Bishop of Lagos.
There had also been serious allegation of corruption and inducement of members with money during the election held in Ilorin. 
During the recent Episcopal Synod of the Church in Ilorin, Kwara State, the leadership of the church in a statement by its General Secretary, Rt. Rev. (Dr.) Ayodeji Fagbemi, announced that a number of new Bishops and ArchBishops had been elected. 
The Rt Rev. Olumakaiye, according to the statement, would be transiting from the Diocese of Osun North East to Lagos.
However, the mood among members of the congregation in Lagos suggested a strong disaffection and clear opposition to the election of Olumakaiye, seen to have been imposed by the outgoing Diocesean Bishop of Lagos, The Most Rev. (Dr.) Adebola Ademowo.
For instance, a statement issued in Lagos at the weekend signed by one Mr. Ade Doherty on behalf of members of the church and who claimed to be aggrieved over the said election of Olumakaiye, stated that his election was stage-managed, not influenced by the Holy Spirit and as such unacceptable.
The statement reads: "The so-called election of Olumakaiye at the recent conference of Bishops in Ilorin was a clear manipulation of the House of Bishops who were "teleguided" by both Ademowo and The Primate, the Most Revd. (Dr.) Nicholas Okoh.
"Of course, we have it on good authority that huge sums of money exchanged hands to facilitate the so-called election of Olumakaiye and majority of our members in Lagos stand united in opposition to this mischief. It is a charade and can never stand."
They also claimed that such action by the House of Bishops was a way of trying to elongate the tenure of Ademowo.
It was also alleged that he (Ademowo), in order to perfect the election manipulation, facilitated a multi-million Naira house for Primate Okoh in the Lekki area of Lagos.
They made references to Ademowo's earlier statements and actions, they claimed, put paid to Olumakaiye's emergence. 
The aggrieved further stated that their solicitors had prepared a petition to the Economic and Financial Crimes Commission (EFCC) to probe the alleged acquisition of the said Lekki property, the financial inducements in the House of Bishops, and the alleged porous accounts of the Lagos Diocese and women organisations in the Lagos Diocese, which they alleged was the reason "the succession at all costs is taking place."