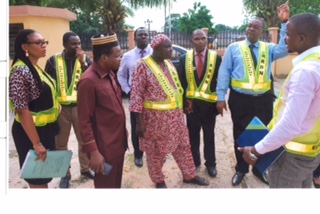 …says patients risk cancer
The Radiographers Registration Board of Nigeria (RRBN), an agency of the Federal Government, has arrested some fake Radiographers and sealed the X-Ray units of some hospitals in Imo State.
Some of the impostors, it said, have been working as Radiographers at the X-Ray units of some of the hospitals.
Among the affected hospitals are Amanda Hospital in Owerri; the X-ray units of O/C Medical and X-Ray Services at No. 3 Works Layout, Owerri; Holy Rosary Hospital, Emekuku; Christina Hospital, Egbu; and Mothercare Diagnostic Centre on Okigwe Road, Owerri.
The organisation warned that patients may contract cancer in the course of their earthly existence if they receive X-Rays from people who are not qualified.
A statement issued
on Saturday
in Abuja by the Spokesperson of RRBN, Maimuna Wakawa, quoted the Registrar and Chief Executive of the Board, Mr. Michael Okpaleke, as saying that the taskfoce of the regulatory agency "clamped down on the hospitals in order to rid the radiography practice of quacks and quackery."
He vowed that the board was determined to remove quacks from the practice of medical radiography in the country and would not stop till it succeeds.
According to him, the mission of the RRBN, was "to monitor and regulate activities of personnel who administer X-Rays on people to know if they are qualified."
He said it was the right of patients to see the operational license of the person administering X-Rays to them to ascertain if they are qualified before carrying out the X-Ray.
Okpaleke said that the RRBN will not stop at sealing the poorly-equipped X-Ray units in the hospitals.
According to him, the centres were operating with quacks in unprotected environment which posed health hazards to both the person operating the X-Ray machine and patients.
While promising to ensure that the impostors were prosecuted, he counseled hospitals and centres wishing to render X-Ray services to register with the RRBN for effective monitoring.