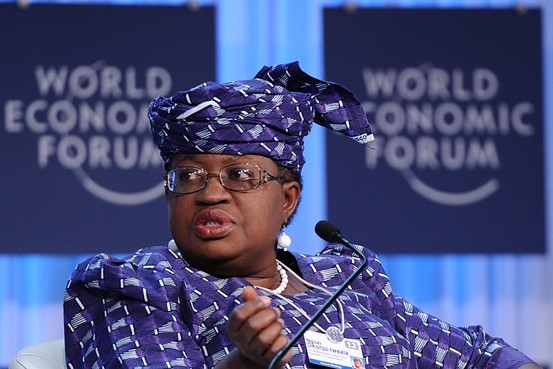 The Nigeria Union of Petroleum and Natural Gas workers (NUPENG) on Monday in Abuja called on the Minister of Finance, Dr Ngozi Okonjo-Iweala, to intervene in the current fuel crisis in the country.
Mr Isaac Aberare, the NUPENG General Secretary, told the News Agency of Nigeria (NAN) in Abuja, that the intervention of the minister was imperative in the resolution of the crisis.
Aberare also called for the intervention of the NNPC, Petroleum, Pricing, and Regulatory Agency (PPPRA) and major players in the sector to tackle the scarcity.
"It is the intervention of the minister that can adequately solve the problem.
"She is the one who promised the marketers in February that in March, their outstanding subsidy amounting to N264 billion will be paid.''
He said that the marketers had claimed that the amount of money being owed them was huge and this had been suffocating their business.
The NUPENG General Secretary said that the marketers had also claimed that their cash was trapped such that they could not import the product unless they were paid.
"It is when the money is released that they can import petroleum products; for us as a union, we have little or nothing to address the situation.
"Our tanker drivers are not on strike; they are available to load the trucks but the product is not there for them to carry, so that is the situation,'' he added.
NAN recalls that the Okonjo-Iweala had met with members of the Major Oil Marketers Association of Nigeria on Feb. 23, and agreed to remove all bottlenecks in fuel imports.
According to him, this includes the settlement of N100 billion before the end of March to banks, in order to avert fuel supply crisis.
The minister had also met with officials of the Debt Management Office and members of the major oil marketers, to reassure them of government's commitment to the sustained supply of petroleum products.
The meeting followed the marketers' claim that the recent devaluation of the naira by the Central Bank of Nigeria (CBN), had imposed extra burden on their capacity to finance further fuel importation.
The continued pressure from the falling crude oil price at the international market since July 2014, led to the devaluation of the naira in November 2014 from N155 to N168 to a dollar.