From Mohammed Nasir Shuaibu BAUCHI
The Standard Organizations of Nigeria SON have a producer of counterfeit fertilizer at Cinade a district town of Azare local government in Bauchi state.
Parading the suspect to the journalists today in Bauchi, the North East, Zonal Coordinator, Alh Adamu Abba said the suspect was arrested at Chinede by the operation team on Saturday over the weekend at Chinede District of Azare local government.
According to the Zonal Coordinator, the suspect was caught of producing counterfeit Golden Fertilizer using four different combination of fertilizers of Mai Rago, Freedom, Boko and Indoorama and rebagging it on Golden bags to sold as original product to the consumers.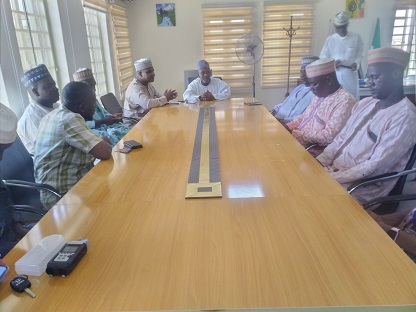 He disclosed that the Organizations has confiscated over 150 bags of counterfeit fertilizer from the producer shop.
In his remark, the head of operations team, Murtala Sa'ad said upon reception of an intelligent report, I quickly mobilized my team to the site, and we're lucky to caught at the location and we arrested him.
He said " During the operations we're able to confisicated over one hundred and fifty bags of counterfeit Golden fertilizer already made at the site and we closed down the place and got him arrested without any resistance from both the producer and the community",.
The operations officer said the suspect after all investigations would be charged to court for prosecution on violation of section (26) in relation to Standard of the SON ammended Act of 2015.
While fielding questions from the journalists when did he started the business, and also choose Golden Fertilizer, the suspect Alh Ibrahim Ahmed Chanede said "I was ignorant of the existing laws on standadization, and secondly is the high demand in the market by our farmers of the Golden Fertilizer product",
"I'm not aware of the existing law, what make me to venture in to this business was a highly demand of the product from the customers.
"I'm appealing the SON to temper justice with mercy, I didn't meant to damage the already existing name of the Golden Fertilizer company.