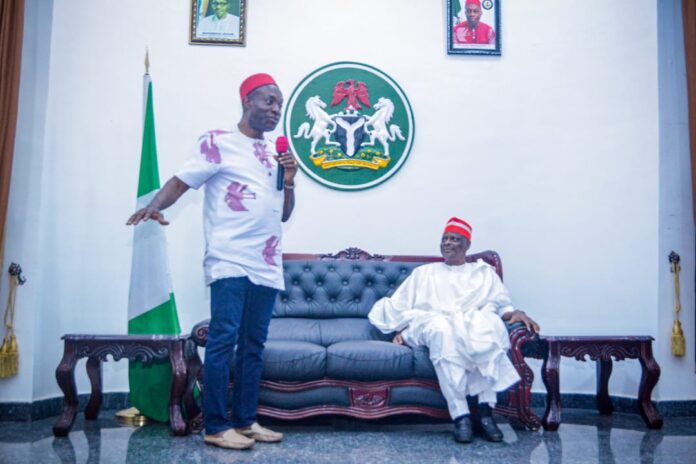 …insists his mind was already elsewhere
From Chuks Collins, Awka
The Anambra governor, Prof. Chukwuma Soludo has employed some well couched grammatical platitudes to dismiss the presidential candidate of the New Nigerian People's Party(NNPP), Alh Rabiu Musa Kwankwaso when he came calling at the weekend.
Loading ...
Gov Soludo, while receiving the former governor of Kano State, commended the NNPP Presidential candidate for what he saw as his "tenacity and belief in Nigeria."
He also praised his exemplary public service and commitment to the nation.
Speaking when the NNPP Presidential Candidate paid him courtesy visit at the Governor's Lodge, Amawbia, Soludo admitted that the nation todayeeded leaders who truly believe in the country.
However, the governor without prevaricating, wished Kwankwaso best of luck in his movement, saying he had been intensely focused on what was going on in his party.
Gov Soludo said, "I want to commend your tenacity and belief in the country, your exemplary public service and commitment to our nation.
"I've always said that those who have something to offer should offer it through public service. Public service is the biggest philanthropy.
"In Anambra and indeed, the South East, we pride ourselves as being republicans and that is freedom to converse.
"Here in Anambra is the home of Azikiwe, Akweke, Chinua Achebe, Okadigbo, and so on and so forth and here we are known as people who freely express themselves and associate themselves.
"As an itinerant people, we cannot afford to be an intolerant tribe. We have a popular saying that "Oje mba, enwe ilo".
"My position is that everyone should be allowed to canvass freely and allow the people to make their choice.
"It's a serious matter of where the country is and where the country will be in future. It is time for the progressives to begin to think of the ordinary person.
"The handiwork is beyond the election. Whoever wins, we need to sift out and bring out almost like a government of like minds for the transformation of this country.
"We are blessed. We have lots of challenges, but we need people who firmly believe in this country. It is possible for Nigeria to be one of the first seven best economies in the world.
"We wish you best of luck in this movement, even though I've been intensely focused on what is going on in my party.
"This state is blessed. We are trying everything to make it work.
"Large population of our people are in Kano. As Ndị Igbo, we are a great stakeholder in all the places.
"Here in Anambra, our politics is such that when we are running, we can fight among ourselves, but after the election, you see our people together, chatting. It's not a do or die affair. Everybody should campaign freely, added the Governor."