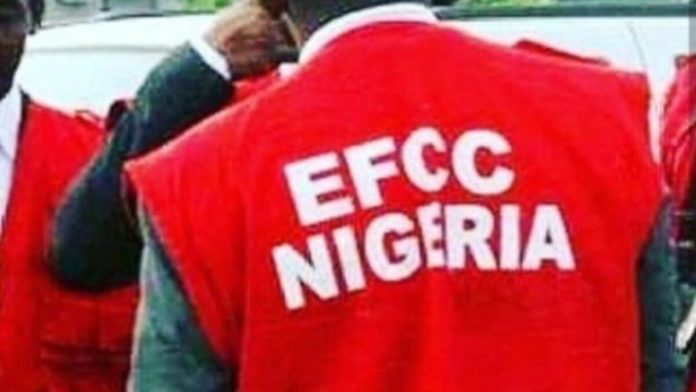 Justice Oluwatoyin Taiwo of the Special Offences Court sitting in Ikeja, Lagos, on February 2, 2022, refused the bail application filed by one Chinedu Omesu, who is being prosecuted by the Economic and Financial Crimes Commission,EFCC, for defrauding an aged Asian-American lady of about $475,000.
Operatives of the EFCC had arrested him on April 21, 2021 at James Court, Lekki, Lagos, following verified intelligence.
He was accused of posing as one Ryan Frederick, a 58-year-old United States of America citizen on a mission in Syria, using the guise to defraud his victims.
He was arraigned on August 6, 2021 on an 11-count charge bordering on possession of documents containing false pretence, forgery of documents, stealing, and obtaining under false pretence.
One of the charges reads: "Omesu Christian Chinedu, on or about the 31st day of March 2021 in Lagos, within the jurisdiction of this Honourable Court ,and with intent to defraud, whilst holding yourself out as Frederick Leo Ryan, a serving military operative of the United States with Finnish descent, obtained the sum of $350,000 from one Soon Kim, under the pretence that the cheque of one Frederick Leo Ryan, in the same of $7,000,000 has been reviewed and confirmed by Zenith Bank ,which pretence you knew to be false."
He pleaded "not guilty" to the charges.
In moving the bail application for the defendant, the defence raised issues of ill-health and that the defendant was also in the process of a plea bargain with the prosecution.
However, the prosecuting counsel, Chineye Okezie, opposed the bail application, noting that the terms of a plea bargain were far from being fulfilled by the defendant, including the sale of a property traced to the defendant believed to be part of the proceeds of the crime.
Okezie further argued that there was really nothing before the Court to support the claim of any serious ill-health that cannot be adequately handled in custody.
"It's a known victim that is involved," Okezie added.
Ruling on the bail application, Justice Taiwo noted the huge amount involved in the alleged fraud, and further emphasized that though the offences were bailable, the Court was inclined to uphold the opposition of the prosecution.
Justice Taiwo held that: "I am inclined to decline bail until the property is sold.
"Moreover, his sickness is not that serious.
"The defence counsel should accelerate the sale of the property in order to facilitate the plea bargain agreement.
"There is no medical report before the Court to support the claim that he is having a grave illness.
"Application is hereby refused and he is ordered to remain in prison custody.
"The prison officials are hereby ordered to ensure that the defendant receives proper medical attention."
The case has been adjourned till March 28, 2022.