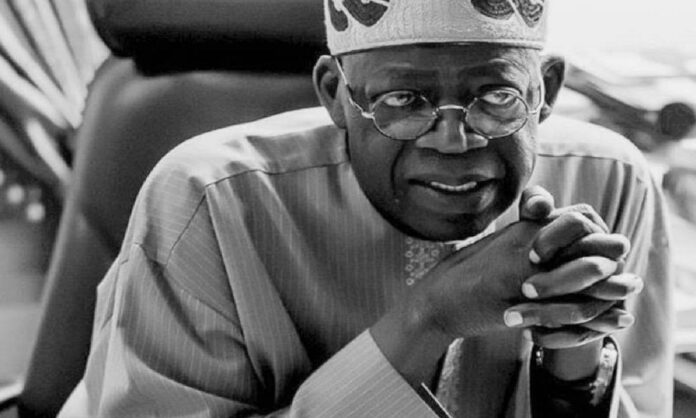 The embarrassing fall of the acting Chairman of the Economic and Financial Crimes Commission [EFCC] in the person of Ibrahim Magu has launched the accelerated dismantling of the Bola Asiwaju Tinubu political structures within the Mohammadu Buhari led administration. This is according available reports. And, has raised real fears for the Lagos based political maestro over his continued dominance within the All Progressive Congress [APC].
Information available to 247ureports.com reveals the south west politician had reached out to the Chairman of the presidential probe panel – in the person of retired Justice Salami. Our source reveals Tinubu made the attempt in late July 2020.
His efforts were to dilute the weighty allegations contained in the petition against the deposed EFCC acting chairman. He understands the implications of the pending charges against Magu to his political survival in the present makeup of the Buhari administration. He understands also the realignment of the president cabal.
With the deaths of Isa Futua and Abba Kyari, persons who are not subservient to the Tinubu's political circle of influence, now constitute the power block within the presidential cabal. The Attorney General and Federal Minister of Justice has become a powerful power broker within the Presidential cabal.
Desperately battling for his political safety, Tinubu sought to soften the impact of the gavel on Magu. 247ureports.com has it on good authority, he reached out to the Chairman of the panel to impress on him the need for the integrity of anti-corruption to be preserved – and not to allow the acting chairman of the EFCC to be prosecuted for the alleged charges – and thus avoid eventual sack/dismissal from the position of Chairman of EFCC.
247ureports.com is not certain the extent of in road Tinubu made with the retired Judge but it is certain the retired Judge did not 'respond' to the troubled south west politician. "I don't think he minded him".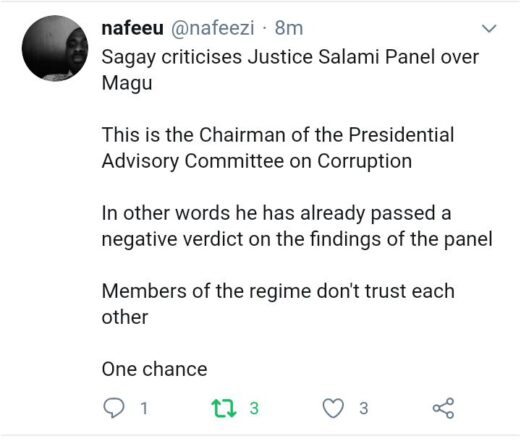 Meanwhile, in a related development, the south west politician appears to have suffered another hit. His lobby and/or instruction on the President of the Senate, Rt. Hon. Ahmed Lawan to institute a probe against the Attorney General of Nigeria based on allegations raised by Ibrahim Magu failed to yield desired benefits rather the Senate President turned against the wishes of the south west politician and constituted a committee to probe the Vice President [Osibanjo] and Maryam Uwais – Special Adviser to President Muhammadu Buhari on Social Investments.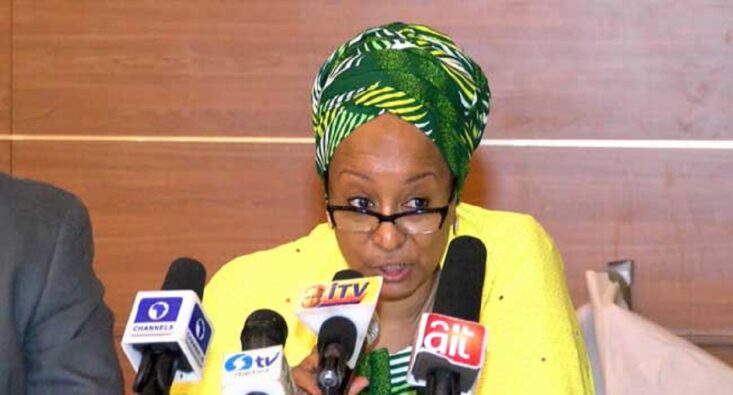 "Maryam Uwais was working directly with the Vice President on NSIP. I don't know how to explain this new turn of events". In April 2020, she accused members of the Senate and the House of Representatives of repeatedly attempting to the program. The NSIP program include the school feeding for primary school pupils, the N-Power for jobless graduates, the conditional cash transfer for elderly cum vulnerable Nigerians, and the government empowerment program that includes tradermoni – giving out of micro loans to smalll-scale traders.