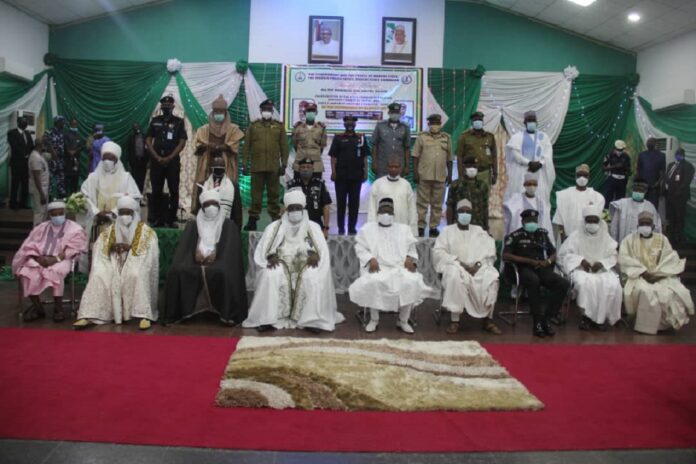 From Ahmad SAKA, Bauchi
Governor Bala Abdulkadir Mohammed of State has inaugurated the 21-member State Community Policing Advisory Committee (SCPAC) and the State Community Policing Committee (SCPC) to improve security in all communities of the state.
Innagurating the committee at the government house Bauchi, the governor said the move is a deliberate effort to re-strategize and rethink the security architecture, using Community Policing Initiative as proposed by the Inspector General of Police Muhammed Adamu.
Governor Mohammed said the community policing model will give every community resident a strong sense of participation in governance and strengthen the social contract between the government and citizens.
The governor reassured his administration's commitment to support all security agencies in their activities by providing equipment and resources.
He said that his administration will soon establish security trust fund to finance community policing in the state.
The governor charged members of the committees to discharge their tasks with patriotism, integrity and diligence, as their membership was a rare privilege and an opportunity to serve the state and the nation.
Speaking, the Inspector General of Police Mohammed Adamu said the innitiative was to identify security threats in communities and work with the police and the Community Police Officers in evolving appropriate strategies for addressing them.
He lauded the governor for the successful inauguration of the committee in the state, stating that the new Community Policing model would be driven by the community and urged the members to serve with all seriousness to reduce crime in the state.
The state commissioner of Police Lawan Tanko Jimeta assured that the police and the community will work in synergy to engage members of local communities and neighbourhoods in knowledge sharing and intelligence gathering that can help in nipping crimes in the bud.
The committee has the Emir Bauchi Dr. Rilwanu Sulaiman Adamu as chairman while the state commissioner of Police Lawan Tanko Jimeta as co- chairman.
Others are one representative each from the Nigerian Council of Islamic Affairs, the chairman, Christian Association of Nigeria, state chairman, Police Community Relation Committee (PCRC), and one representative each from the three senatorial districts in the state as well as head of state military and paramilitary.