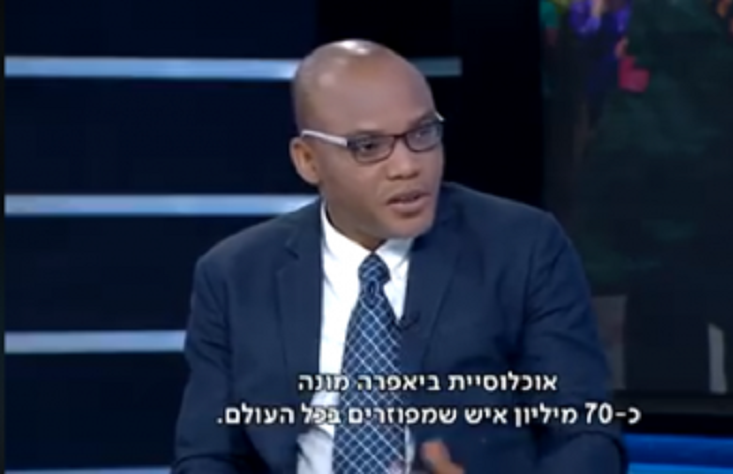 Loading ...
[Radio Address by Mazi Nnamdi Kanu the leader of IPOB on Saturday November 17, 2018 from the studios of Radio Biafra in Israel]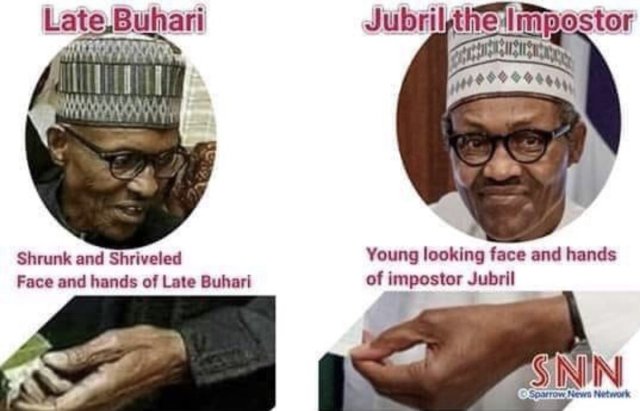 Tonight's program will be the most interactive broadcast in our lives because together we will go on a journey of discovery to find out how liars, cheats and deceivers are running Nigeria. The Yoruba dominated Nigeria media will never do a simple investigative journalism to find out the truth instead they allow their irrational hatred for Biafra, IPOB and Nnamdi Kanu cloud their sense of judgement. So since Yoruba people that control mass media in Nigeria won't investigate and report the truth, we all are going to be investigators tonight because not only is it how we are going to uncover the truth, that is the easiest way to equip yourself against the junk news syndrome in Nigeria and beyond. Nobody can cover the truth no matter how hard they try.
Did I or did I not tell you people last Saturday that the handlers of the impostor Jubril will not unleash him on the gathering of world leaders because they know he is a fraud?
I also hinted that he might not return on Tuesday and he didn't. I couldn't agree more with what Moses Agbo on this:
"Had the Zoo not been designed for everlasting hopelessness, Tuesday morning the over 170 million [Nigerians] should have staged a very powerful protest demanding to know.
Some say it is rumour others say it is mischief but I know it is neither. What it is, is the TRUTH. Raw, revealing and painful. Anybody telling you otherwise is deceiving you. I know that most of these illiterate kleptomaniacs that litter the corridors of power of Abuja think that Nigeria is Allah's gift to the Fulani nomads that settled in Nigeria through the instrumentality of British colonialism. While some of us are busy lamenting cross Atlantic slave trade and the horrors of our encounter with the British, Fulani feudal lords are celebrating and thanking their stars. They see colonialism as a great gift from Allah through which they have been given dominion over a large population of people who are more learned than they are, huge fertile land with abundant mineral resources. This is the single reason why Fulani people and the British will always be partners.
Britain on the other hand see Fulani rulers as the perfect illiterate star struck house niggers willing to do their will even when it includes killing millions of people to secure their access to Biafra crude oil and gas. Why should Britain bother invading and occupying Biafraland to seize our resources when your fellow blacks and Nigerians from the north can do it for them.
Against this background do we present this program tonight. A program of truth and liberation. My only regret is that a majority of my Yoruba brothers don't want to be free. They prefer to remain under Fulani bondage as long as they have access to proceeds from crude oil, monthly allocation from Abuja, Lagos as the only viable seaport and Igbo businesses to pay taxes and develop their land while Biafraland remain a wasteland not for development.
Rejection of truth and reward of ignorance
"You have to be very careful introducing the truth to the black man, who has never previously heard the truth about himself.
The black brother is so brainwashed that he may reject the truth when he first hears it.
You have to drop a little bit on him at a time, and wait a while to let that sink in before advancing to the next stage".
~ Malcolm X ~
"Slaves with always kick against their freedom. They see their chains as shiny jewelries". This quote is to provide context for us tonight.

Nigerians should bow when they see any Indigenous Person of Biafra because we are the people working hard to save them from their own ignorance.
Before we proceed tonight, allow me to encapsulate in few sentences what transpired between Jubril-Buhari, Femi Adesina, Nigerians, Biafrans and keen observers of the dark arts of politics in Africa. I shall attempt to be concise and methodical in my approach to enable those with comprehension issues to follow the program tonight. We know a lot of grand mothers in the villages are following this program. From Oron to Abeokuta, from Iguruta to Gboko, from Mamfe in Cameroons to Lagos the heart of darkness. The whole world is listening, humanity is listening, university professors in Israel are listening, Argentine scholars are tuned in, every security agency in the world is prepared, Fulani cabal in fear as the British Zoo in Africa is about to disintegrate.
In a very short simple sentence, JUBRIL the impostor answering to Buhari, did not attend any summit in Paris. Femi Adesina lied because he like many of us know that the Buhari they are sending is fake. They know President Trump will expose them, they know my broadcast have woken up every intelligence agency in the world including those protecting leaders of the world at the said event in Paris. They chose to hide Jubril, because like I told you in July of 2017 that thing is an impostor from Sudan. He is not a Nigerian, he is not from West Africa, he is not Fulani, Hausa or Yoruba Muslim, he is an outsider not even registered to vote but today he is the president of Nigeria with the powers to kill anybody he likes without the slightest hint of prosecution. He is protected by the almighty creator of Nigeria the British.
Tonight, here from the holy land of Israel, I shall convincingly establish, beyond every reasonable doubt that this Nigerian President, Muhammadu Buhari Jubril was nowhere to be found at the just concluded World War 1 Commemoration Summit in Paris, the French capital city because he is fake, an impostor, a mass murderer like his alter ego and an unrepentant criminal.
We must all recall that this emergency Nigerian President had on Friday 9th of November 2018, jetted out of the country as announced by Femi Adesina, under the guise of travelling to France to attend the global summit which had in attendance, over sixty (60) world leaders. Nigerians were meant to have seen this fake President of Nigeria boarding the presidential aircraft from Abuja airport. He was on his way to Paris.
Nigerians saw their supposed president board an aircraft but nobody saw him land in Paris as he did when he attended the UN General Assembly in 2016 and visited Chancellor Merkel the same year in Germany. Who can forget his embarrassing bow upon alighting the aircraft and being confronted with a well drilled guard of honour German style. The video is on YouTube. He was so mesmerized by the sight of a well organized first world army that he bowed to the soldiers in total Alimajiri submission.
This time around in Paris, It is none of the footages that carried the global event as released by various international media platforms, saw or captured the Nigerian President's participation in the summit. Meanwhile, the Assistant Media and Publicity Aide to the President, Mr. #FemiAdesina who must have done his NYSC at Oluwole International School of Forgery and Fraud near Tinubu Square Lagos Island variously stated that Buhari was identifiably present at the summit and even went ahead to release outdated pictures fake pictures depicting the President delivering a lecture at the centenary anniversary of the end of World War 1 Armistice Day Global Summit.
The man you all ignorantly Buhari but which I told you as far back as July 2could not participate in the event primarily due to his refusal to adopt to the dress code (suit) of all the participating world leaders as demanded. Further information obtained has it that several world intelligence agencies including that of the United States of America, were readily prepared to beam their wannabe-detecting machineries on the Nigerian President, to ascertain #NnamdiKanu's revelation that the person acting as the incumbent President of Nigeria, is an #impostor.
It was really the plan of Aminu Jubril Al-Sudani and the Nigerian Cabals to have him attend the summit which flopped as he could not summon enough courage as on getting the information about the required uniform dress code and the intelligence dictating machine that was mounted on the summit doors, which were seen as insurmountable challenge to him.
In that case, the cabals have virtually no other alternative, than to divert the Buhari to another conference which was staged by Nigerians elsewhere in France. In that alternate conference, usage of mobile phones were bluntly forbidden. Only few staged individuals were allowed to ask questions to the #impostor. Some participants brazenly displayed gross displeasure and disappointment as they noticed that the #Buhari could barely identify some of the known Nigerian government officials that approached him.
Before the commencement of the bizarre event, those present were frisked and their individual mobile devices were taken from them before they could be allowed entrance into the venue.
All the questions posited before #Buhari were teleguided and the persons who asked those questions were pre-selected. Let me not say too much, but the summary of it all is that Nigeria is in a deep mess and Nigerians are really in for it.
#More revelation is coming. Stay tuned
1. Who is presiding over the leadership of Nigeria in Aso Rock.
2. Demanding to know where Jubril attended his own summit.
3. They should have demanded the immediate arrest & questioning of Femi Adesina for engineering the fraud and deceit via social media. But what do we expect from a hopeless damnable Zoological Republic called Nigeria, where even the youths are more brain dead than the late Buhari."

There is this subtle mind games being played by the fraudulent APC government and their friends in the media to pretend the issue of Jubril is a PDP effort to discredit Buhari. Anybody thinking that is a complete fool. I was the first person to raise the alarm about Jubril because I not only know how Buhari died, I know where he was buried and when. When the fraud was introduced to the ever gullible and brainless Nigerian public, I addressed the issue immediately and it was widely reported. So the idea of saying it's an opposition scheme is dishonest but I'm not surprised, Nigerians are naturally dishonest people. I am in Israel today because of I revealed that an impostor from Sudan is the president of the Zoo. Who doesn't know it was me that first talked about it? The unmasking of Jubril is an IPOB funded project and we must expose the evil that Nigeria is to the eternal shame of Nigerians. They have been foolishly calling a foreigner His Excellency for nearly two years now. What a disgrace, what a hopeless set of people. The only PDP person to have ever mentioned the issue of Jubril is my friend and brother FFK who wrote to agree with me because unlike most people he has a discerning spirit.
Nobody mentioned the issue of Jubril again until I returned on air to address the world on this matter. Dishonestly trying to politicize this effort will not deter us from exposing Nigeria to the whole world. By the end of this process, Nigerians will know they are the most stupid set of people on earth.
I understand it is in the interest of Yoruba people to work against Biafra because of life saving federal allocation derived from the sale of crude oil and gas from  Biafraland. I also know that most Yoruba see the presence of Biafrans in Nigeria as some sort of insurance policy against outright Fulani conquest of what is left of Yorubaland they didn't conquer before. Let me assure reasonable courageous Yoruba people that Biafra will be a friend, ally and partner of any future Oduduwa nation. You will receive oil and gas supplies guaranteed by an unbreakable internationally binding UN supervised treaty. We shall also cooperate in terms of common defense policy. It is therefore in the interest of Yoruba people to support Biafra with all their might.
WHY DID THE PRESIDENCY DECIDE TO LIE OVER SOMETHING AS MINOR AS A SUMMIT ATTENDANCE?
To understand the mess Nigeria is in and what they are trying to hide, you must first of all interrogate the lies. Ask yourself why the lies.
When we say Nigeria ?? is full of wild animals people think it's a joke!
Can you now see how useless the zoo and her handlers are? Can you see the level of deceit being perpetrated by this Femi Adesina.
November 10 at 6:32am he posted : President Buhari arrives France ahead of the Paris peace forum (with old photo of him in 2016)

Notice how the deception started by Femi Adesina lyingly stating that Buhari was attending a peace forum in Paris instead of telling ignorant Nigerians that the real event was Armistice Day commemoration. By saying Paris Peace Forum they hoped to divert your attention away from the celebrations in front of the Arc d'Triomphe where they knew in advance that Jubril-Buhari was neither invited nor able to expose himself to Trump and other world leaders. Nigerians and especially my friends in Yoruba media may want to know why Aso Rock cabal went to this length to protect Jubril using the Paris event as an excuse to smuggle him out of Nigeria for further plastic surgery to his ear, teeth and hands. It is because they were afraid of what I would say if Jubril were holed up in Aso Rock while other African leaders attended the event.

Ever since I stated in my compound that Buhari died and laid to rest in Saudi Arabia the government of Nigeria with the help of my friends in Yoruba media houses such as Channels TV, Punch, TVC television, Tribune and Nation have been doing their best to kill me and cover up the story. What these people are cleverly doing is to divert the attention of ignorant wretched Nigerians from ever asking questions. They don't like the fact that I am the person raising this issue because they have been heavily bribed to ridicule and disparage me and kill the story. I see what mere morals cannot see, that is one thing they don't know. Yoruba VP, Press Secretary Femi Adesina and the rest of Yoruba media should stop covering up this evil because of their hatred for Biafra and their own freedom. Perhaps they prefer to be slaves to Fulani caliphate as a sizeable number of them are Muslims from Fulani conquered Kwara. I don't blame some of them for suffering from Stockholm Syndrome it's a powerful illness. They know their brother Femi Adesina is lying but they prefer to play along with his lies rather than publish the truth. How I miss Dele Giwa. A true journalist and brave man. Had the cabal know, perhaps they would have sent me a parcel bomb as Babangida did when he killed Dele Giwa. Who doesn't know it was Babangida the oracle of Nigerian politics that killed Dele Giwa. We continue……. I thank fearless warriors like Femi Fani-Kayode and Asari Dokubo for believing in me during the earliest days when I announced this truth to the world. Mind you this is the Sudanese who will answer Muhammadu Buhari on the ballot box next February and will people will go to vote for him.
But the whole world waited for Buhari at the summit and he failed to show up.
Question for Femi Adesina; Which part of France ?? did he arrived at?
Why was he missing at the gathering?
November 11 at 7:38pm he posted: President Buhari delivers his address at the opening ceremony of Paris Peace Forum at the Grande Halle de la Villette Paris on 11th Nov. 2018 ( using old photo of Buhari during the Paris Climate Change summit in 2015)
we all watched the video of the summit, no sign of Buhari or Jubril there, talk more of addressing the audience.
Question for Femi Adesina; Which Audience did he addressed? Where is the clip of the speech?
November 14 at 7:25pm he posted: President Buhari returns to Abuja after a 5 day official visit to Paris on 14th Nov. 2018 (using another old photo of Buhari in 2016)
Question for Femi Adesina; At what time did he arrived Abuja? and which media house covered it?
How come he stayed 5days in Paris without meeting any French officials since he was on an official visit? How can a president leave the country for a 5 day official visit and no single photo of his activities? no official meetings as claimed and no sign of him in France ??
Nigerians ask him these questions and if he cannot provide answers, arrest him and send him to prison, he's a criminal.
THE BIG QUESTION TONIGHT IS….
Why would the handlers of Jubril and ruling Fulani cabal who are in essence the controllers of political and economic powers in Nigeria be determined to lie that Jubril attended Paris Armistice Day commemoration when he never did?
I told the world that Jubril-Buhari will not attend the event because he is an impostor, fake and will be shunned by world leaders that have grown tired of the stench of evil oozing out of Nigeria. Trump was determined to walk him out of the venue if he tried to get close to him. Because of that they hid in a suburb of Paris like the prodigal son he is.
Nigeria's President Buhari Was Not At The First World Centenary Held In France — Organizers

The Armistice Day main events was graced by world leaders and the Nigerian leader was not present at the Arc De Triomphe Hall and his name was not on the official list of dignitaries published and sent to the Press".
President Buhari informed Nigerians that he left for France to attend the Remembrance Day commemoration held at the Arc De Triomphe Hall., Villers-Bretonnex in France On November 11-13, 2018, but never showed up at the main event.
Why all the carefully packaged lies with the help of Yoruba media determined to protect what is in essence an unimaginable evil?

What is it that Yoruba media practitioners and journalists have to gain by covering up such evil as the imposition of an unelected Sudanese alien Jubril on poor Nigerian masses? This is worse than a military coup and constitutes the worst perversion of democracy but it is the greatest crime anyone can commit against their people. It is the worst crime imaginable because what Fulani cabal has done with the help of Yoruba media is to regard every so-called Nigerian as a fool. Their pretensions and fake sense of patriotism I will demonstrate as a sham. I am going to prove tonight that most Nigerian journalists are for hire and will protect Lucifer if the amount is right. Media in Nigeria is populated by cowards that are concerned about how much they will make from the powers that be in exchange for killing a story or refusal to investigate a scandal such as the imposition of Jubril on a hapless population.
Have you seen Jubril's teeth? He has no gap teeth in one of the pictures released by Femi Adesina and the presidency.


That Abba Kiyari and his gang of criminals have been allowed to get away with such a heavy crime is because Yoruba newspapers have refused to investigate and publish the truth. This shameless cabal led by Abba Kiyari instructed their houseboy Femi Adesina to deceive Nigerians yet again with photoshopped pictures and fake photos of the Sudanese impostor president of Nigeria. Why a young and seemingly educated Yoruba man like Femi Adesina will allow a bunch of delinquent power drunk Fulani men to use him in such manner is beyond the understanding of any reasonable person. I guess it's because every Nigerian is a born criminal that will lie, deceive and kill for money. Thank God I'm a Biafran. Because of money, relevance and his dubious personality, this tormented young soul decided to work for the Devil.
Are you sure it wasn't Femi Adesina that forged NYSC certificate for Kemi Adeosun and photoshopped the ridiculous NYSC photo. My happiness tonight is that no politician or public office holder in Biafraland (South East and South South) has ever been accused of certificate forgery. Since the Muslim Yoruba and Arewa North love lying and forging certificates, perhaps they should be in the same country. Forgery and brazen lies is not our way of life. We cannot stay in a country with people that have no shame about forging certificates and lying at will. Femi Adesina is a staff of a national government but he specializes in forgery and falsification of documents. Such a person should be locked up in prison for forgery and perjury. He is lying cheat, a deceiver without conscience.
Every nation televised the speech of their president in Paris, ask yourselves why NTA, Channels never carried Jubril's speech live. Because Jubril was not in Paris. If he wasn't in Paris that means they are lying and if they are lying it means they are hiding something. What is that thing they are hiding, they don't want world leaders to meet Jubril because they know the whole of mankind listen to Radio Biafra.

Look at the podium….and tell me and the world why Femi Adesina decided to deceive all of you idiotic Nigerians if not for the fact he is hiding something. What is he hiding? The fact that Jubril is not Buhari.

When I say that we black Africans are evil and black for a purpose most of you start to grumble but let us look at the case or should I say instances of APC heavyweights coming out to say they have something incriminating against the government and threatening to expose it unless the government rewards them with plum political appointments for their family members and allow them to play political godfather in their various states. These are not politicians or patriots,they are cheap dirty blackmailers. If they love you as they claim, why resort to blackmail and we all know they are all talking about exposing Jubril. Governor Amosun said,  "Sorry To Say This, APC Has Committed An Unpardonable Sin In The History Of The World. Imagine A Cabal From A Particular Section Of The Country Playing On Our Intelligence And Expecting Us To Keep Quite. In No Time, Even The Dumb Will Begin To Speak Out Against This Huge Evil Perpetrated Against Nigerians. We Saw Something That Wasn't The Way It Was, We Asked Questions And They Got Angry And Turned Around To Accuse Us Of Greed, Calling Us Emperors, Threatening To Make Us Politically Irrelevant" — Gov. Amosun https://bit.ly/2REUKkN
Before we proceed any further, I want to show the picture of the event they copied to deceive you people.

On this picture you will notice that Jubril had the same pin-up on the photoshopped pictures being released by Femi Adesina. It was published by a Hausa language website. A website owned and run by Hausa speaking APC sympathizers. Google some Nigerians ought to know store every information and photo that has ever been published online. All the events the dead Buhari ever attended are all online. It is the largest library in the history of mankind. Unbeknown to Femi Adesina and the ring master Abba Kiyari, a website that had the original photos of the event Jubril attended in April were still online. Our team of researchers dug it up and we circulated all over the world. On discovering that they have been busted, they stopped talking about the summit but instead started releasing pictures of a meeting with Nigerians in Paris. Where nobody was allowed to take pictures.
Ask yourself again…..what is that crime Gov. Amosun was referring to if I may ask Abba Kiyari, the Sultan of Sokoto and their media toy Femi Adesina?
What is that crime APC committed that this governor would rather extort political advantage from the government in Abuja than to speak the truth? In any civilized society where honest journalism is practiced, reporters will call the governor to inquire exactly what he was on about and to try and get to the bottom of the problem but not in this stinking corrupt Nigeria where almost everybody is a thief and opportunist. I want to let the world know tonight that Africa is poor and black people at the bottom of the pile in every society because we are evil in our approach to moral issues. Rather than investigate the overwhelming evidence against Jubril, the lies about Paris Peace Forum, so-called seasoned journalists were busy publishing fake altered photos from Femi Adesina and the presidency to hoodwink the people into thinking that Jubril joined other world leaders at the Arc de'Triomphe event when the impostor was nowhere to be found.
Yes, Jubril Aminu Al-Soudani was in the French capital but he never attended the event because he is not Buhari. The cabal of Fulani irredentists running the Nigerian presidency knows all governments of the world listen to my program. They know world leaders would have disgraced Jubril had he made any attempt to join them. All heads of government and intelligence agencies knows Buhari is dead. They only ignored the matter because it is not their business to help ignorant populations cobbled together by the British in Nigeria to reason properly and drive away the impostor. What this Jubril saga has done is to prove beyond every reasonable doubt that black Africans are lower than animals and I will prove it tonight.

In the photoshopped pictures Femi Adesina released, it is clear to even the worst fool on earth that Buhari was superimposed on the background. This was the same nonsense they did when they said he was in a hospital before launching Jubril on unsuspecting Nigerians. Take a look at the fake picture released by Femi Adesina and see for yourself that Nigeria is the abode of Satan.

Bees, wasps, hyenas, lions and other social animals and civilized people all over the world would never allow an alien to be imposed on them. Bees will sting the impostor to death. What this means is that ordinary bees are more intelligent than your average Nigerian. That is why I call them animals. Can you imagine that Jubril was not in Paris but Nigerian newspapers and Channels TV were busy deceiving you with fake pictures and news.
It is very clear to the whole world that the man in Aso Rock is not buhari but a criminal and an imposter that should be in jail they said he has gone to Paris for a summit with other presidents but he is not in the picture why because the dressing code is suit and if he wears suit definitely he must remove his hat can't u see that this so called Nigeria can never be good till thy kingdom come.

Jubril arrives Museum d'Orsay Paris for a Picasso Exhibition on the eve of the event at a dinner hosted by President Macron. The dead Buhari would not have attended this event because he is not iconoclastic because of his strict Wahhabi tendencies.
This picture was used by Guardian newspaper on their Wednesday publication. Ask them where that picture was taken to confirm that IPOB Intelligence is way above African standard.
Abba Kiyari, Sultan of Sokoto and the daft Fulani cabal should have hired professional criminals to execute this operation of retaining power at all cost by the north. They did an amateurish job. Perhaps they would have gotten away with it in a country of Fulani/Hausa and Yoruba Muslims alone. There are Biafrans like us and there was no way I was going to allow such a fraud proceed in my lifetime. I hate evil, lies and deception.

Anybody who out of ignorance or stupidity is still doubting me, should do a simple experiment in the comfort of their own home. Go online or ask Femi Adesina to post a video of Buhari in 2015 and a video of the same Buhari in Paris on November 10. Then you will know that indeed Nigerians are the worst dumb fools on earth. He will never produce both videos because there you will know that no video exists for Paris 2018 because Buhari did not attend it. He's in a unmarked grave in Saudi Arabia. What a sad experience for the wife that has been begging the cabal to bring her husband's body back to Daura. Isn't it a shame for the man that said to me that over his dead body will Biafra come is actually dead and not accorded the common courtesy of a full military burial in the country he fought for. That is the final humiliation for a sad, twisted old man.
This thuggish Buhari administration plunged Nigeria into mass murder, ethnic cleansing, genocide, bloodshed, death, recession, suffering, penury, shame, tyranny, subjugation, destruction, monumental corruption, unprecedented poverty and the mother of all debts. Without shame, remorse or regret, these good for nothing Fulani criminals are busy trying to deceive you into renewing your misery certificate for another 4 years.

Please compare and contrast. Are these two individuals twins and if they are, who in their right mind will say they look alike or they are of the same age?
• Where are the women,men,adult and even unborn professors in Yoruba land? Can they come out boldly to resist the fraud and imposition of an impostor Aso Rock against their son Osibanjo?even though the men and youths can't emulate from IPOB,isn't it one of the responsibility of the mothers to come out on the street and demand for justice just as the IPOB women did few months back at Owerri?.
• It is clear now that the highest fraud in the world is the creation of Nigeria a country with irreconcilable and divergent value system lumped together. No society in the world can ever hope to progress when one part of the country is Sharia the other Common Law and the other Shongo traditional legal system. It is like pulling in different directions when the purpose is to move forward. When Sharia Law was instituted officially in the North, that marked a departure from the circular state Nigeria claim it is. Having an impostor as a president is a crime against mankind in this era and age. Unpardonable crime against the God in heaven.
• What Abba Kiyari, the Sultan of Sokoto and the rest of the cabal has done is to call every Nigerian a fool. The world knows Nigerians are fools.
Some people are hopelessly waiting for the government to come out to confirm it. It is now more clearer that if at all the certificate of professionalism is there,there is no bravery and courage to make it functional.No wonder they murdered Abiola,Bola Ige,Fela and others and nobody is been held responsible even when the murderers are neither ghost nor hidden.
FOR ONCE, I AGREE WITH THE FULANI GOVT OF JUBRIL
The Federal Government has said an estimated 40 million Nigerians are believed to be suffering from mental disorders.
Permanent Secretary, Federal Ministry of Health, Abdulaziz Mashi Abdullahi, stated this on Monday at the ongoing mental health action committee and stakeholders workshop in Abuja.
Abdullahi blamed the country's high burden of mental disorders to inadequate attention paid to mental illnesses, misconceptions and lack of awareness on the part of the Nigerian public.
From every fact,Yoruba certificates is like a biblical illustration of faith without work which is as dead as late Buhari.
LET ME TELL YOU WHY BUHARI IS DEAD AND THEY ARE COVERING IT UP….the answer can be found in the lies and deceit by Femi Adesina. If there is nothing to hide why are they lying?
President Nixon was impeached because he tried to cover up wrong doing. Now you understand why America is the greatest country in the world. A former Israeli Prime Minister is in prison because of an illegal property deal. Is Isreal not a great country? South Korea, Brazil and many countries moving have their ex leaders in jail. Only in Africa is deceit and fraud celebrated. Now you know why we are poor and useless.
What happened in Paris was exactly what happened when Buhari died. Fake photos and deceit everywhere until it occurred to me that he was dead. BBC IGBO responded to comment by asking the person to tell the how I knew Buhari was dead. Don't they know what investigative journalism is? But we will use the deception at Paris Armistice Day commemoration to prove that Nigerians are the dumbest and most stupid people in the world.
IPOB ALONE TOOK UPON ITSELF TO EXPOSE THE DECAY AND LIES AT THE HEART OF ASO ROCK
WE BUSTED THEIR LIES !!! Buhari was never at the Paris Peace Forum, The Cabals are deceiving gullible Nigerians.
There is a very simple research I would like the BBC to do. Look at the photoshopped pictures posted by the presidency in Abuja claiming Jubril attended the event in Paris and tell me if his event pin-up is the same as others. Why would Buhari wear a different pin-up to everybody else. It was the same clothes and pin up that he had when he attended a Commonwealth conference in April. The question is, did Femi Adesina bring his own special pin-up?
This shows that Femi Adesina and his Fulani employers are liars.
Please kindly go through these Live photos coming from Paris Peace Forum currently ongoing, after the commemoration of World War I Armistice at the Arc De Triomphe hall in remembrance of world war victims. As you can see the two-day event will run from 11-13 November. but world leaders started arriving on November 9.
Look closely and notice Buhari missing during the commemoration, The main event started on November 10 with leaders from all around the world.
Observation No. 1
Buhari was absent at the Arc De Triomphe where every world leader who visited Paris for the event was present contrary to what the cabal told Nigerians on the news, that he departed for the Paris summit.
Observation No. 2
Go through the official guest list and you will notice Buhari the President of Nigeria is not on the list but the cabal claimed he left for the event.
Observation No. 3
Notice the pinned badge on every guest how it looked liked and see what is on Buhari.
Observation No. 4
Notice how the stage looks behind every speaker and compare with what Buhari is standing on, actually the photo they are showing you is the Paris Climate Change summit in 2015 where the real Buhari was present and gave a speech. you can look this up yourself on the web.
Observation No. 5
The last photo where they were seen looking up at the screen, Buhari was photoshopped looking down and standing beside Ukrainian president Petro Poroshenko who was seen present at the previous day, how come Buhari who was absent in the beginning suddenly appeared in the hall for speech when gate closed at 5pm on November 10, 2018.
Meanwhile, with forensic analysis of the photo by Cortana shows Buhari missing from the original photo, you can do this yourself if you have recent windows 10 running on your computer.
The man in Aso Rock was never in Paris as claimed by the cabals, Nigerians open your eyes, you are being played.
Jubril is swimming in $250 Million dollars of your tax money. Nigerians Una mumu never do?
We continue our #Operation_expose_the_impostor until Jubril is arrested, tried and imprisoned. Until Abba Kiyari is stoned by the people and Sultan of Sokoto disgraced. Their crime is unpardonable.
FACTS AND FIGURES THAT WILL CONVINCE EVEN THE WORST FOOL THAT JUBRIL IS NOT BUHARI


Check the two video clips on my wall
I thought it was only Lie Mohammed that can tell a lie with such impunity but I never that a young man like Femi Adesina will enmesh himself with the bloodsucking cabal to the extent that he has become a conduit to facilities this most heinous of lies.
⁃ Every male head of state attended the event with his wife. Why didn't Aisha accompany Buhari? Because Jubril is not her husband. No matter what one may say about Aisha, I will always respect her because she has honor and dignity. She respects herself. Most other women in her position will be running around the impostor from Sudan for the purpose of clinging on to the vestiges of the position of the First Lady. But since her husband died, she has handled herself with decorum. She doesn't know how to pretend that Jubril is her husband when his actual husband is in a grave in Saudi Arabia.
⁃ Put up video of attendees with their wives.

Let me ask the so called Nigerians and the intelligent ones amongst them. Who amongst you saw Buhari land in Abuja? Where was NTA the government tv station that cover everything government officials does including going to the toilet. They did not cover it because the Buhari is dead and replaced by an impostor.
Those seeking to quietly ease Jubril is wasting their time because he is wanted for mass murder of IPOB family members, the death of my cousin and my dog Jack. Jubril was wearing Buhari's face and in his seat in Aso Rock when Operation Python Dance was launched. So he is responsible. Those that are habouring the idea of smuggling Jubril out are mistaken. Jubril is currently undergoing more corrective surgery to make him look more real like Buhari but it seems the warning I gave them before fell on deaf ears. Jubril is a fraud because Nigeria is a fraudulent creation inhabited by fraudsters.
[And the fraud continues]
The same Femi Adesina released a picture saying that Buhari has arrived Abuja on Wednesday when the Summit ended on Tuesday with most heads of state in their home countries on Tuesday afternoon. I said if they don't bring back Jubril to continue his scam latest by Tuesday know there is something wrong somewhere. And true to my prediction he didn't return on Tuesday. The fake picture released by Femi Adesina to deceive the gullible featured Willy Obiano in a line up waiting to greet his Fulani lord Jubril. They have abandoned Umahi of Ebonyi State, Obiano is the new darling of the north. Those in Anambra that supported this man how far? The picture was photoshopped and was taken in 2016. What other proof do you need to prove that these liars are hiding something from you. They are deceiving you.

A Biafran Chibuike Amechi reminded Malam Daura that said Jubril will not debate in a supposed presidential election in a democracy.
BUHARI'S COUSIN MALAM DAURA ATTACKS NNAMDI KANU FOR INSISTING JUBRIL IS NOT BUHARI
*Culled from Saturday Sun 
Question:
Nnamdi Kanu, IPOB leader alleged that the current president, Muhammadu Buhari is fake and that the original Buhari has died since January this year. He said the sitting president is one Jibril from Sudan and as Buhari's blood relation, what is your take on that?
Answer from Malam Daura:
It is really a funny and sad thing. Nnamdi Kanu has a chicken brain, otherwise how can he transmit this kind of thought and information to Nigerians who are intelligent , brilliant and exposed to life. The president cannot just die and information about him would be kept secret for more than a year, looking at the inquisitive nature of Nigerians. In fact, President Umaru Musa Yar'Adua was reported dead before his natural death. Even President Buhari was last year reported to have died until when a video showed him and his family live before Nigerians believed that he was alive. And everyone saw how he was received from medical trip and how he resumed work up to this year when he decided to visit his doctor in London after he returned from China. He was physically healthy at the time he left Nigeria. There is no any abracadabra that you can do to hide the death of Mr. President. Kanu made the absurd statement after he drank to excess, or was afflicted with all sorts of frustrations. This Kanu is a rebel and enemy of the law of Nigeria who is condemned by his own people. As a blood relation of Buhari, we are telling Kanu that he is a blunt and shameless liar. Anybody in Nigeria that knows Buhari 20 years ago, and sees him now , knows he is the same man with the same height, colour and all characteristics.
To prove Kanu wrong and that he is a shameless liar; the family held meetings with Mr President twice this year precisely during Eid el- Kabir Sallah celebrations in August this year. We chatted, discussed and he recounted past and other memorable events in the family that involved each and every one of us. The question to ask is when did this Jibril learn everything in the family that could make him to be our Muhammadu Buhari. I think Kanu should know that we are not illiterates, nor barbarians that he can make these kinds of silly statements to. Let him fool his fools, certainly not Buhari's relations or Nigerians. The only thing that changed in Mr. President is his physical structure, and this is because he is ageing. Apart from that, there is nothing missing or part of his structure or attitude that has changed. He is the same Buhari we knew long time ago. So, he is just talking nonsense.
Question:
Don't you think that Kanu's allegations will make a serious impact on Buhari's campaign for 2019 elections?
Answer from Daura:
No, not at all; I told you that the statement was nonsensical and foolish; that is why only few cynics of Buhari's administration pay attention to it. Buhari has recently overcome many character assassinations like the one by Kanu. There was a sickness saga, later WAEC certificate. We have tolerated this Kanu a lot, he has insulted our country, we kept mute; he has insulted our culture , still we kept quiet and now he is insulting our patriotic leaders and we will not keep silent again. It is only in Nigeria you will find this rubbish happening and citizens will not take any action because of the acclaimed – democratic rule. I think breaching the rights of other citizens in a country like Nigeria is unconstitutional and undemocratic. As such, Nnamdi Kanu must be brought and punished accordingly.
The interview was arranged. Question number 1 should have been; following Mazi Nnamdi Kanu's allegation that the Buhari in Aso Rock is fake, how do you defend the fact that British queen Elizabeth sent a condolence message to his family and Nigeria? Question number 2: It was reported that AU leaders observed a minute silence in Ethiopia over the death of Buhari, what do you have to say about that? Question number 3: Why did the Presidency refused to reveal the nature of the President's ailment? Question number 4: Why was the first lady prevented from seeing the President in the UK? Question number 5: Why did Zarah said that her father was acting strange when he returned? Question number 6: Why didn't the presidency took the picture of the office of the president or video to present to Nigerians that rodents actually destroyed the furnitures in his office? Question number 7: When the Presidential jet left the UK to an unknown destination, why didn't they inform Nigerians the country the jet was flown to? Question number 8: Why did the first lady suddenly traveled to Saudi Arabia for lesser Hajj? Question number 9: Why did Atiku said he cannot contest the Nigeria presidency with a foreigner? Question number 10: What does Governor Rochas Okorocha meant when he said that if he opens his mouth and said what he know that Nigerians will burn down Aso Rock in 24 hours?
I don't want any anarchy or mayhem because if I release the DNA evidence there will be a breakdown of law and order. All I'm asking for is that Jubril and his handlers should be arrested and a government of national unity convened to preside over a referendum to peacefully dissolve Nigeria or else I will release the DNA result on TV.
******************************************