By Joshua Chibuzo Andrew | Owerri
As the candidate of the Action Alliance (AA) for Imo State off-cycle governorship poll, Major-Gen. Ogunenwe Jack (Rtd) inaugurated his campaign on Saturday, his supporters were left stranded as a result of alleged poor management of the program by the organizers.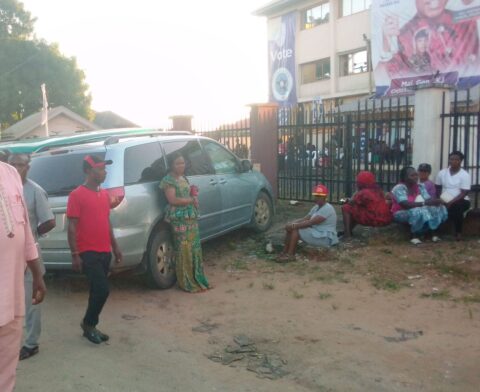 The ceremony which held at the popular Kanu Nwankwo Stadium, located along Aladima road Owerri is said to record an abysmal performance as student groups, Campaign Organizers and Action Alliance party stakeholders in the state were seen fighting over money made for transportation of supporters who came from different Local Government Council Area.
Student groups mobilised for the event from Imo State University and Alvan Ikeokwu Federal College Of Education Owerri, were brutally engaged in a serious altercations as a result of the purported bridge of agreement by the organizers of the invent who they accused of diverting funds made for their transportation.
However, People with Disability, invited by the party across the twenty seven Local Government Area of the state were left stranded in the street of Owerri over failure of the organizers of the invent to provide vehicles to take them back to their respective LGAs.
Our correspondent gathered that this ugly development triggered some supporters of the candidate who moved from Kanu Nwankwo Stadium to the Action Alliance Campaign Office located in porthacort road owerri, where they registered their disappointment with the party.
A Special Citizen Leader from Ideato North LGA, who identified himself as Omenka, told Journalists who visited the Action Alliance party campaign office that his people are Stranded.
"After mobilizing us from Ideato North to Owerri since morning with no refreshments we have been left without consideration.
"Night is already here and we do not have any means of going back home, we were told to come to the party campaign Office as you can see nothing is happening here. People are disappointed.
"There is no arrangement for hotel accommodation, even the candidate who invited is no where to be found.
" We were promised that they will take us back home, I am the one who mobilized the disabled, there is unacceptabilities among the organizers and now they said there is no money to be given to us.
"It is not funny, initially I was told that the candidate is driving here to address us, now they're claiming that his Vehicle broke down on the road.
"This is totally unacceptable by us."
Meanwhile, a member of the party who did not want his name on print, told newsmen that the party candidate, ogunenwe was in one of the hotels in Owerri with his kitchen cabinet members when the protest was going on in the campaign Office.
When contacted the retired Army General for clarification via cellphone call, ogunenwe was unable to talk to Journalists, as several calls placed on his phone was ignored as at the time of filing this report.