By Izunna Okafor, Awka
It was a moment of panegyrics, as people from all works of life gathered to bid the last farewell to the former Dean of the Church of Nigeria (Anglican Communion) and Pioneer Bishop of the Anglican Diocese of Awka, Late Archbishop Maxwell Chukwunweike Samuel Anikwenwa.
The Eucharistic burial service, which held at the St. Faith's Cathedral, Awka, Anambra State capital on Thursday, was presided over by the Primate of the Church of Nigeria, His Grace, Most Rev. Henry Ndukuba, with over over fifty Bishops and clergymen from different dioceses across Nigeria and dignitaries present to honour the Late Archbishop of the Province of the Niger.
Speaking at event, Most Rev. Ndukuba described Late Anikwenwa as a selfless, humble, and principled servant of God who devoted his time, intellect and resources to the service of God till death.
While highlighting the various achievements and attributes of the late Archbishop that stood him out, he further noted that the deceased was always punctual at events, even as he also recounted his numerous legacies in the church, community leadership and nation building.
"Archbishop Anikwenwa loved God and his people. He lived life of sacrifice and servanthood. He cherished Church Missionary Society (CMS) and Anglican heritage.
"He was a good team player, invested in people, and left indelible legacies. As a good soldier that fought till the end, he's looking forward for the eternal reward, incorruptible crown," he Primate Ndukuba said.
On his own part, the Labour Party Presidential Candidate for the 2023 General Election, Mr. Peter Obi, described late Anikwenwa as a true servant of God who also contributed immensely in nation building through his selfless service to God and humanity.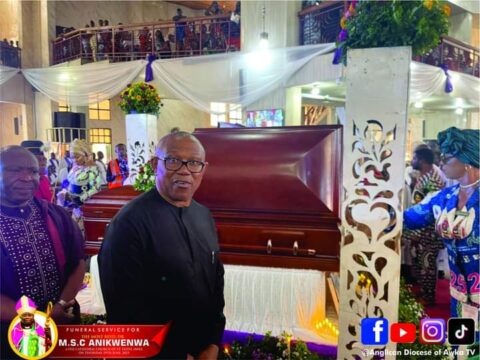 He said, "Archbishop Anikwenwa was not only a pastor of God. He was a great Nigerian who contributed meaningfully beyond his pastoral work of God in building a better Nigeria.
"If you know him well, he's involved in advocating for a better Nigeria, good governance and everything. He was a great Nigerian, a great Igbo man. And, for me, I had even expected much more than what is happening here today," he said.
Earlier in his sermon, the newly-elected Dean of Church of Nigeria and Archbishop of the Niger Delta Province, Archbishop Blessing Enyindah who hailed the life of Anikwenwa, comforted the mourners over the demise of the Archbishop, while urging them to keep their trust in God as the disciples of Christ did when he was departing.
Archbishop Enyindah, who recounted the hardship and challenges that confront Nigerians today, also advised them to remain faithful to God in the Christian race, while also assuring them that God sees both in the open and in the secret, and will surely reward everyone accordingly.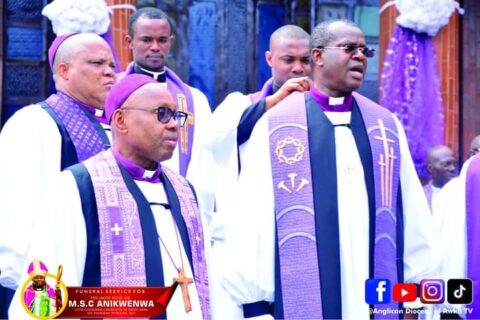 Also speaking, the Anambra State Governor, Prof. Chukwuma Soludo, represented by his deputy, Dr. Onyekachukwu Ibezim, reiterated his administration's stand advocacy for ecumenism, which, he said, Archbishop Anikwenwa also exemplified and propagated during his lifetime.
He further commiserated with the family of the late Archbishop, while also encouraging them to take solace in the fact that the deceased lived a good life, served God and humanity well, and left indelible legacies.
In a vote of thanks, the Archbishop of the Province of the Niger and Bishop of the Anglican Diocese of f Awka, Archbishop Alexander Ibezim also testified of Pa Anikwenwa's outstanding lifestyle, and equally recalled his conversation and encounter with him before his death, during which he handed some important documents over to him.
Archbishop Ibezim, who thanked God for Pa Anikwenwa's life and the success of his burial; and also appreciated every individual, group and association who attended or contributed in one way or the other to the success of the burial; while also praying God to bless and reward them abundantly.
Former Governor of Anambra State, Dame Virginia Etiaba; the Senator representing Anambra Central Senatorial Zone, Senator Victor Umeh; the Speaker of the Anambra State House of Assembly, Rt. Hon. Somtochukwu Udeze; the State Chief Judge, Justice Onochie Anyachebelu; among other dignitaries were also present at the event.
Archbishop Anikwenwa, an Anglican prelate, was born in Anambra State in 1940, and educated at Trinity Theological College, Umuahia.
He was ordained Deacon in 1964 and Priest in December 1966. He served in Onitsha and Freetown. He was appointed the first Bishop of Awka in 1987. He was made Archbishop of the Niger in 2000. He was also Dean of the Church of Nigeria.
He retired as Bishop of Awka, Archbishop of the Niger and Dean of the Church on 22 November 2010.
Anikwenwa died on March 13, 2023, at the age of 83.