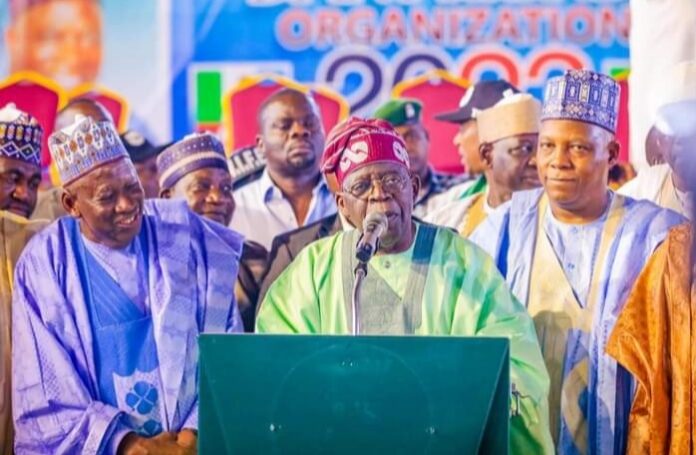 By Abdullahi Yusuf
Asiwaju Bola Ahmed Tinubu, the APC Presidential Candidate, on Wednesday in Kano flagged off his North-West presidential campaign with a promise to serve the people to the best of his ability, if elected the next President of Nigeria.
Loading ...
The APC Standard Flagbearer who was addressing a mammoth crowd at the Sani Abacha Stadium, said he had always kept his promise,and therefore would fullfil his campaign promises, if given the mandate to serve Nigeria.
He thanked the people of Kano State and indeed,the people of the entire North-West, for the warm reception and hospitality they accorded him and members of the APC Presidential Campaign Council, among others.
Earlier,the APC National Chairman, Alhaji Abdullahi Adamu, urged the people of the zone to vote for Asiwaju Bola Tinubu as the next president of Nigeria and the APC at all levels, for continued peace,unity, progress and development of the country.
Adamu commended the people of Kano State for the warm reception and hospitality they accorded the APC Presidential Candidate and his team, adding that the mammoth crowd of people that gathered at the launch signalled that the APC would win the forthcoming general elections at all levels.
The APC National Chairman then presented the APC flag to Kano State Governorship Candidate of the party,Dr.Nasiru Yusuf Gawauna,who is also the incumbent Deputy Governor of the the state.
In his address, Governor Abdullahi Umar Ganduje who is also the APC leader in the state, highlighted the credentials of the APC Presidential Candidate, Asiwaju Bola Ahmed Tinubu and his Running Mate, Senator Kashim Shettima whom he said had been tried,tested and trusted.
Ganduje said the Jagaban has the credibility, the capacity and the ability to govern the country, adding that the people of the state had taken all these variables, among others, in their decision to vote for the APC and Bola Tinubu in the forthcoming polls.
He also said that the people of the state had taken another variable to vote for Dr.Nasiru Gawuna and his Running Mate,Hon.Murtala Sule Garo, to become the next Governor and Deputy Governor of the state, respectively.
An this variable,the Governor said,was the impressive credentials of Gawuna and Garo coupled with the infrastructure development provided by Ganduje Administration, since inception.
In his speech,the Kano State APC Chairman, Prince Abdullahi Abbas, said the mammoth crowd of people that converged at the venue of the launching showed that Kano is an APC State.
He said the gathering also signified the fact that the APC had already won the presidential election and all other elections,come February and March,2023.
Dignitaries who attended the campaign rally included the President of the Senate, Ahmed Lawan,the Director-General of Tinubu/Shettima Presidential Campaign Council,Simon Lalong, and Governors of the six APC states in the North-West – Kano, Jigawa, Katsina, Zamfara, Kebbi and Kaduna.