Vows to actualize Bauchi renewal project
Bauchi State Governor, His Excellency, Senator Bala Abdulkadir Mohammed has called on citizens of Bauchi state to exercise their franchise peacefully without participating in thuggery or anything that will sabotage the state's hard-earned peace, unity and progress.
Loading ...
He added that his administration has come up with initiatives aimed at strengthening the security through collaboration with security agencies for the maintenance of peace to enable the citizens live freely without fear, anxiety or restlessness.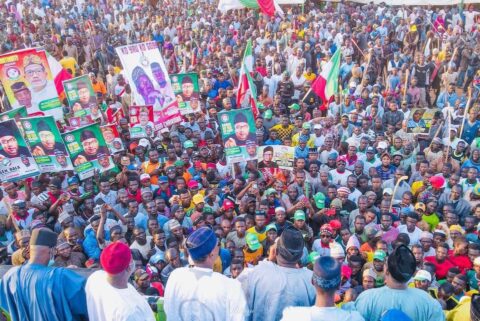 Mohammed was speaking in Azare during his reelection campaign where he recounted successes recorded by the PDP administration under his watch, saying more developmental projects will be embarked if given a second chance.
He said despite the economic challenges, his administration has renovated over four thousand classroom blocks in its effort to providing citizenry with dividends of democracy to improve their living standard.
On healthcare delivery, Mohammed said the renovation and reconstruction of facilities in each ward across the state has provided succor to hundred of thousand women and children especially in rural areas.
Governor Bala while commending members of the State Executive Council and leadership of the Party in the state, attributed successes recorded to teamwork, support and words of encouragement from traditional institutions.
According to the governor, the PDP will salvage Nigerians from the division and hardship caused by the negligence of the APC administration in addition to introducing policies and programmes that will be for the betterment of Bauchi state and Nigeria as whole.
In their separate remarks, traditional rulers, stakeholders and leadership of the People's Democratic Party (PDP) Bauchi State chapter commended the foresight of Mohammed for taking the state to higher levels through the execution of life- changing projects.