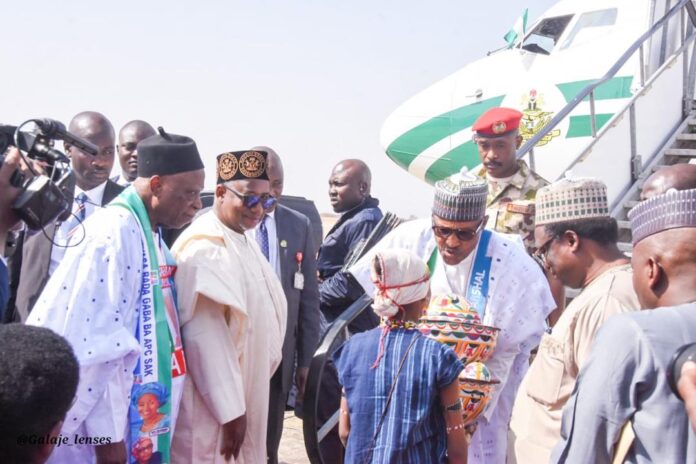 …As President Buhari says Gov Bala has done well in Bauchi
Governor Bala Abdulkadir Mohammed of Bauchi state on Monday welcomed President Muhammadu Buhari to Bauchi who was in the state for the presidential campaign rally of the All Progressives Congress (APC).
Loading ...
While receiving the President at Sir Abubakar Tafawa Balewa International Airport, Bauchi, the governor said party differences is normal in politics hence the need for him to come out and welcome the Nigerian leader.
Governor Bala Mohammed said for the first time in the history of Bauchi State, the political space of the state has been opened to all the political parties to conduct their political rallies without interference or intimidation from the ruling party.
"President Muhammadu Buhari has told me that he is coming to Bauchi and is my duty to come and receive him on behalf of the Government and people of Bauchi State. With this the President has shown that politics is different from governance.
"I am honoured that Mr President has commended me for what I am doing in Bauchi. All the Governors of APC and its gladiators are my friends so party differences is normal in politics."
The governor therefore appreciated President Muhammadu Buhari for assisting the state to execute some developmental projects especially in water, education and health sectors, describing them as legacy projects.
President Muhammadu Buhari while at the Bauchi Emir's Palace, applauded Governor Bala Mohammed for his investment in critical stakeholders of the state's economy for the benefit of the citizenry.
"Bauchi is my home because of the number of my supporters and well wishers in the Dtate state , I want to assure that I will continue to do my best in serving my country. I can't find my way without commending the Bauchi governor for investing in critical sectors .