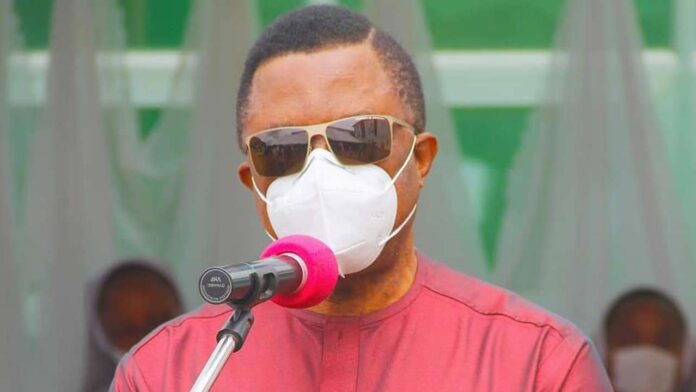 1. The Anambra State Government would like to inform the public that four out of the six truckloads of foodstuffs meant for four local government areas in Anambra State submerged by flood which were attacked and vandalized by miscreants today in Awka have reached their destinations. This is contrary to the claims in some quarters that all six truckloads were successfully hijacked by hoodlums who considered them palliatives for Anambra people to cushion the economic and nutritional effects of the coronavirus pandemic.
2. The LGAs on the banks of the River Niger submerged by flood as a result of the ceaseless torrential rainfalls since September are Ogbaru, Anambra East, Anambra West, and Ayamelum. The other LGAs strongly affected by the floods but not submerged are Onitsha South, Onitsha North, Ihiala and Awka North.
3. The truckload for Anambra West LGA has, however, been kept in Onitsha South LGA because of a lack of access road; the roads to the area are completely covered by water. "The food items will be sent by boats procured by the state government to the LGA", explained Cyril Agupugo, the Executive Director of the Anambra State Emergency Agency (SEMA).
4. According to Chief Paul Odenigbo, the SEMA chairman, flood victims in communities not submerged by flood will receive theirs in due course. "We did not exclude them from benefitting from the state government's assistance. After all, the chairman of the Transition Committee of each of the LGAs has submitted the names of people displaced from their homes by floods. They will get theirs soon. The numbers from LGAs flooded but not submerged are not as many as those from fully submerged places for understandable reasons. The foodstuffs which left our warehouse today are the garri and Indomie noodles which were purchased about four days ago, though there are some which are leftovers from COVID-19 donations".
5. Chairmen of the Transition Committees of the affected areas have expressed pleasure at the state government's assistance. Prince Arinze Awogu, the TC Chairman of Ogbaru LGA, stated: "Thousands of our people have been suffering in the last few weeks, and so the food items are a welcome relief". The TC Chairman of Ihiala, Engr Jude Obi, who acknowledged that the state government had two weeks ago donated mattresses and other items to his people affected by flood which have been distributed accordingly, urged the government to bring the relief materials quickly. "People inn such communities as Umuzu, Isieke, Akwa, Umudara, Ubahuekwem as well as Ogwuaniocha people in Ogbaru LGA who ran to Ihiala because of the proximity, have been living like refugees in their homeland", he said. "The Federal Government should borrow a leaf from Governor Willie Obiano and act promptly by providing reasonable assistance to our through the National Emergency Agency (NEMA) or through the Ministry of Humanitarian Affairs directly".
Signed
C. Don Adinuba Commissioner for Information & Public Enlightenment