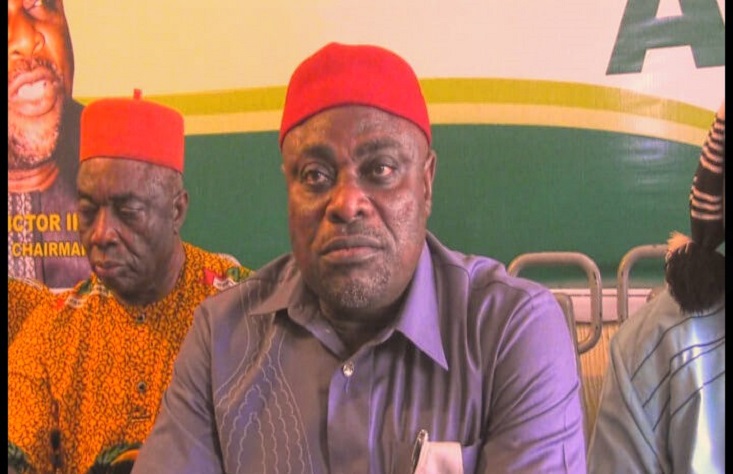 APGA Imo Guber: How Victor Oye Fleeced Our Brothers
Loading ...
From Modesty Ezenwa
APGA, Anambra Progressive Grand Alliance? Some fast talking Swift acting guy men from Anambra State came into Owerri and ripped off the purses of our own. Billions of naira left Owerri for Awka. Each male from Awka got a fair share. 19 aspirants bought nomination forms at 22million naira each. Do the calculation. You will get over 400mn
More than 120 contested for the 27 slots in HOA. They coughed out a million naira each. Just add this up. You have 120mn
66 forms were sold for the available 10 seats of HOR. Each form was sold at 5million naira. Press your add button. It is 33mn
16 forms were sold at 10million for the three senatorial seats. 16mn?
Each aspirant bought nomination forms for delegates at the cost of 10,000 naira each. I was reliably informed that a total of 58,590 forms were sold at 10,000 each. This translates to 58.5mn
Fees for waivers?
Bribes for Obiano and his hit men
Shaking hands of Obiano's errand boys?
Envelopes for the screening panel members?
Fat envelopes for NWC?
Donations made during the launching of APGA brochure in Awka?
Hotel bills of PAs and SAs?
Virtually every politician in Anambra had a cut from the windfall.
Our people were literally resident in Awka, pressing buttons
419?
The national Chairman, one barely cerebral dude turned himself into the long juju of Arochukwu. His consultation fee was as low as 10,000,000 naira!
Expression of interest before him attracts huge cough
A once struggling man, Victor Oye got oil well in Orji-Uratta-Mbaise
Using APGA as a duping conveyor belt, the resources of Imo were criminally transferred into the established strong rooms of smart ruthless politicians from Anambra.
When billions have left, and when each aspirant has been forced to pay his dues, and when the Hawks from the neighboring state have succeeded in raking as much as  they could, Victor and his group put a mother of all hurdle. A stipulated sum, too high for any man of sound means, was demanded. "Drop this last cash, and pick up the ticket"!!!
Oye and his men received the staggering sum and acted promptly. Obiano deployed his cronies to Owerri, where the drama was acted. Nwankwo Kanu sports center became the venue. An aspirant with the biggest wang was given the ticket. Others were abandoned, littered and rubbished
Oye, and his merchants have rubbished the best of our state. Ikedi Ohakim? Frank Nneji? Okey Eze? Uche Onyeagocha? Ike C Ibe? We're played off. Greed led to this. Nobody cared about the future of Imo. Good governance didn't matter. APGA, Awka was only interested in the Imo money.
I was told that the ticket has been sold to the highest bidder. Imo state is currently pensive? These guys aruola anyi local job. What transpired in the last three months in Owerri has all the telling signs of 419/ fraud.
We need to take these beneficiaries up. They collected millions and promised to hold primary elections. They did none. From the HOA to the governorship, the excuses sing. No primaries took place anywhere in the state. Names of aspirants with highest pecuniary reach were rolled out. To get a ticket, you must know someone who knows who knows Obiano
Will APGA rise again? The aspirants are drawing their daggers against apga. The state working committee has released her position, claiming that she weren't consulted before the ticket was handed over. If neither the aspirants nor the leadership of the party in the state don't know what happened in the state, who knows?
Oye and his men must refund every kobo they swallowed. We must drag him to EFCC.