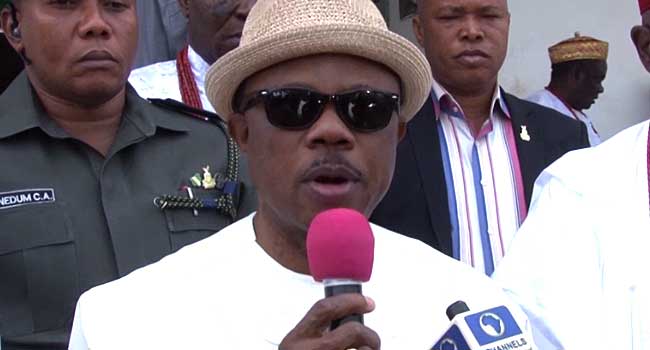 Press statement
Ogbaru Market Leaders Demand Fresh And Democratic Election From Obiano, AMATAS
The Elders of Ogbaru Main  Market under the aegis of Ogbaru Main Markets Elders Forum (OMMEF), has called on the Anambra State Government to set machinery in motion with a view to conducting a bye election into the executive of the market.
The Elders who spoke after their  emergency executive meeting appealed to Governor Willie Obiano, his Commissioner for Trade, Investment and Wealth Creation, Dr. Christian Madubuko, and the President- General of Amalgamated Market Traders of Anambra State (AMATAS), Chief Okwudili Ezenwankwo,  to in line with the Constitution of Ogbaru Market conduct a bye- election to run the affairs of market.
The chairman of the  Forum, Chief Marcel Nnadozie, said Article 10 sub-section (i) of Ogbaru Main  Market Traders Association stipulated that "in the event of death, removal or resignation of any member of the Executive Committee, the vacancy shall be filled in any extra-ordinary meeting".
Subsection (j), he said,  stipulated that "the Executive Committee shall give instruction to the general secretary and other officers for the administration of the affairs of the meeting".
He said in 2010, when Brother Bernard Aneto, alias (Onyendozi ), was impeached, Chief Eugene Nwanekezie, through a bye-election conducted  by the State Government and AMATAS was elected.
Nnadozie said in line with the above tradition, OMMEF wants the relevant authorities to set out a  date in October  2018  conduct the bye-election, since the three months mandate given to Mr. Chinedu Ejezie, would have elapsed by the end of September, 2018.
"There is therefore the need  for the authorities to conduct bye election that will see the emergence of a new  executive. OMMEF will not take anything order than a fresh and popular  election in the market"said Nnadozie.
He warned that the era of imposition of a proxy Caretaker Committee  would not be tolerated.
"We are calling on the State Government to avert the looming danger in the market.And the only way  to avert such danger is to conduct a bye-election under the supervision of the relevant authorities" he said.
He said  if their request was not acceded to  by the end of Ejezie's tenure, the entire traders in Ogbaru  will embark on massive peaceful protest until their demand is  met.