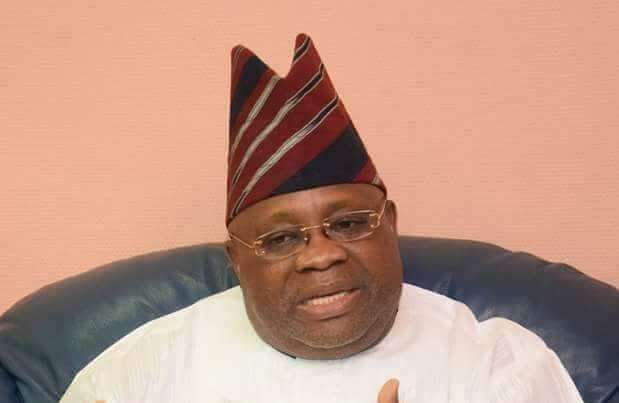 Osun 2018: The Streets Are Watching! – By Abiodun Komolafe
Once upon an administration in the State of Osun, a people groaned in the rough of aches and moaned in the tumble of pains. Then, hunger begat hunger, poverty took the place of affluence and it was as if the gods were angry! Under the criminal grip of the People's Democratic Party (PDP), governance became a satanic blend of "dumb horse-traders" and "perpetual complainants who do nothing about their complaints apart from moaning and moping."
Eight years ago, Osun reclaimed its destiny from a rapacious, visionless and pretentious clique. Thanks to Rauf Aregbesola for rescuing the state from the PDP's singularity of purpose and complete insensitivity to the people's plight. As Osun prepares to elect Aregbesola's successor, hopes are high that the state's democratic destiny would never again be left in the hands of misfits and pretenders whose previous outings was an eloquent reflection of how deep we had sunk as a country and a people.
I have long argued that September 22, 2018 would be a battle between the "Oligarchy of Intellect" and the "Oligarchies of the Purse"; between the 'power of performance' and the 'forces of politics.' At a time good governance is being misconstrued for a Dead Virtue by enemies of progress, this date in the life of Osun will be a fine specimen of political liberty over commercial prosperity; between national integrity and national cake. Against this backdrop, those who wish Osun well should pick themselves up more so as the exercise shouldn't be about dwelling in the past which in my considered opinion has become a bucket of ashes. Pretensions aside, we must all "come together", "think together", "speak together" and "act together" in order to prevent a relapse into the political violence, ethnic competitions and economic barrenness that once defined dear state. Let all men of goodwill go out there with a view to replacing those lies being peddled by "desperate political parties", "dullards" and men of scant consolation acting the sycophancy script with the true position of things. At a crucial time like this, lovers of democracy must endeavour to understand and work in agreement with the changing dynamics of the electorate. After all, individual success is a combination of individual efforts.
But what then does Osun want? Where is the state headed and who fits the bill? Fact remains that Aregbesola's government has set the pace for a knowledge-driven economy. It has helped a great deal in shaping values through morals. Its 'O' Series and Social Protection initiatives, among other laudable programmes and policies, have positively impacted lives. Without doubt, its interventions in the Agriculture sector have not only repositioned the state as the food hub of the Southwest, they have also gone a long way in cushioning the bitter, biting effects of the economic recession that was recently unleashed on Nigeria.
With a loyal and competent successor like Gboyega Oyetola therefore, Osun has no reason to fear! Unlike candidates who either paint the pictures of men of fancy speculations and unstable whims or politic for individualistic innuendos, Oyetola as an advocate of Due Process will deploy his vast experience in finance management, business and public administration as the needed balm to permanently heal the state's economic wounds. Fiercely loyal to his principles, the All Progressives Congress (APC) flag-bearer is a pious technocrat and an astute politician whose political vivacity has continued to uplift many Nigerians in all facets of their endeavours. His character, his courage, and, above all, his desire to serve a cause greater than himself are a demonstration of his resolute commitment to greater good above personal interests.
The APC standard bearer is the best among the candidates, the best for the job; and the best pill for Osun's ailments. Following in the footsteps of Aregbesola, the witty, disciplined, teachable, dependable, responsive and skilfully-artful Oyetola will continue in the tradition of changing the face of Osun into a state looking ahead to the future. His unblemished accomplishments, passion for functional education, accessible healthcare and radical approach to urban renewal projects is awesomely thorough. The interesting part of his life is that he is unshaken in courage and undimmed in vision.
Oscar Wilde captured the mood of the moment when he defined democracy as "the bludgeoning of the people, by the people, for the people." For many years, civilized Romans left politics in the hands of their kings and Chiefs. Greeks once destroyed its own democracy. In Prussia, it was the people who willingly subscribed to autocracy. Ditto for Louis Napoleon's France! Even, America, world's acclaimed symbol of democracy never had it smooth. But since they value popular participation, they have since learnt relevant lessons from their past. Again, how come Rwanda suddenly became the epicenter for everything chaotic, tribalistic and genocidal? How did she gravitate into a metaphor for the sad, the bad, the ugly and a habour for hatred? Expanding the horizon, how did the "substantial" violence which characterized the fall of the House of Hohenzollern come to be and what was responsible for the rise of the Weimar Republic through the German Revolution of 1918–1919? Coming back to Osun, what could have prompted a major opposition party into relishing in a silly, reckless theatrical charade of insulting our collective intelligence in an election as important as governorship, unless some extraterrestrial forces have so counseled? If they ever did, what are the presumed intentions and likely implications?
Evil prevails when good people do nothing! Basically, it is the unrepentant rebelliousness and the fanatical gluttony on the part of Nigeria's leaders that has led us into this petty, pitiable pass. Greed makes a man think only of himself without thinking of what becomes the lot of others. It is greed which makes Nigeria's leaders work against the interest of Nigerians that has absurdly malformed Nigeria's elite into a blend of opportunists looking for ways to further impoverish the populace. Threateningly, greed has even turned our traditional rulers into traditional riggers and our religious leaders into prayer contractors. Isn't it laughable that a political party which claims to be working in the interest of the people will be working towards turning Bola Ige House into a 'Dance Hall'?
The streets are surely watching!
May principalities and powers, assigned to rubbish our leaders' efforts, backfire!
*KOMOLAFE writes in from Ijebu-Jesa, Osun State, Nigeria (ijebujesa@yahoo.co.uk