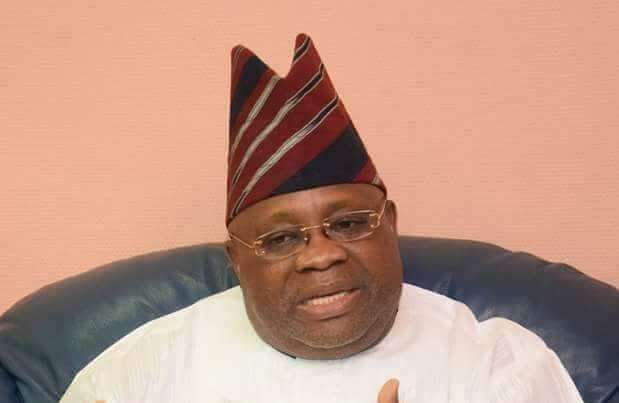 Saturday Polls: I'm The Candidate To Beat – Adeleke
Osun state chapter of the  Peoples Democratic Party today kicked off its mega rally with  a very massive turnout of voters from across Osun West senatorial district at ancient town of Iwo.
Senator Ademola Adeleke, the PDP governorship flagbearer told the rally "come Saturday ,I'm the winning candidate by the special grace of God"
With star artises, Davido and B-Red entertaining the enthusiastic crowd, thousands of voters stormed Baptist High School ,venue of the rally while another Nollywood actor, Afonja Olaniyi (Sanyeri) thrilled the audience with his comic performance.
Top party  chiefs such as State chairman, Soji Adagunodo, Director General of the campaigns, Akogun Lere Oyewumi, Alhaji Shuaib Oyedokun, Dr Akin Ogunbiyi, Alhaji Ganiyu Ayobami Olaoluwa, Erelu Olusola Obada and a host of others graced the occassion with the governorship candidate, Ademola Adeleke delivering key policy statements.
"Osun people are familiar with my six point agenda. They know I will revive the state economy through honesty of purpose, through investments in agriculture, through support for private sector. I assure our people that my main plan is to make life easy and worth living in Osun State.
" Under our govenment, half salary will stop, education will get new reforms. No more single uniform because it causes cultism, kills local economy and aids indiscipline. No more mega schools without teaching aids; no more hospitals without essential equipments and medical materials.
"Iwo people, my people; people of Osun West; great people of Osun state; cast your vote for me, for PDP. I will redeem our dear state", Adeleke told the jubilant crowd.
Addressing the rally, State chairman of the party, Hon Adagunodo said only PDP has the structures and capacity to defeat APC, urging voters to cast their lot with Ademola Adeleke.
"A vote for PDP is a vote for victory against oppression and bad government. A vote for PDP is the best way to replace the current administration of half salary, of insensitivity ", Adagunodo noted.
Also speaking , the Director General of the Ademola Adeleke Campaign, Akogun Lere Oyewumi urged residents of Osun State to vote and defend their votes, warning against weakness in the face of rigging and intimidation.
"Cast your votes, defend your vote; don't allow political thugs to scare you.Vote for PDP", he said.
A major leader of PDP in Iwoland and Osun state, Dr Ogunbiyi restated his endorsement of Senator Adeleke for the governorship seat, urging voters to support Adeleke to bring light to prevailing darkness in the  state.
"Imole is the best for Osun now. Let us cast our vote for PDP; Ademola Adeleke is the best for Osun governorship seat and his victory will be most rewarding to suffering people of Osun State", the former governorship
 aspirant stated.