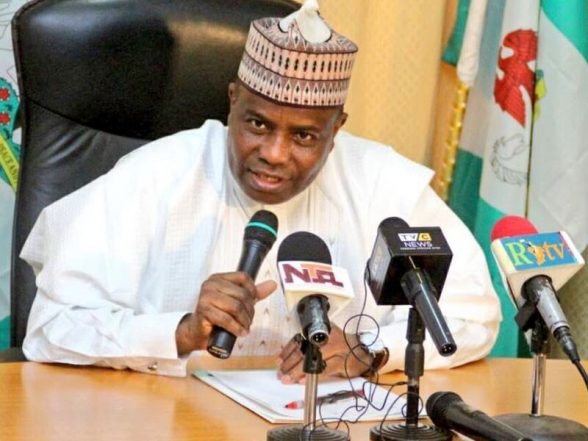 Analysis: Why Tambuwal Is PDP's Best Man To Lead The Ambitious Task Of Defeating Buhari – By Ovoko Williams
Nigerians are eagerly looking forward to the 2019 General Elections and the key highlight of this event is the Presidential election. The incumbent, President Muhammadu Buhari is the candidate to beat. Though Mr. Buhari has seen his popularity hit rock bottom in certain quarters of the country, he remains a towering figure with a cult-like following in swathes of Northern Nigeria who freely flaunts the enormous powers available to a President of Nigeria.
While there are many options available, any analyst worth his or her salt would tell you that the only realistic candidate that stands a chance of defeating President Buhari would have to emerge through the Peoples Democratic Party's process and from the North West zone where President Buhari hails from.
The terrain is steep. A number of strong contenders have expressed their intent to contest under the party's platform by obtaining their nomination forms and doing rounds across the country, shopping for sympathisers and delegates. These strong contenders include the statuesque former Vice President of Nigeria, Mr. Atiku Abubakar; the populist former Kano State governor and serving Senator, Mr. Rabiu Kwankwaso; the media savvy Senate President, Mr. Bukola Saraki and the freshman first-term Governor of Sokoto State, Mr. Aminu Tambuwal.
With the exception of Tambuwal, many of the other top aspirants are household names who have their staunch adulators and antagonists across the country. This popularity has its benefits but the troubles far outweigh them. Nigerians are looking to "change the change" but are not willing to support candidates that represent the established old order that they belong to. For Tambuwal, many Nigerians might be aware of him but express neutral sentiment towards him. This is a kind of trait that you find in candidates like former President Jonathan, a one-time governor and Barack Obama, a one-time senator in the United States Senate. Both of these candidates, like Tambuwal were not well known to the people before their candidacy. This generally raises the excitement and makes these candidates the type of change and fresh candidates that electorates generally tend to gravitate towards. The same applies to French leader, Emmanuel Macron. This confers another advantage to the Tambuwal candidacy, as conventional wisdom holds that less coverage would mean that there is less baggage. Unlike some of the other aspirants in the race, Tambuwal has no history of corruption which is actually one of the top issues for the 2019 election. Although President Buhari is seen as underperforming, he continues to poll highly on the issue of corruption especially in his base, the North West and the battleground South West region. Unlike the other candidates with unresolved corruption baggage, the Buhari communications shop would find it hard to sell their corruption narrative when it comes to candidate Tambuwal. One thing is clear, as much as Nigerians are not in support of Buhari, they are not looking to support candidates with widespread perception of corruption.
Another advantage for a Tambuwal candidacy is age. The age factor puts him in the same bracket with candidates like Saraki and Governor Ibrahim Dankwambo of Gombe state but he, Tambuwal is the youngest of the trio. There is empirical evidence to show that Nigerians favour middle aged candidates and are more likely to support a candidate in their fifties. Tambuwal, 52 fits this bill. An NOI/Gallup poll showed that Nigerians are looking for that young leader with experience and Tambuwal, a successful lawyer has also successfully managed the highest levels of legislative and executive office in the country, fits this bill.
Another point to note is not lost on most people who are witnesses to the desperate acts of the Buhari administration is the need to have a candidate with immunity. This administration has a penchant for intimidating opponents whether it is the media or opposition politicians and would definitely attempt to double down on this in 2019. Several opposition politicians have been gagged and intimidated. The PDP would not be in a haste to see how some of their strong grassroots actors like former Governor Akpabio and ex-Minister Musiliu Obanikoro have been harangued, coerced and intimidated to become a member of their party.
This could go a long way in affecting the chances of the opposition and it would only make sense for the PDP to choose for a candidate with full immunity and that person among the leading candidates would be Tambuwal, as he would be running as an incumbent governor if picked.
Governors form part of the key machinery needed to win elections in Nigeria. Tambuwal offers the PDP an opportunity to leverage. His relationships with his colleagues, the Governors within and outside the party would come to bear as the general elections approach.
One thing many people are not aware of though is that Tambuwal is highly marketable, in political parlance. Among the governors in the North and the whole of Nigeria, Tambuwal has recorded the most incredible achievements in the areas that matter. For instance, Tambuwal is a champion for education and earned himself the nickname Boko Dole (Education by force). This is a person who earned the commendation of the United Nations for reducing the number of out-of-school children in Sokoto by half within the first two years of his government. Tambuwal actioned an audacious legislation that criminalises the lack of basic primary education and makes education a right of every person in Sokoto state. This is the portrait of a performer and reformer, someone who sets his priorities and accomplishes them. This is a different offering from the lethargic President Buhari who has been unable to point to one landmark achievement since he resumed office in 2019. Tambuwal is what Nigeria needs right now and he offers a compelling story to this effect. The PDP should be paying attention.