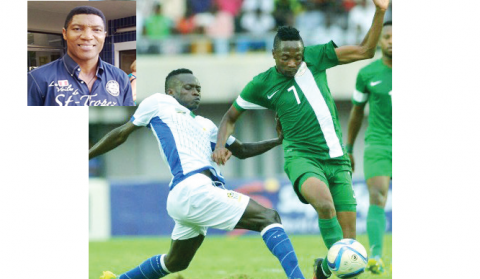 Fashanu: England Not Stronger Than Nigeria
…as Babangida hails friendly
Nigeria's football ambassador John Fashanu has said the Three Lions of England are not stronger than the Super Eagles, claiming the African side can shock the Europeans when the two sides clash at Wembley on June 2 friendly arranged as preparation for the 2018 FIFA World Cup.
The former Wimbledon FC star said although the English Premier League was the biggest in the world, its intensity did not translate to a strong national team. He said the friendly was a good one for the Eagles but urged the Gernot Rohr's men to take the battle to the English. "It is a good friendly game; and I advise the Nigerian team not to be afraid of England.
The English national team is not strong anymore; they have a very good league, arguably the best, one of the most physical but the influx of foreigners in the EPL has affected their national team. "I arranged the first international friendly match between the two countries in 1995 when England won 1-0 but you cannot compare the team they had then with what they have now.
We have our players playing in the EPL; the likes of Victor Moses and Wilfred Ndidi including Alex Iwobi are top players in England and they can easily rub shoulders with the Three Lions stars when the two sides meet," he said. Similarly, ex-international Tijani Babangida has described the friendly match with England as a 'perfect' one for the Eagles. He said the Nigeria Football Federation had demonstrated its seriousness about the Eagles' good representation at the Mundial with the arrangement of grade A games like that of England.
"I will give kudos to the NFF; this is the kind of friendly game the team needs. We were still talking about the one against Argentina and this one came; you can see what that victory over the South Americans did to the psyche of our players. I am very sure the England tie is going to be another great experience for the players and the coaching crew," he said.