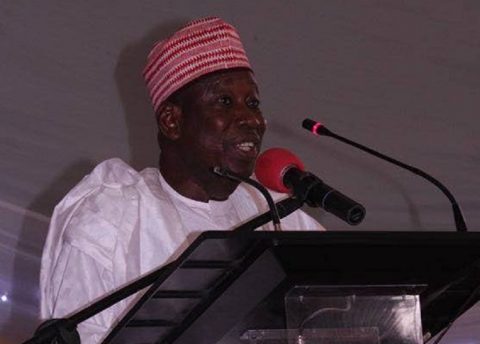 2019: Ganduje To Drop Deputy
Barely 24 four hours after Kano state Deputy Governor, Prof. Hafiz Abubakar declared his unwillingness to recontest alongside the state Governor, Dr. Abdullahi Umar Ganduje in 2019 governorship election, over 10 people with intimidating credentials have declared interest to take his position.
Those who are eyeing Prof. Hafiz's job include two serving Vice Chancellors (one serving in a  universities in the state, another one serving outside the state), two members of Kano state Executive Council, a top academician who has been a Professor for over 15 years,  a retired Permanent Secretary from the Federal Civil service.
A principal member of Kano state House of Assembly who does not want his name in print confirmed to our Correspondent that he has received several calls from top citizens of the state advising him to sponsor an impeachment motion against the embattled Deputy Governor.
According to him, "since yesterday when Prof. Hafiz made that pronouncement, I have personally received over 50 phone calls asking me to support his impeachment in the House. In fact when I spoke to some of our members on the issue this morning, they also confirmed receiving such phone calls.
"Though I may not know his reason for making such a declaration, I view it as very unfortunate nad a dent to his own image. If he feels he is no longer interested to serve the people, the honourable thing for to do was to quietly resign his from position and allow others who more capable to continue from where he stopped.
"From what he has said and the manner he said it, he has sent a wrong impression that all is not well between him and the governor which is not through. Everybody here in Kano and within the circle of government is aware that Governor Ganduje has given him free hand to operate. For all I know, he has never been sidelined, so only him can explain his reasons for betraying the mandate of the people."
However, all efforts made to reach Governor Ganduje to speak on the issue proved abortive as he travelled out of the state for official engagement.
Also when contacted on phone, the state Commissioner for Information, Youths and Culture, Malam Muhammad Garba did not pick his calls.
It could be recalled that Prof. Hafiz on Tuesday in Kano said that he was not prepared to contest alongside Governor Ganduje in 2019 governorship election.