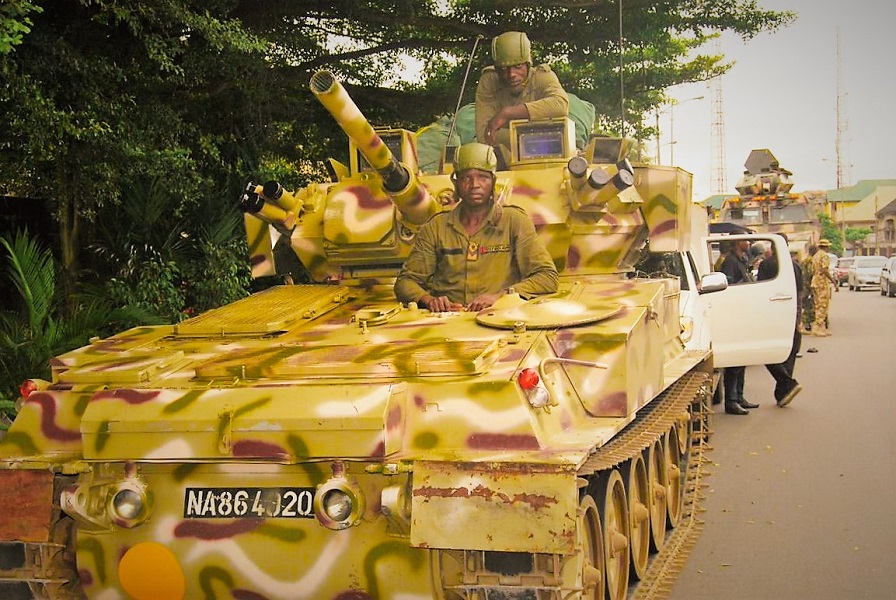 Motorists plying the Enugu-Port Harcourt expressway have lamented the heavy gridlock caused by the ongoing Operation Python Dance II exercise in the South East zone.
A cross section of motorists in an interview with 247ureports.com, said it has become a nightmare to pass through the Enugu-Port Harcourt expressway as the soldiers mount roadblocks where they have engaged small boys and girls, aged between 12 to 15, to collect money from road users.
Due to the effect of the roadblocks, heavy duty trucks, buses and cars most times stretch up to 2 kilometres waiting to be screened and allowed to pass the military roadblocks. The situation has been worsened by dilapidated portion of the expressway. At some of these roadblocks, passengers are made to disembark from their vehicles, screened while the bus will be directed to park at a distance to await them.
Sources told 247ureports.com that the exercise is designed to seek out suspected members of the Indigenous People of Biafra (IPOB). Anyone seen with Biafra or IPOB insignia is arrested, beaten up and detained while others are allowed to proceed on their journey.
The military roadblocks notorious for extortion are the ones located at Arungwa junction; 144 Battalion, Asa; Isiala Ngwa and Umuikea junction manned by the men of the Navy School of Finance and Logistics, Owerri -nta.
A bus driver who plies the Umuahia –Aba route said, "Soldiers of the Operation Python Dance II are now competing with the Police to collect money from us. The money we make is not even enough for us to maintain our families and vehicles, yet we are subjected to this treatment. We are thinking of increasing our charges to make up for what we pay at these roadblocks. The Army authorities should call the soldiers to order. They now position small boys and girls to collect N100 from us. If you are carrying loads, the small boys and girls will tell you that your money is N200, when you argue with them, they call on the soldiers who will order you to park and abandon you and your passengers.
"As you approach the roadblock, these small boys and girls will tell you that the soldiers asked them to collect N100 or N200 from you. You dare not refuse or you will be courting trouble because the soldiers are already watching you pretending not to know what is happening. This is the way they operate."
In Aba, our correspondent observed that soldiers mount roadblock at Ariaria, Osisioma and Brass junctions from 6pm daily where they also extort money from motorists. A residents of the city, Kalu Mbakwe, who spoke to 247ureports.com urged soldiers to dismantle the roadblocks and engage in patrols intelligence gathering, even in the rural areas to check crime.
"Aba is yet to feel the impact of Operation Python Dance II exercise. They should stop setting up roadblocks where you see about 10 soldiers sitting at a place. They should engage in patrol and intelligence gathering."
As at the time of filing this report, efforts to get the reaction of the Army Public Relations Officer, 82 Division, Enugu, Major Sagir Musa, as his mobile number indicated it was switched off.