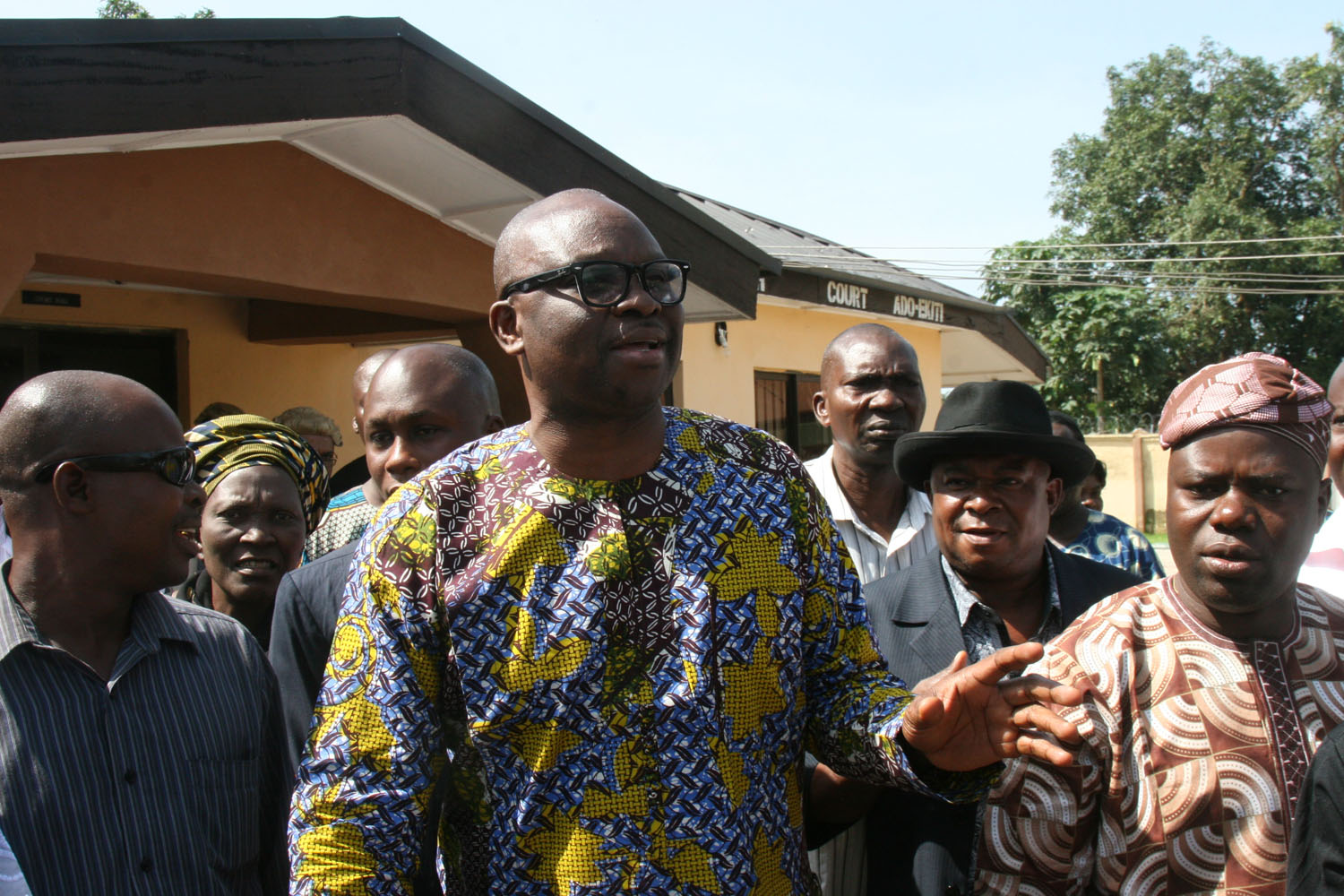 The abundant Grace of God upon our dear state, its beautiful people and the hope that we still have a huge untapped knowledge potential, ideas and skills capable of surmounting our challenges and becoming the best tribe in Africa, should provide a major relieve to the founding fathers of Ekiti. At the turn of event, they must understandably feel a deep sense of vicarious responsibility, having worked for the creation of a state that is struggling to make terms with the ideals of its own existence. The ultimate question then remains: why are we the Fountain of Knowledge?
Loading ...
Our coming into existence on October 1, 1996, was not accidental. When the idea of state creation became fashionable and a necessary enterprise, courageous men and women of our tribe considered the need to birth an outstandingly unique state: to distinguish ourselves further as a special people; to flaunt our legacy of education and most importantly, to solve problems and flourish. While the geographical need of creation was fulfilled, the essence of creation floundered-much because we found ourselves in a country that where it is the often hard to actualise  dreams. Unfortunately, we also, did little or nothing to fight our way out of the hapless and painful trappings that Nigeria has inflicted on us.
There is no question about who we are – a special breed of people: Godly, courageous, highly endowed and abundantly blessed a tribe. By the number, means and reach, we are more than qualified to be a sovereign nation of our own. With a population of over 3m people and a potential limitless net worth, we are bigger than several countries on the planet. But as one of the great tribes of the Yoruba nation, we have elected to work side by side with our brothers from the same progenitor – to build a prosperous region. That is why the Ibadan declaration must remain very dear to our heart, because on restructuring we stand. More so, our own Father and leader, Chief Afe Babalola is a leading light of this noble agenda.
For decades, other tribes in Nigeria have come to identify with us as a special people known for their education industry and academic sagacity. And truly we are – through the grace of the Almighty God and dedication to a chosen path. But that glory is fast fading away. Today, the relics of our forte in education and trailblazing exploits in academics are still visible in several first and second generation Universities all over the country. We made a mark, but we failed to mark the future, because our priority was less than using knowledge to solve our own problems.
Our forefathers saw ahead by investing in education. They caught the most important vision ever given to mankind, by knowing that knowledge and ideas would some day unleash a new world where innovations and smart technologies will dictate the pace and become the highest global earnings. The world is firmly in that age and era now as foreseen by our forefathers. But the question now is: how can we rediscover ourselves and prosper from the visionary investment of our forefathers? It may be painful and sad, that, we are at the level we are right now, but we cannot despair any further. The good news is that: as a people, we had ab initio chosen the noble path of knowledge which could unleash us to the top of global transformation, if we change course.
For decades we had acquired and prioritise education for the purposes of certificates and jobs (employment), but this time around, we must take education far beyond that narrow path and thinking. This is the time for us to activate THE NEXT PHASE OF EKITI, where our decades of investment in knowledge would be used to solve our problems and create wealth. It is a phase that can birth creativity and innovations in knowledge and Agriculture. Our years of toiling for education and investment in knowledge must translate into concrete development driven by sacrifice and limitless possibilities.
This is a clarion call to all sons and daughters of Ekiti State. The option is ours, to exit the bleaker future confronting a nation that had hopelessly committed its future to revenue from fossil fuel. In less than ten years, earnings from oil will go down drastically, because of the cessation of production of auto-mobiles and machines dependent on fossil oil by several developed nations. And in less than ten years, Ekiti can become a major knowledge centre in Africa, earning billions of dollars. How long shall we continue to ask for bailout funds, putting our today and tomorrow and that of generations to come in senseless jeopardy. Nigeria is a lazy nation saturated by mentally lazy ruling elites.
As Ekiti people, we can afford to leave Nigeria behind by charting a viable cause for our State. We have the capacity to lead a knowledge revolution in Nigeria. We can be the education capital of West Africa. We can achieve anything we want to achieve. It is not going to be easy, there is no short-cut to development and greatness, but we can do it. We must toil for it; we must sweat for it and we must work very hard to overcome our challenges and attain greatness. The opportunity is for our take, to collectively work together and make Ekiti the market place of knowledge and ideas. We must put Ekiti on the world map of greatness.
We must vigorously pursue a comparative advantage in knowledge and Agriculture with innovations and technologies. In not too distant future, Nigerians and the world must see our noble contributions everyday in research, science, agriculture and in every market. We must ensure "Make in Ekiti" becomes our overarching goal. Nigeria is expected to be about 400 million in population by 2050, this is a big market opportunity for us as we grow. If foreigners had repartitioned Nigeria for economic exploitation, we can get the best out of Nigeria.
Before I wish you happy independent anniversary and the celebration of 21 years of creation, may I humbly ask you to let us put behind us the prejudices of the past. I have come to urge you to let us prioritise Big Development and not Big Politics; I have come to seek your collective support to let us redefine our path in this nation so that we can collectively secure our future; I have come to ask you to let us do some real soul-searching, so that we can salvage our tomorrow; I have come to tell you to let us have an abiding faith in God and believe in what He has given us to excel and help ourselves. No tribe is greater than us on earth. None.
As a people with foresight, we must give absolute priority to the poor, the needy, the suffering, the excluded, the dejected, and it is in our collective interest that the strong must protect the weak, the rich must sacrifice for the poor and good must defeat evil. The only way we can secure our peace and our future is by creating opportunities for the children of the poor and the have-nots, and by restoring the lost pride and glory back to public education. We must never forget our fountains. We are the Fountain of Knowledge
As we march toward another governorship election in 2018, I have come to tell you that we shall need more than a governor, if we are going to succeed. We need man who can unlock the secrete of governance by bringing out the best of our state from the fringes and across the world to solve problems. Abuja money will never work again and it has since ceased to work effectively. In The Next Phase of Ekiti, we need a new generation of wise and purposeful leaders – leaders who are driven by knowledge, innovations, selflessness, righteousness and the fear of God. Righteousness must exalts our dear state.
There is no longer anything fantastic about being the President of Nigeria, and there is nothing so heart-warming about becoming a governor in Nigeria. If leadership cannot solve problems, it Is worthless and amounts to nothing. And if leadership has become worthless, it is an anathema to qualify such leadership with "his or her excellency." I am a Political Missionary, too small to refer to myself as an emerging leader.
As I felicitate with you on this historical day, I wish to assure you that we will work together to plant the next phase.
–