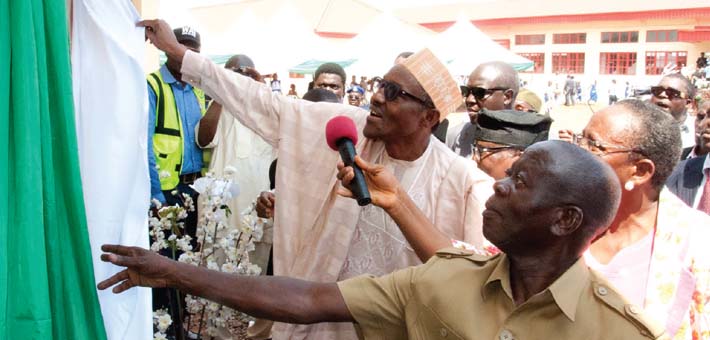 The idea of change is always an attractive prospect; human nature being what it is, we are naturally inclined to seek change more so when there is the suggestion or implication that change will improve our social and economic status. It is thus not surprising that Buhari and his opposition APC opted for change as a slogan that promises renewal predicated on a brutal war on corruption that is widely even if wrongly perceived to be Nigeria's greatest albatross. I personally believe with much anecdotal evidence as proof that tribalism and related vices such as religious fundamentalism actually constitute greater danger to Nigeria's survival than corruption but that is a topic for another day.
In furtherance of the slogan of change Buhari promised a frontal war on corruption and a new lease of life which would include free education, social welfare payments for 25 million poor, social housing, uninterrupted power supply, youth employment and industrialisation amongst others. It would not be the first time Buhari would promise change and a war on corruption, all his previous electoral advents were predicated on the same slogan. In 2011 he even went as far as urging all those who have looted public funds to flee once he wins. Indeed, Buhari was more believable then because unlike now, he was not shackled by sponsors who themselves are monumentally corrupt nor enabled by a wave of decampees from the same ruling party that is blamed for the nations ruin. But Nigerians being what they are never voted for him beyond the core northern sharia states where he always got fanatical sharia votes.
However, something has changed and it is that this time Buhari has become a formidable candidate in the 2015 electoral season. Yet a great irony underlies Buhari's recent popularity. For a candidate who has consistently been an anti-corruption crusader but who was nonetheless always rejected in the polls it took an alliance with some of the most corrupt Nigerian politicians and many of those who decamped from the same corrupt and ruinous ruling party for Buhari to achieve national popularity and improved electoral prospects while still running on the same anti-corruption and change slogan.  What then has changed, why would Nigerians find Buhari more acceptable now that he is held hostage by certified crooks than when he wasn't?  There is no doubt that the constant feed of lies, propaganda and noise by the well funded public relations machinery of the APC has succeeded in deceiving the gullible, there is also no doubt that ethnic undercurrents owing to the merger with a party that has significant regional presence in the South has also played a role in his acceptability unlike what obtained in the past.
In spite of the dubious company Buhari now keeps, the ever loquacious campaign has sought to wrap him in messianic garb, promising a cruel and unrestrained combat against corruption and creating so much false expectations that if by any chance Buhari wins, he would already have been set-up to fail as there is no chance in hell of his fulfilling the bogus promises.  As the change charade continued many of us with discerning minds wondered how the corruption fight could be actualised when Buhari is surrounded by corrupt individuals. For starters, it takes simple common sense to realize that Tinubu, Amaechi, Saraki and other monumentally corrupt individuals would not sponsor Buhari if they believed buhari would fight corruption as that would practically amount to suicide. A profile of some of Buhari's major sponsors indicates that Tinubu a regional godfather with stakes in the media, real estate, hotels, construction, tax and toll collection amongst others is one of the most corrupt Nigerian and African politicians. Ameachi on his own part has been a PDP member in 15 of the last 16 years with 8 years as the speaker of Rivers state and 7 years as governor of Rivers state. With more than N5 trillion accruing to Rivers state in the last 8 years, there is nothing to show for it on the ground due to monumental looting, while Rivers state remains the 3rd most indebted state in Nigeria in spite of colossal allocations.
Bukola Saraki happens to be  a notorious godfather of Kwara politics taking after his father who ran the state like his personal fiefdom. A member of the PDP for 15 of the last 16 years and a PDP governor of Kwara state for 8 years with nothing to show for his stewardship, he not only looted the state he is also implicated in bank scams and only decamped to the APC because the EFCC commenced his trial. These are some of the arrowheads of Buhari's campaign and the reason why the impossibility of fighting corruption by APC was predicted by many who saw beyond the hoopla of change. That suspicion was finally confirmed when Buhari a few days ago finally declared he would not probe corrupt individuals who indulge in looting the treasuries up till the 29th of May 2015, thereby giving amnesty to some of the most notorious looters of our commonwealth ostensibly as a strategy to shield Tinubu, Amaechi and other corrupt individuals invested in his campaign. http://www.elombah.com/elombah/detail.php?world=30791
With a legion of untouchable looters and sacred cows walking free many of whom will either directly serve or nominate people to serve in the government one is left to wonder how Buhari's  much vaunted corruption war would  be actualized.  What credibility will Buhari have to witch hunt some corrupt looters while shielding so many untouchables? When so many corrupt individuals are left to strut the land with impunity courtesy of Buhari's amnesty how different will that be from the Jonathan administration the APC has repeatedly and hypocritically lampooned for condoning corruption? This is the question that brainwashed Buhari supporters cannot and prefer not to answer. Politicians always make promises they know they will not keep just to win elections. In Nigeria we have a situation strange where prostitute politicians decamp from party to party.  Much of what is the APC today are decampees most of whom were in the PDP in the last 16 years and contributed in ruining the nation. But today we are being made to believe by a spurious propaganda that such criminal politicians have become saints and change agents just because they decamped to the APC.
There is no electoral contest in the history of Nigeria that has been laced with so much hypocrisy and deceit as this one. Not only have some Nigerians who seemingly clamour  for  decisive action against  corruption have strangely chosen to find  Buhari  more acceptable only after he merged with  notoriously corrupt individuals, the APC have been singing the change and corruption slogan while populated by the cream of Nigeria's corruption and decampees from the ruling party who participated in the nations ruin. Held hostage by his corrupt sponsors it is no surprise that Buhari by his declaration not to probe past looters has compromised even before coming to power. Chinua Achebe it was who declared in his epistle on corruption that "the test of integrity is its blunt refusal to be compromised."  When Buhari chose to compromise on corruption even before winning power he failed this critical test of integrity from which all other fundamentals of good leadership can flow. By that action not only did he expose the hollowness, hypocrisy and deceit of the change and corruption slogan he also vindicated those of us who always saw the true picture beyond the veil.
Lawrence Chinedu Nwobu
Email: lawrencenwobu@gmail.com
Ref:
http://thenationonlineng.net/new/buhari-i-wont-probe-past-govts/