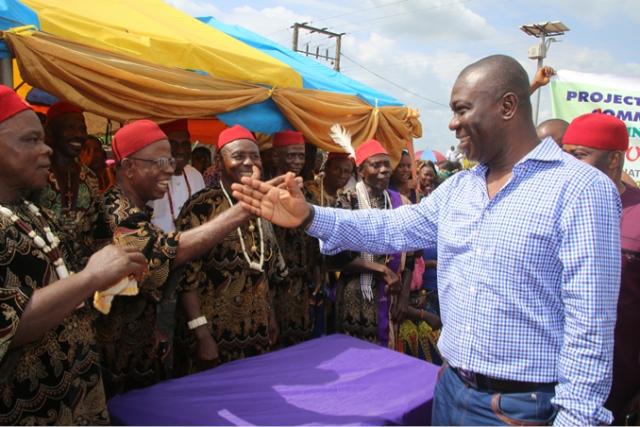 The Transformation Ambassadors of Nigeria, TAN, Enugu state chapter has endorsed the return of the Deputy Senate President, Chief Ike Ekweremadu, to the National Assembly as the Senator representing Enugu West in 2015.
The group took this decision during it's town hall meeting held at the Enugu State office of the organization, located at G.R.A, Enugu Friday.
They described Senator Ike Ekweremadu as having offered effective and qualitative representation to Enugu West senatorial district, Enugu state and the entire South East zone of the country, in his position as Deputy President of the Senate, and therefore his re-election is sacrosanct.
The TAN decision is a contrast to the views of some serving council chairmen from Enugu West senatorial zone who recently endorsed Governor Chime as a replacement to Senator Ekweremadu in 2015.
The Enugu state coordinator of TAN, Chief Anayo Onwuegbu, disclosed that the Deputy President of the Senate had already bought the PDP senatorial nomination form seeking re-election for another term, saying Enugu West Senatorial District is the only seat that is not vacant in the  2015 General elections.
Onwuegbu further explained that in addition to Senator Ekweremadu's qualitative representation that has earned him the goodwill of most electorates in Enugu West Senatorial District, by his position as the Deputy President of the Senate, he is also  favoured by the PDP NEC's decision that current Principal Officers of the National Assembly should be retained.
Earlier in his speech, Chief Onwuegbu, explained that the reason for the emergency meeting is to inform members that President Goodluck Jonathan, has finally accepted to contest the 2015 Presidential election, stating it is one good achievement of TAN.
His words: 'We have every reason to rejoice and feel fulfilled because TAN has delivered the message and Mr. President has responded positively. But, we also have to ensure that members of the President's winning team at the National Assembly, the staunch propellers of the Transformation Agenda like Senator Ekweremadu, are equally returned for effective mandate delivery".
He said there are still much task ahead and urged members to ensure proper mobilisation of the electorates in their respective wards, as a means of gingering success for President Goodluck Jonathan and other PDP candidates in the 2015 general election.
He described PDP as the official party of TAN in the 2015 general election.