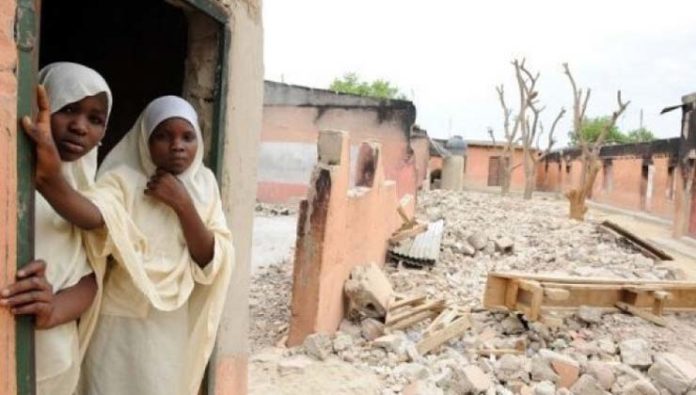 The Nigerian Union of Teachers went on strike and staged rallies
nationwide on Thursday in protest against the kidnapping of more than
200 schoolgirls by the Islamist Boko Haram sect and the killing of
nearly as
Boko Haram gunmen stormed a school outside the remote northeastern
town of Chibok on April 14, carting some 270 girls away in trucks.
More than 50 have since escaped but at least 200 remain in captivity,
as do scores of other girls kidnapped previously.
National Union of Teachers (NUT) President Micheal Alogba Olukoya told
reporters Boko Haram, whose name means "Western education is sinful,"
had killed 173 teachers over five years.
In Maiduguri, capital of the northeastern state of Borno where the
insurgency is most intense, around 40 teachers marched down a street
past rows of cicada trees to the office of Governor Kashim Shettima
chanting "bring back our girls" and holding placards saying
"vulnerable schools should be fenced".
Shettima came to the gates of the compound to meet the teachers, who
were clothed in black union vests over their long, flowing traditional
robes and were escorted by the military.
President Goodluck Jonathan and the military have come under intense
criticism for their slow reaction to the mass abduction, although last
week Nigeria accepted help from the United States, Britain, France and
China to help find the girls.
The United States has deployed about 80 military personnel to Chad in
its effort to help find the girls, President Barack Obama told
Congress on Wednesday.
Boko Haram has threatened to sell the girls into slavery but has also
offered to swap them for jailed militants.
"All schools nationwide shall be closed as the day will be our day of
protest against the abduction of the Chibok female students and the
heartless murder of the 173 teachers," NUT President Micheal Alogba
Olukoya told reporters.
Boko Haram wants to create a breakaway Islamic state in a
religiously-mixed, Muslim and Christian country of 170 million people,
Africa's most populous. Its militants have attacked hundreds of
school, killing hundreds of teachers and students.
No teachers were killed in the Chibok attack.
"We remain resolute in our resolve to continue the campaign even as we
mourn the death of our colleagues until our girls are brought back
safe and alive and the perpetrators of the heinous crime are brought
to book," Olukoya said.
In Lagos, Nigeria's commercial metropolis and port of 21 million
people in the south, around 350 teachers gathered in the green Gani
Fawehinmi park. One carried a placard reading: "You can't intimidate
us."
"Children's lives are being threatened, kidnapping all over the place,
stealing, maiming of life, that's what we are saying should stop,"
teacher Ojo Veronica told Reuters Television.
The Boko Haram insurgency has killed an estimated 5,000 people since
an initial uprising in 2009.
The Chibok kidnapping has drawn international attention to Nigeria and
Boko Haram, much of it driven by the #BringBackOurGirls Twitter
campaign, which has been supported by celebrities like Michelle Obama
and film star Angelina Jolie.