THIS IS AN URGENT NOTICE TO ALL GLOBAL TERRORIST MONITORING DEPARTMENTS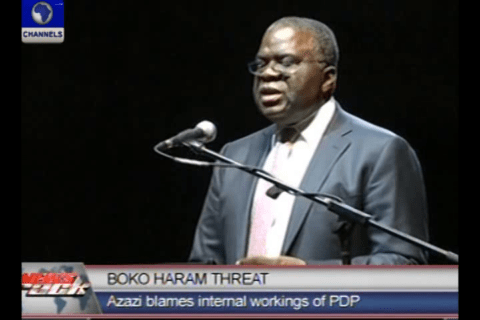 It is important that Nigerians and global security networks are notified or reminded as applies, that the ruling party of Nigeria is a terrorist organization.
This statement refers to the Terrorism (Prevention) Act 2011 and the Amendment Bill of 2012 with amendments to Section 17. According to the Act, guilty of terrorism are included "any person or persons who commits a belligerent act or has directly aided, abetted, or is perceived to have sponsored or supported hostilities in aid of unlawful combatant forces."
Based on Nigeria's laws defining terrorism and international laws on terrorism, any person or organization that commits belligerent acts and is perceived to aid and support terrorism is culpable in terrorism.
In recognition of the above, Nigeria's ruling party, the People's Democratic party, PDP, and the Presidency stand accused of unequivocally promoting and supporting terrorism in Nigeria and abroad.
The recent press statement of the ruling PDP political party, as released by PDP National Publicity Secretary, Mr Olisa Metuh, re-establishes the terrorist definers of the PDP party.
In the statement of March 7th, 2014, Olisah Metuh described the APC opposition political party as bearing "Janjaweed" militia ideology. He further declared the party pro-anarchical and suspect in the nations terror history. [Refer: http://dailytrust.info/index.php/politics/18481-manifesto-a-product-of-janjaweed-ideology-pdp]
These strong official accusations from the ruling party in lieu of the current deadly terrorism situation in Nigeria, unquestionably demand immediate action from Nigeria's security department.
Implicating the PDP in national and global terrorism; the critical points to be noted are as follows:
(i) If the APC party is so suspected of being the 'faces behind the mask,' as Metuh insinuated, the public query is to why the ruling PDP government has not disbanded the APC party and taken in its leaders for interrogation in the interest of the security of the nation and protection of life. Metuh's has made a hefty accusation or allegation. The failure of the ruling PDP party to urgently act on such strong 'intelligence' as publicized by Metuh, implicates the PDP party in aiding and abetting terrorism and the deaths of thousands of Nigerians. Refer to the Nigerian Anti-terrorism Act. It is the responsibility of the government—and not us, the people—to cordon all 'suspects' of terror.
(ii) The PDP national chairman from March 2012 to January 2014, Bamanga Tukur, in violation of Nigeria's terrorism Prevention Act, defended the actions of the Boko Haram terrorist sect that has claimed the lives of thousands of Nigerians and destroyed livelihood and property worth billions of Naira. PDP's Bamanga Tukur on May 16th, 2012 said: "Boko Haram is fighting for justice. Boko Haram is another name for justice. " [Refer: http://www.punchng.com/news/boko-haram-fighting-for-justice-tukur/] This pronouncement in support of Boko Haram, which has led to increased recruitment by the organization and increased support for the activities of these terrorists has been tolerated by the ruling PDP party to date. Upon his resignation, this staunch party bigwig who has not yet been subjected to the Terrorism Prevention Act, was again employed under the PDP ruling government to head Nigeria's railway corporation. This is a clear act of terror by the Nigerian Presidency and ruling party, a violation of Nigeria's Terrorism Prevention Act and international codes on terror.
(iii) Nigeria's former top security official, NSA Andrew Owoye Azazi, the designated official head of the department with accurate information and intelligence on the true nature of Nigeria's Boko Haram terrorist operation directly indicted the PDP ruling party as the face behind Nigeria's terror. His statement in April of 2012: "PDP got it wrong from the beginning, from the on-set by saying Mr A can rule, Mr A cannot rule ……according to PDP's convention, rules and regulation and not according to the constitution and that created the climate for what has manifest itself, this way… Boko Haram suddenly became better trained, better equipped and better funded." [Refer:http://www.channelstv.com/home/2012/04/27/azazi-blames-boko-haram-attacks-on-pdp/] NSA Andrew Azazi was killed in a helicopter accident later that year after making the revelation in suspect circumstances. The death of Andrew Azazi must be taken up and re-investigated by international human rights organizations and the implications of his notice needs to be registered in confirming the indictment of the PDP party in Africa's terror.
(iv)The President of Nigeria from the PDP ruling party made the following statement confessing knowledge of the sponsors of Boko Haram terror:
"Some of them are in the executive arm of government, some of them are in the parliamentary/legislative arm of government while some of them are even in the judiciary. Some are also in the armed forces, the police and other security agencies." [Ref:http://www.punchng.com/news/boko-haram-has-infiltrated-my-govt-jonathan/]
The Interior minister Abba Moro White report published in the federal government of Nigeria's official gazette since 2011 lists Boko Haram terror sponsors. Nigeria's ruling party President has refused to act upon this report. Failure to act on the intelligence information in this report strongly implicates the Presidency and ruling party in the support and promotion of terror and terror-related death in Nigeria.
(v) In February of 2014, the President's Special Assistant on Social Media, Reno Omokri under an alias, Wendell Simlin, was caught by media experts and implicated in grand terror conspiracy, the use of terror to cover-up massive government fraud and misappropriation, terrorism related forgery and the use of Boko Haram terror to promote political agenda of the ruling PDP party. This identification of a top government -Boko Haram ideological sponsor has far-reaching implications and the lack of immediate arrest of the person of Reno Omokri implicates the PDP President in this act of terror and suggests the President's directive in such criminal acts.
(vi) Appointed by the PDP President. The new Minister of defense for Nigeria, former NSA Aliyu Mohammed Gusau, also a PDP party member has been implicated in the 2013 cache of Hezbollah linked ammunition found in a bunker in Kano, among other media releases linking his person to the establishment, support and reinforcement of terrorism across Nigeria. Quoting the Nigerian Pilot:
"JTF's spokesman, Lieutenant Ikedichi Iweha who made the disclosure to journalists in a statement issued in Kano same day, had further said that, "from the arrests made so far, security sources disclosed that Gusau's link to the Hezbollah group is being investigated following tips by "those we have arrested." [Refer: http://nigeria.gounna.com/show/show/29763/1]
Agencies should note that Boko Haram terror, MEND terror and other militant deadly groups all established comfortably while Gusau held office as Nigeria's chief of security, NSA. It is reported that this man re-hired by the ruling party President covered up the activities of the Boko Haram terror group when he was asked about them by the then President, Olusegun Obasanjo. See "Why The Terrorists Are Winning in Nigeria," the statement by Steven Davis as reported in PMNews on Sept. 14, 2011: http://www.pmnewsnigeria.com/2011/09/14/why-the-terrorists-are-winning-in-nigeria/]
(vii) Missing billions of dollars traced to global terror sponsorship. Apart from the government robbery being acts of economic terrorism; the recent reports of missing sums of up to or more than $127 billion dollars as established courtesy of a CBN release describing missing $20 billion from Nigeria's oil revenue from only an eighteen month 2012-1013 period analysed, have been linked to global funding of terrorism networks. The looted billions according to intelligence experts are suspected to be used to finance Boko Haram terrorism, and these billions of dollars are reaching al-Qaeda international headquarters by flowing through AQIM (al-Qaeda in the Maghreb) of North Africa.
In lieu of the listed clear indictments of the ruling PDP political party in the support of and sponsorship of terrorism in Nigeria, West Africa and globally, and the violation of local and international anti-terrorism law by members and leaders of this political party, all Nigerians and local and foreign security departments are advised to take caution, enact all possible actions and resort to all legal means within their reach to control this deadly menace. The allegations made are strong, but yet do not cover the full scope of evidence linking top members of the party and Presidency to terror.
Global terrorism investigating and terror finance monitoring bodies are advised to promptly and firmly deal with the party links to terror, including, but not limited to, freezing party terror sponsors assets, restricting visa's and travel and capturing these politician terror sponsors and activists where possible.
As far back as 2003, distinguished Nigerians privy to intelligence information recognized and classified the ruling PDP political party as a "terrorist organization." Of note has been the Nobel Prize laureate, Professor Wole Soyinka who has repeatedly described the party as a terrorist "nest of killers" based on information to which he had been privy. This assertion was very well before the birth of the APC opposition party, and a period when the PDP was the single powerful party. Since then, no determinant action has been taken, over 5000 military and civilian lives have been lost and Nigeria and its neighbors continue to live under an environment of supported and protected deadly terror. There is an immediate call for action on this matter in the interest of lives of the most affected, poorest Nigerians. Nigeria should not remain a nation where terror and the massacre of the poor masses is a politicians' game and joke.
Dr. Peregrino Brimah
http://ENDS.ng [Every Nigerian Do Something]
Email: drbrimah@ends.ng Twitter: @EveryNigerian