Five-time Grammy-nominated artist Akon is working to improve the lives of others with a cause that's close to home.  Over two-thirds of people living in sub-Saharan Africa are living without electricity, with 85 percent of those in rural areas lacking access to it all together.  With his new initiative, Akon Lighting Africa, the singer/producer hopes to bring solar powered electricity to 1 million homes in Africa by the end of this year, meaning better lighting, improved infrastructure, and healthier lives.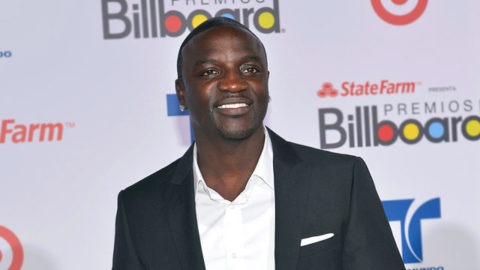 Born in St. Louis, Missouri to parents from Senegal, Akon spent much of his childhood living in the West African nation before settling back in the U.S. and eventually building his highly successful music career, not to mention signing Lady Gaga in the process!
He's telling ETonline about his recent tour in Africa to meet with various leaders there and what's in store for his latest, yet to be released album, Stadium…
ET: WHAT CALLED YOU TO START THIS INITIATIVE AND HELP IMPROVE COMMUNITIES IN AFRICA?
AKON:  I think the biggest call was the fact that I'm African and I just wanted to really make a difference; to really go out there, put my boots on the ground, and make some things actually happen.  I noticed in my travels that I was doing in Africa, outside of music, there are a lot of contracts being signed from corporations, countries, and things of that nature dealing with infrastructure, energy, and commodities, but there's nothing happening. There's no energy, there's nothing going on, no results. I really wanted to make a difference and speak out to get the youth involved and get the people of those countries involved to know that they can actually build their country as well and not wait for people to come and do it for them.
ET:  WHAT KIND OF PROGRESS HAS BEEN MADE SO FAR?
AKON:  The progress has been amazing!  This has called out more entrepreneurs and small business owners who are passionately investing into a lot of the infrastructure in Africa and who want to be a part of the growth of African stability.  Just that alone has triggered people who normally wouldn't be a part of Africa's growth to be a part of it now.
ET: HOW HAS YOUR TOUR IN AFRICA BEEN, ALONG WITH VISITING YOUR HOME TOWN?
AKON:  Africa is my biggest market when it comes to touring; it's kept me so busy that I haven't had time to even tour the United States.  Touring is what opened my eyes to what we need in Africa, being in all those countries and visiting all those villages, and kind of being a part of the culture itself has motivated me more than anything to build an infrastructure there.
ET: YOU'VE HAD A LOT OF AMAZING SUCCESS IN YOUR CAREER AND YOU NEVER SEEM TO STOP WORKING! WHAT KEEPS YOU GOING?
AKON:  It's the love of it, more than anything. I love music; it's a passion of mine. I love to write, I love to produce, I love to perform, and I love to create new artists as well in the process and build new careers. I don't think I could shake this if I wanted to!
ET: SPEAKING OF MUSIC, YOU'RE PLANNING A CONCERT AT THE END OF THIS YEAR TO CELEBRATE YOUR INITIATIVE'S SUCCESS?
AKON:  Absolutely!  The goal afterwards is a huge celebration, one huge concert to celebrate getting everyone involved and raising more awareness.  More than anything, just to celebrate the fact that people are coming together to do some amazing things in Africa.
ET:  DO YOU HAVE ANY IDEA WHO WILL BE PERFORMING AT IT?
AKON:  Right now, we don't know which acts will be a part of it since we're still putting it all together. But you can believe that I will reach out to as many people as I can, but those who want to be a part of it naturally will be. When we announce that final lineup, you'll know who actually has a passion and who's the one who can do it.
ET: WHAT NEW MUSIC PROJECTS ARE YOU CURRENTLY WORKING ON?
AKON: I'm constantly writing and producing, also collaborating with artists from around the world.  I'm pretty known for my collaborations, so this particular album I'm kind of keeping those collaborations silent until people actually purchase the new album.  I'm kind of keeping it a surprise because I'm doing some work with artists for the album that people wouldn't expect me to be working with.
ET: CAN YOU TALK ABOUT YOUR NEW ALBUM, STADIUM?
AKON: The Stadium album is kind of different from all my other albums; it shows a lot of growth.  It's actually defining who I am as a person because I changed a lot with my last album in 2008, which wasFreedom.  I've grown as a person, so it kind of put me in a place now where even my records are kind of reflecting what I want to be remembered for.  It's on a whole other level and I'm so excited about it, it's one of those records where anyone can hear it without me having to give my clean version of it, haha!
The release date for Akon's fourth and latest album, Stadium, has yet to be announced.
For more info on the album's single, So Blue, click here.