From Mohammed Nasir Shuaibu BAUCHI
Gamawa lessprivilage groups have expressed their gratitude and thanked the local government Caretaker chairman, Nasiru Bakura over the distribution of federal government palliatives in the area.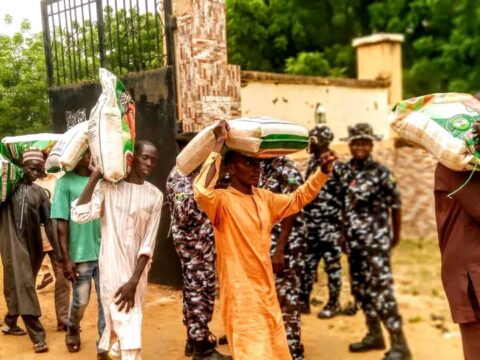 247 Ureports gathered that thousands among the lessprivilege groups were seeing converged early in the morning at the local government secteriate waiting to collect their own shares as was announced by the LG authorities in the ongoing palliative distributions of food and non-food items.
Speaking at the flagging off the distributions of the items, the Caretaker Committee of Gamawa local government, Honorable Nasiru Bakura said beneficiaries in the local governmen will smiled home with 25kg bag rice each.
Honourable Bakura explained that the 1000 be beneficiaries were carefully selected in all the three District and wards level among the most lessprivilage people.
He explained that the beneficiaries were part of the 3,468 selected and drawn from 289 polling units across the Local Government, with each polling unit getting 12 bags of the rice per unit.
Earlier on, the State Commissioner for Humanitarian Affairs and Disaster Management, Hajiya Hajara Yakubu Wanka and other dignitaries did the symbolic distribution of the palliative amidst fanfare.
She said that the exercise will continue until all the targeted 3468 beneficiaries get their share of the rice palliative.
The distribution exercise, which is taking place under the watchful eyes of security operatives, LG Caretaker Committee Chairman and the distribution committee from the ministry of humanitarian affairs and disaster management, took place in peaceful atmosphere devoid of rancor.
Our correspondent observed that beneficiaries were still trooping into the Local Government Secretariat collecting their share of the rice.