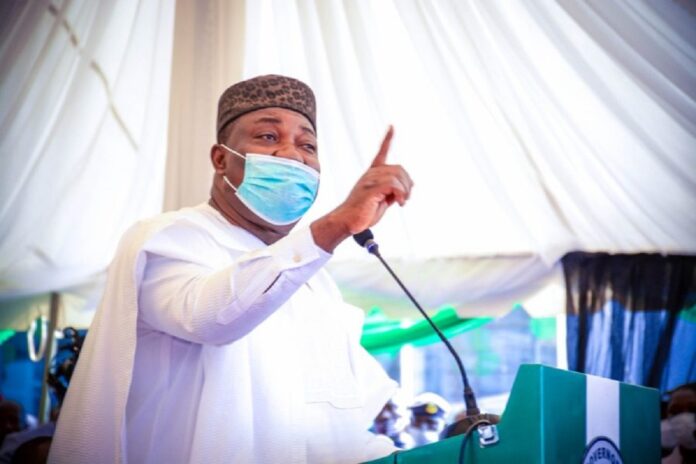 The youths from Udenu, Igbo Eze South, Nkanu East, Nkanu South, amongst other Council Areas of Enugu State have vowed to burn down virtually all the property of the Enugu state government should the alleged conspiracy of His Excellency, Governor Ifeanyi Ugwuanyi and the State Resident Electoral Commissioner, Independent National Electoral Commission (INEC), Edwin Offor Nwatarail, aimed at ringing the election said to be won by the Labour Party, LP during yesterday's gubernatorial election see the light of the day.
The report filed by our correspondents who are monitoring the election in the Coal City State revealed that the youths have perfected the plan to storm INEC offices across the state to cause kiosks, which if not properly handled, may turn out to result in Nigeria's political revolution.
Warning strongly on the negative consequences for any attempt to toil with the mandate the electorates has given to their choice of a person as their next governor, the youths under the auspices of Enugu State Election Youths Vanguard, ESEYV went further to accuse Governor Ifeanyi Ugwuanyi for having used the state resources to pay both the INEC Enugu State Resident Electoral Commissioner and his staff billions of Naira to thwart the results of the election.
"We are sounding it clear that Governor Ifeanyi Ugwuanyi and his already bribed INCE boss in Enugu State should as a matter of urgency, release the governorship election results won by the candidate of Labour Party, otherwise, let Ugwuanyi be ready to leave anarchy as his legacy in Enugu state.
"We are worried that our outgoing governor who came into office in a refined democratic process will be holding results of these Local Government Areas despite Labour Party win. We are also aware that he (the Governor) has conspired with the election umpires to foment trouble in our dear state but we won't be deterred to reclaim the mandate of the Enugu State people already given to the candidate of the Labour Party". The youths threatened.
However, the spokesperson for the thousands of youths, drawn from the affected local government areas who gave his name as Jeremiah Utazi said they are giving INEC a few hours from the time of publishing this report to release the results or they should be ready to do the needful at the odd hours of the impending anarchy.
Efforts made to reach His Excellency, Governor Ifeanyi Ugwuanyi, any of his media aides nor the Spokesman of the INEC, Enugu State were not fruitful as at the time of hitting the press.