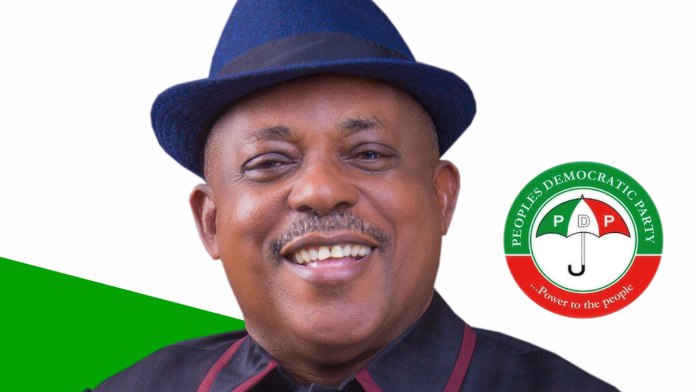 PDP Press Conference on the State of Health of President Buhari and UN Petition
–
Loading ...
Text of Press Conference By The Peoples Democratic Party (PDP) on Issues of Urgent National Importance, Today, Tuesday, May 8, 2018.
Gentlemen of the Press, we have called you today to address you a number of issues of urgent national importance, particularly the issue of the health challenge of President Muhammadu Buhari as well as developments related to unabating violation of human rights in our country.
President Buhari's Health
The Peoples Democratic Party (PDP) notes the confirmation of the Presidency that President Muhammadu Buhari is unwell, ailing and unfit to attend to state matters, resulting to his latest journey to the United Kingdom for medical attention.
This admission, though belated and coming after intense public pressure, has now put to rest speculations and anxiety on the health status of the President, as well as his attendant inability to effectively govern.
It is however very unfortunate that the President and his handlers had chosen to shroud the issue of his persistent illness in secrecy under a government that prides itself on claims of transparency and integrity.
Nigerians will recall that shortly before the Commonwealth Heads of Government Meeting (CHOGM) in April, Mr. President, without transmitting a letter to the National Assembly, as required by the constitution, undertook a private visit to the UK, where his doctors are known to reside, five clear days ahead of CHOGM. Nigerians were left in the dark for the period despite demands for full disclosure by the PDP.
Only last week, two days after his departure from the United States where he had gone for a state visit, Mr. President went 'missing' again. When concerns began to mount on his whereabouts, the Presidency claimed he had a "technical stopover" in the UK, citing flight issues, only for revelations to emerge from the same Presidency, on Monday, that Mr. President was actually in the UK to see his doctors.
In these circumstances, Nigerians were taken for granted, deceived and treated like lesser men and women without reasoning capacity, while our nation, at those periods, was left with no leadership as Mr. President refused to transmit power as required by the 1999 Constitution, as amended.
Whereas we have nothing against Mr. President's decision to take care of his ailing health as we are all subject to human frailties, Nigerians detest the deception, lies and beguiling that had trailed the handling of his unabating health issue. Even as we speak, Nigerians are not aware of the ailment our President is suffering from and the identity of the doctors and the hospital attending to him.
Moreover, it is unfortunate that President Buhari would always embark on medical tourism abroad when his administration has completely refused to address the poor state of the health sector in Nigeria, for which medical personnel are currently on strike across the nation.
In conclusion, we urge the Presidency to note that shrouding the issue of President Buhari's illness in secrecy, just for political gains, is neither in the interest of the President nor that of our nation at large. Sordidly, the handlers of Mr. President appear to be more concerned about the next election instead of the consequences of a failing health and the blatant breaches of our constitution. The PDP therefore counsels President Buhari to be well guided and take charge of his health challenges.
Escalation of Impunity By The Federal Government
We want to draw the attention of Nigerians and the international community to the import of the response by the Presidency to the petition filed by our party to the United Nations, detailing the gross violation of human rights, mass killings, state sponsored violence, persecution of opposition, subversion of democratic tenets and large scale corruption by the President Muhammadu Buhari-led All Progressives Congress (APC) Federal Government.
It is incontrovertible that our petition which was signed by our National Chairman, Prince Uche Secondus, embodies the pains, anguish, mood, wishes and voice of the generality of Nigerians across board, particularly the victims of extra-judicial killings, state instigated violence, arrests and detentions, economic hardship occasioned by large scale corruption and government incompetence.
You are already aware of the international outcry against the impunity and high-handedness for which various reputable international agencies, including the Amnesty International (AI), Transparency International and the US Department of State had issued reports exposing these atrocities, while exhaustively indicting the Buhari administration.
The world was however shocked when the Buhari Presidency, in a brash show of power and siege mentality, arrogantly dismissed the issues raised by the PDP and the international agencies as 'comical' and even went ahead to issue new threats to opposition and dissenting voices in our country.
This gruesome response by the Buhari Presidency on critical issues bordering on direct violation of constitutionally guaranteed welfare, personal liberty and lives of citizens is completely reprehensible and further demonstrates the level of official arrogance, high-handedness, dictatorial proclivities and spurn with which the Buhari Presidency and the APC hold our citizens and the international community.
This obstinate position of the Presidency at a time it should be showing remorse, retracing its steps, apologising and making effort to end the atrocities, clearly shows that what obtains in our country now is a deliberate enthronement of official overbearingness and intolerance to dissent, as if Nigerians are no longer citizens but subjects of a conquest.
We invite all Nigerians and the international community to note that since the filing of our petition to the UN for which Nigerians across board have reposed hope, there have been escalation of hostilities, direct threats, harassment and intensified persecution of key opposition members, including our National Chairman.
PDP notes that Nigeria under President Buhari is awfully degenerating into a despotic state where citizens are no longer safe as long as they hold opinion contrary to those in power, in spite of their constitutionally guaranteed freedom of expression.
We urge the world not to fold its hands and watch as official impunity and imminent despotism override civil liberty and rule of law in Africa's largest democracy.
You are already aware that sadly, our dear nation is now rated as number 13 in the Wikipedia list of world's fragile states. Nigeria is currently in despair and we all must stand up and take a stand on the side of democracy before it becomes too late.
Thank you.