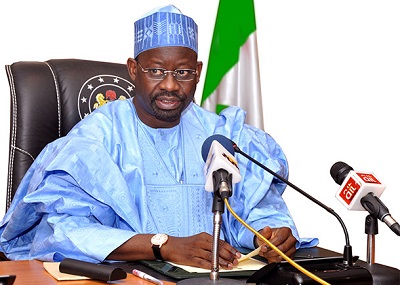 Democratic Institutions, Dankwambo And The Youths Agenda – By Chief Edwin Emeka
Loading ...
All over the country, one palpable gist in every corner is the quest for a younger president as well as the calculation and permutations for the 2019 general elections. If my understanding of the current situation is right, it then means that our political elites are too pre-occupied with the next election more than any other issue at the moment.
But, leadership does not only begin with elections and ends with it as there are more to that.
Infact, no democracy any where in the world can strive without strong institutions; these institutions may not be perfect, but there are the bedrock for any civilised democratic practice.
It should also be noted that expecting perfect outcomes from these institutions can be frustrating sometimes because mankind itself is never perfect, so why expect a perfect result from an institution created by man?
It that enough reason to remain nonchalant about improving our institutions? Certainly no!
Inspite of all these, the basic truth is that, we should all be  striving towards effecting a paradigm shift by grooming younger men and women  for democratic leadership as well as improving our existing institutions so as to make them stronger and effective instead of recycling and creating very powerful individuals who turn an entire institution in to their personal fiefdom.
Giving the younger ones the chance for leadership as well as strengthening our democratic institutions should go beyond mere expression of words. It must be backed by convincing actions!
The leadership of the various political parties in Nigeria should encourage young people by exclusively reserving sensitive positions like the presidential tickets of their parties for them.
On the issue of strengthen our institutions, the executive arm of government should make enough funds available to these institutions. While the people themselves should cultivate the habit of respecting these institutions even where it goes against their wishes and expectations as  democracy is not all about victory but sometimes about our dispositions and approach to its laid down rules as  encapsulated by these institutions. This will also prove our true convictions and commitments to our avowed democratic ethos.
Therefore, to arrest the leadership challenge and lacuna created by the absence of young men with young ideas in the leadership positions of our dear country, the 2019 general elections presents an ample opportunity for us to embrace the youths and entrusts them with leadership positions and responsibilities.
Since it has become obvious that the ruling party in the country would field President Muhammadu Buhari as it's presidential candidate, the main opposition and biggest party in Nigeria should not waste time by not allowing a younger candidate in the person of Dr. Ibrahim Hassan Dankwambo, the best governor in Nigeria to fly it's flag next year.
This is because, often times we focus our attention on those who have arrived and over celebrate them without bothering to breed and groom new ones to take their positions. We failed to understand that successful generations without successors are saboteurs.
Even at that, most of the times, those we often celebrate are people with questionable characters whose actions and conducts are inimical to the corporate existence of our beloved nation.
However, this is not to discourage the celebration of achievers, but such achievements should be crystalized by allowing younger candidates who have distinguished themselves in various fields to come up and prove their mettle in higher horizon.
In lieu of the foregoing, two of our greatest leaders whom God have entrusted the affairs of Nigeria in to their hands have taken the bull by the horns and by the special grace of God, they would do justice to the task, but then their efforts would still be in vein if the people and the media refused to support it.
The media being the fourth estate of the realm and a very vital agent of socialization and mobilisation would play a crucial role in changing our collective leadership perceptions as well as the celebration of true and worthy achievers who deserve real honour, recognition and respect.
But, a situation where some media houses allows themselves to be used by powerful politicians to propagate falsehoods against their opponents or wreck their reputations for pecuniary reasons creates much doubts about their commitments to the paradigm shift in our politics as well as the strengthening of our democratic institutions.
In accordance with Chief Obasanjo and General Babangida's quest for younger president in 2019, I want to add that they should not look further again as  Dr. Dankwambo has all it takes and should be given an opportunity.
Through this process, Nigeria would begin to produce true leaders who will make the country great again and make our elders proud.
–
Chief Edwin Emeka is an award winning Columnist. He writes from Abuja.
Contact him via edwinemeka54@gmail.com