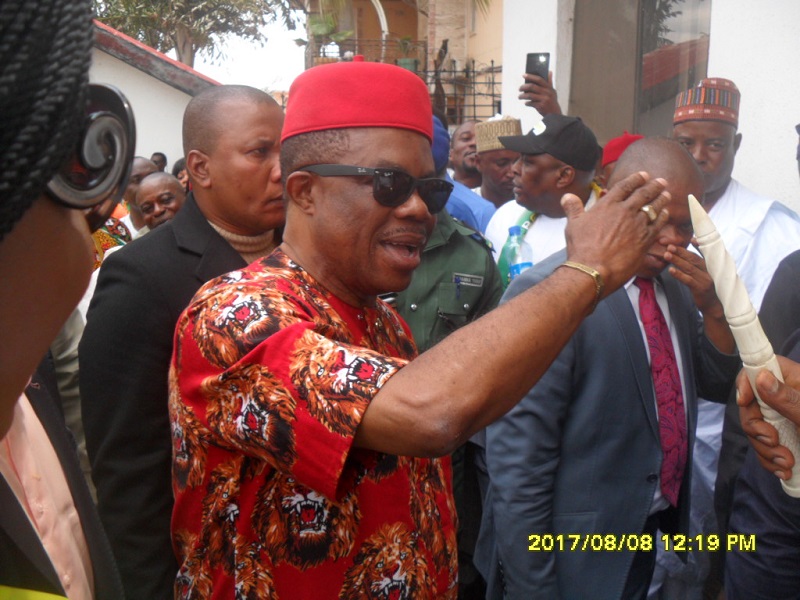 Loading ...
The national secretariat of the All Progressive Grand Alliance [APGA] in Wuse 2 Abuja came alive today [August 8, 2017] as the governor of Anambra state, Chief Willie M. Obiano arrived the office to pick his gubernatorial nomination forms.
The Governor arrived the national Secretariat at 12noon amidst fanfare. Delegations from the entire political zones present along with supporters who travelled from the various corners of the country. The Governor was received by national chairman of the party, Chief Victor Oye and the national secretary Labaran Maku along with the national working committee.
It is recalled the national secretariat was recaptured from an attempt to take over the secretariat by the Martin Agbaso led group who had staged a failed coup to take over the leadership of the party. Last week, Martin Agbaso, a known card carrying member of the PDP, staged an illegal takeover of the national secretariat in an attempts to install his choice of national working committee and by extension, his choice candidate for gubernatorial candidate.
But the duo of Ben Obi [Igwe APGA] and Labaran Maku staged what appeared a retake of the secretariat. The two APGA personalities made appearances at the Secretariat after the Inspector General of Police [IGP] had been brief on the illegality of Martin Agbaso's invasion of the secretariat. Interestingly, as the duo of Maku and Ben Obi arrived the secretariat for the retake, Martin Agbaso was reported to arrive the secretariat but immediately zoomed off as he realized his game was up. Martin Agbaso never returned to the secretariat.
Today, as the Governor arrived, there was no tension. The APGA members, which included members of the Anambra state Assembly, Local Government Area [LGA] chairmen, and other chieftains were seated without signs of tension. It was evident the event of the past week had little impact on the party members.
APGA has scheduled its primaries on the 15th of August.