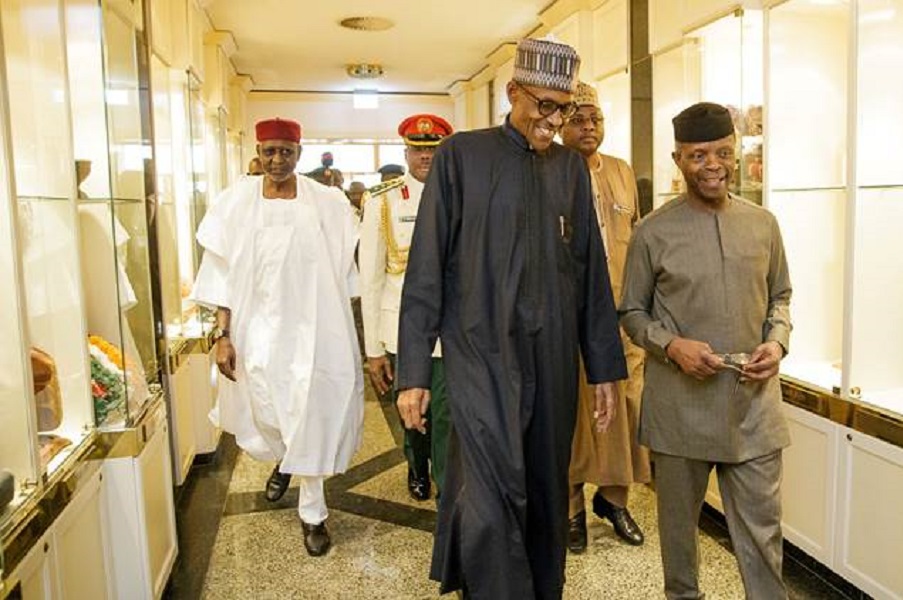 Following the return to Aso Villa by the President of the federal republic of Nigeria, General Mohammadu Buhari from his medical trip to London in the month of March, marking two months of absence from power, sources within the Presidential villa reveal to 247ureports.com that the President who immediately took over from his vice, Yemi Osinbajo barring his health condition – virtually 'handed over' power to his nephew, Maman Daura.
According to the source, the President has maintained a strict schedule since his return. He reports for duty in the late mornings and hangs around for a little over an hour before returning back to his residence for rest and sleep. Our source explains that the President was not healthy enough to have left the medical facilities in London to return to Nigeria to face the rigor of Presidency. The source explains that the President is fully aware of his weakened health status – and his inability to face the rigor of Presidency.
But the President's handlers and/or close associates – whom the President's wife had referred to as the cabal – were said to have impressed on the President that his continued stay in Nigeria as the active president can be stage managed to avert a feared take over by the vice president. The cabal as our source explained, have a full blown fear of Osinbajo presidency. For this reason, the cabal has taken over fully from Buhari.
Before President Buhari fell ill, Mamman Daura and the cabal were powerful and held power and great influence on President Buhari. But with President Buhari's return, Mamman Daura became the President. His power became that of the president. He began making policy decisions without consulting the President. "And Buhari is okay with it", said the source who added that the alternative would be to return power to Osinbajo.
Our source indicates that the health status of the President has yet to come around enough to enable him engage in presidential activities over extended period of time. "He still suffers occasional dizzy spells" and his old ear infection and other brain related affliction is believed to have affected his ability to hold his balance against the effect of vertigo. The effect of vertigo is common with stroke victims.
Buhari's aides and Ministers seldom have audience with the President. Most often, it is Maman Daura and/or Abba Kyari, the Chief of Staff who seats in for the president – and, are reported to be piloting the affairs of managing the ministers and including approvals and directives. According to our source, not many of the Ministers appreciate the new order of 'things'.
On the part of the vice president, the cabal is reported to be at work on him. They are tirelessly working to push back at the vice president to relegate him to the dormant vice president office.