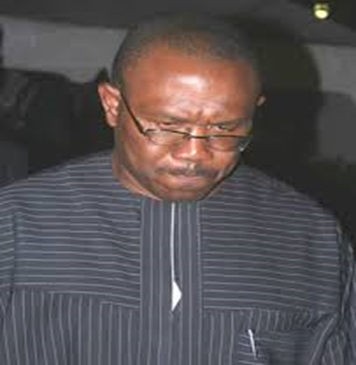 Mr. Peter Gregory Onwubuasi Obi was a stunch APGA faithful before he defected to PDP. Like every known Peter, it was expected that he will one day deny APGA at the eleventh hour. Every known Peter in history appeared firm,robust and zealous in their believe but were always known to finally deny and renege from their commitment at the last hour. The biblical Peter Okwute pledged absolute support for Jesus the Christ but reneged and denied him at the last hour, Peter Duesberg of Germany gave his sound report of cancer causing virus from birds in 1970 but yielded to pressur! e and denied his report in at the last hour in 1987. America's Pete Rose spent 15 years denying that he ever made a bet that the Reds will win when he was team manager, an action he took in the presence of prominent Western leaders but denied it at the last hour. The American Immigration Minister Peter Dutton denied he never offered to resign via text message knowing fully well that the message is still accessible and was actually pulled at the last hour. Peter Cowan denied he never killed Morcombes until unimpeachable evidences convicted him in court at the last hour. The name Peter is synonymous with last minute denial and Peter Obi is not an exception.
In the last 18 months, the media aides of the former Gov. of Anambra State were visible all over the media and social Network, they were paid by their master  to manufacture lies and smear the rising image of Gov. Willie Obiano, who hit the ground running from day one in office. They believed that they are achieving results for their paymaster tarnishing the image and destroying the good works of Gov. Willie Obiano. They were astonished that despite Peter Obi's giant strides in governance, Gov. Willie Obiano's 18 Months was able to dwarf it with ease. How can Gov. Obiano make so much impact on our people in such a short period of time. He has restored hope in the minds of the already ravaged society where criminality and kidnap has become another means of livelihood, something we could do in our 8 years in office. We need to act fast or this man will erase us from Anambra political history via his performance. This is Peter Obi's concern, hence the instruction to his media aides to swing into action and bring Gov. Willie Obiano down by all means. If Peter Obi and his cronies had been positive about Gov. Obiano's achievements, the Former Governor would have been an idol today in Anambra State and Igbo land in general. Afterall, Obi promised Ndi Anambra to hand over to someone who is not a Politician, someone who will perform better than himself, someone who will take Governance in Anambra State to the NEXT level.
Gov. Obiano thought that he shared the same vision with his predecessor. They were thinking alike.But taking governance in Anambra State to the NEXT level meant different things to the two friends. To Gov. Willie Obiano, it meant working really hard and delivering the dividends of democracy to Ndi Anambra. Peter Obi understood differently, it meant literarily taking governance in Anambra State to the thr! eshold of his NEXT INTERNATIONAL. Yes, every government business in Anambra State must be in collabration with Peter Obi's NEXT INTERNATIONAL. Every purchase must be made by NEXT INTERNATIONAL, Every board must be chaired by NEXT INTERNATIONAL agent or subsidiary, Every IGR must be collected by NEXT INTERNATIONAL disguised agents.Every contract award must be deliberated upon at the desk of NEXT INTERNATIONAL boss because he vowed not to relinguish power to his successor. Anambra State is Peter Obi's property because he believed he worked hard for it, "we started this business and we cannot allow this man to control it otherwise he will chase us out". The governance of Anambra State must be taken to the NEXT LEVEL but NEXT is in far away KADO, Abuja, too bad.
What are Obi's lies, Question from Ndi Anambra and the inherent denial in Peter the rock ?
Peter Obi lied to Ndi Anambra that he left 75 Billion naira for his successor, Gov. Willie Obiano but a closer look at the handover note revealed that he left only 9 Billion. Anambra people are asking why Peter Obi should leave 75 Billion Naira cash in the Bank when he needs only 2 Billion to give Water to Onitsha residents who have never seen pipe borne water in almost 20years, 1.5 Billion to give water to Awka capital city residents who sees the story of pipeborne water as illusion. Why would Peter Obi keep 75 Billion in the Bank for Gov. Obiano when he needs less than 20 Billion naira to provide captive power for ! Awka, Onitsha and Nnewi which are atleast the growing commercial cities in Anambra. And Peter denied, I did not say 75 Billion cash, I said cash, Bonds and sundry investments.Cash is only 9 Billion. Why Peter why?
Peter lied to Ndi Anambra that he never borrowed a dime from anyone in his 8 years in office but he did not tell them that he left Billions of Naira debt for Gov. Willie Obiano including the payment for the vehicles, Office supplies, furnitures etc he purchased during his tenure. Ndi Anambra are asking, What about the AGRIC loan he took from the Federal Govt. which is being deducted from the State FAAC. He gave this loan to his friends and cronies names withheld and they are bad loans now. What about the World Bank Loan which Gov. Obiano is servicing the interest now etc. If Gov. Obiano mandates his principal officer to speak on this now with records, Peter will say that he was not called to clarify. Can his e-rats clarify this loans now and tell Anambra people that they took loan during their tenure before they embarrass themselves again and blame it on Gov. Willie Obiano. By the way,What does it really mean to borrow, why is Gov. Obiano still paying for what Peter Obi purchased if they were not purchased on credit /loan ? Redeem yourself now or the public will see the documents and know first hand what happened. Why Peter why?
Peter Obi lied to Ndi Anambra that Gov. Obiano has squandered all the money he saved and is about to start borrowing from Banks to plunge Anambra! into serious debt. What he did not tell Ndi Anambra is that Gov. Obiano is still paying the debt incurred by his administration which amounts to over N120 Billion Naira and was still able to increase staff salary, something that Obi was not able to do in 8 years. Do you save by depriving people of their duely deserved rights ? The amount of debt bequeathed to Gov Obiano by Mr Peter Obi will take a prudent financial administrator atleast 8 years to settle but a first class financial guru like Gov. Obiano is already unravelling this myth in less than 2 years. He has already brought the payment to less than half of the amount owed and instead of thanking him from a distance, the perpetrators of this evil are using it as a Political witch hunt. This proves that the debt was a financial land mine laid for Gov. Obiano which he has tactfully, skillfully, professionally and quietly checkmated prior to now. Ndi Anambra are asking, Peter, did you leave a debt of this magnitude for Gov. Obiano, why didn't you use your utopic 75 Billion to pay for this debt so that he will see the clear picture of Anambra State finances ? Why Peter why.
Peter employed over 3,000 Civil servants barely 90 days to the end of his 8 years tenure and lied to the Ndi Anambra that he kept their salary for 3 years.(Why would an out going Governor keep 3 years civil servants salary for a State that has monthly Federal allocation and IGR). Ndi Anambra are asking, why did you hire over 3000 civil servants less than 90 days before the end of your tenure. How were you able to run the State for 8 years without this people but did not want your successor to decide and hire them by himself ? Why Peter why.
Peter lied to Ndi Anambra for 8 years that he cannot conduct local government elections because he was enjoying local government funds but conducted same election less than 90 days to the end of his 8 years tenure. Ndi Anambra are asking, why did you conduct this election which you refused to conduct in 8 years less than 90 days to the end of your tenure. Wouldn't it have been better to allow Gov. Obiano to conduct this election and build his structure if you meant well for him? Why Peter why.
Peter lied to Ndi Anambra that all the contracts he awarded were paid for and the one's he has not paid, he left the money for the payment for Gov. Willie Obiano. Just last week, he admitted during an interview with Channels TV that he did not pay for all the contracts he awarded and did not leave 75 Billion cash for his successor Gov. Willie Obiano. Ndi Anambra are asking, what do we believe now. If you did not leave this money, where is all the money that accrued during your tenure, our excess crude of 65.9 Billion, over 20 Billion of our Federal allocation, our IGR which Gov. Willie Obiano has raised from your monthly 500 million to over 1.5 Billion without increasing tariff but only making sure that they are paid into government purse as against individual pockets during your time.? Why Peter why.
Peter lied to Ndi Anambra in his handover note that he invested 3.5 Billion naira of their money in his indirectly owned Sabmiller breweries only for actual records to show that he invested only 1.97 Billion naira. Ndi Anambra are asking, where is our 1.8 Billion Naira? Please bring it out from KADO MALL because we are not ready yet for NEXT. Why Peter why.
Peter lied to Ndi Anambra when he said that he will never touch their money and any day they found that he touched their money he will resign. Peter's boys were caught carting away 250 Million Naira of Anambra State money in their routine monthly transaction to NEXT INTERNATIONAL of 7 Aerodrome dr. Apapa Lagos. Ndi Anambra are asking, what happened to the transactions before and after the errand boys were caught. When are going to return the money Oga Peter? Why Peter why.
Peter lied to Ndi Anambra when he said that he will never leave APGA no matter what happens and that if for any reason he decides to leave APGA, he will leave Politics entirely. Peter left APGA and became a worst Politician than when he was Governor. Atleast, in his 8 years as Governor, he was never seen physically carrying ballot boxes. The moment Peter Obi entered PDP and drank their water, he became an expert in ballot box carrying. He showcased his mastery of this act during the last election in favour of his new found love PDP. Ndi Anambra are asking, Why Peter why ?
Peter Lied to Ndi Anambra when he used Anambra State funds to establish ANIDS transport but used the Mass Transit scheme to settle his friend. The question for Peter Obi from Ndi Anambra is, who is the real owner of ANIDS ? Why all these games, why Peter why?
Peter lied to Ndi Anambra when he said that DENCA resources will provide 400MW of power at Ogbaru and mobilized them for this project with 250 Million few months to the end of his tenure. Since this administration came to power, DENCA resources has never answered calls not to talk of responding to written invitation to discuss with the government. It is even doubted whether DENCA resources existed. Ndi Anambra are asking, please Mr. Peter, if there is anything like DENCA resources, how do we get them to deliver what you paid for ? who did you give the money to and how do we recoup our money in the event they are not forthcoming.Is this part of the 75 Billion you left for Gov. Willie Obiano or an addition to it? Why all these financial misappriopriations ?
There are a lot more things that will be asked at the right time but in the meantime, please help our people to move forward by providing answers to these questions. We know that you are a peace lover and an upright man who does not like the poor to be ill treated.
Thanks Sir
–
Chris Uzoechina,
SA to Gov. Obiano
Govt. House,Awka