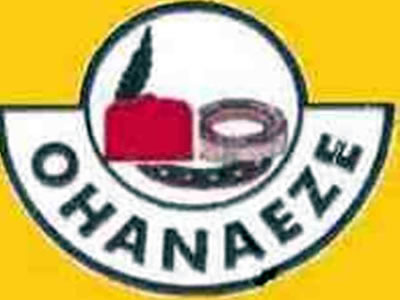 I have taken conscious steps to understand the way our democratic system works and have been kept abreast of every political situation that is of national interest in Nigeria. And my findings in comparison with the political history of Nigeria show that the game of politics in Nigeria is best played and won by those who have "Dynamic and flexible political philosophy" than those who believe in "Static and rigid political philosophy". This is where the Igbos get it wrong.
Loading ...
I consider myself as being a part of Igbo since one of my uncles got married to an Igbo woman from Imo State. Besides, 20% of my best friends are Igbos so I have a bond with the Igbo people and whatever affects them worries me too and I hope they get it right from this political dispensation.
Shortly after All Progressives Congress (APC) was formed on 6 February 2013, Some people had ambivalent feelings toward the party and most of my Igbo friends including other Igbos I interacted with told me that they will never support APC that it is a Hausa party and that they prefer PDP to APC. I didn't argue with them much since everybody is entitle to his opinion and choose which party to support.
The level of apathy the Igbo people have towards the North, Buhari and APC is so alarming that kept me wondering how they want to spring up politically in Nigeria without the North. History has shown that no geo-political Zone in Nigeria can excel politically at the national level without the North. This is an obvious fact that I feel the Igbo nation should know.
Nigeria's colonial masters gave the North the political power in Nigeria from colonial to post colonial eras more than any other region and as a result, they must play a significant role for anybody to succeed in national politics.
No matter the wrongs the North might have done to the Igbo nation, they must learn to forgive and move on. In politics, there is no permanent friend and no permanent enemy because of changing political and personal interests. Even Buhari has told Nigerians to learn to forgive if they must make the change they want to make and move forward in life.
The way the 2015 general elections was conducted in the Igbo states, I knew that their hatred for the North was reignited even against non-northerners  like Chris Ngige just because he contested on the platform of APC without having done anything wrong to his people.
Chris Ngige, who represents Anambra-Central  and who would have been the Senate President in the 8th National Assembly was denied re-election by his people just because of being in APC including all those who contested on the platform of APC in the Igbo states. As a result, the Senate President which was supposed to come from the zone would no longer be possible.
There are great lessons to be learnt from history and the political events of our time and if the Igbos must be relevant in national politics, they must desist from their long lasting apathy against the North and resolve whatever differences they have as soon as they can and create a mutual understanding with the North and other Geo-political Zones.
If the Igbo people will not do anything on this issue now, I am sorry to say that they will be heading to "POLITICAL WILDERNESS". I hope this does not happen because Nigeria cannot divide and so the creation of the Republic of Biafra cannot be possible. So the only way is for the Igbos to find their way into the Nigerian political mechanism by embracing new political ideologies.