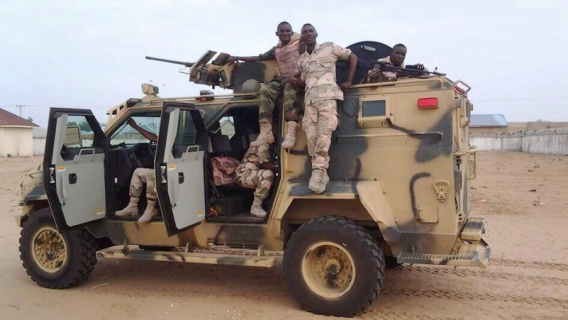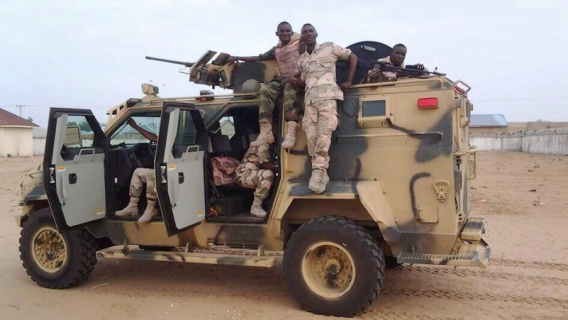 The Nigerian Army on Wednesday announced a special promotion for all soldiers involved in liberating Baga in Borno from Boko Haram insurgents.
The Chief of Army Staff (COAS), Lt.-Gen. Kenneth Minimah, announced the promotion while addressing the soldiers during an official visit to Baga in Kukawa Local Government Area.
Minimah said the promotion was to reward the soldiers for their gallant effort in flushing out the insurgents.
He added that soldiers who died in the battle with the insurgents would also be promoted posthumously.
"The entire country is singing praises of Nigerian soldiers for the bravery exhibited in the fight against the insurgents.
"I urge you to keep the tempo by striving hard to record more successes'', Minimah said.
He expressed optimism that insurgency would end in the next couple of weeks.
"Never again will Nigerians suffer this kind of large scale destruction in the name of insurgency'', Minimah said.
He said his visit was aimed at boosting the soldiers' morale and building more confidence in them.
"The war is almost ended, we will liberate Dikwa, Bama, Gwoza, Marte and other places in a few days time'', Minimah said.
He advised Nigerians to support the military in its quest to end the insurgency.
"Nigerians should maintain confidence with Nigerian armed forces. They should support our military because there is no other.
"War is war. War does not often come out in favour of any one. In fact, it is the end that justifies the means.
"The war, as it stands, has turned out for the good of Nigerian Armed Forces, and God willing, in a matter of time, it will be over.
"So, I encourage Nigerians to support their military'', Minimah emphasised.
He said that the six weeks offered by the Federal Government for the military to clear the insurgents was achievable, going by the recent developments.
"It is achievable; we are still within the time frame. But six weeks should not be taken that everything must be attained because this is war'', he added.
Minimah assured that the military would strive harder to ensure the return of peace to all the affected areas in a short while.