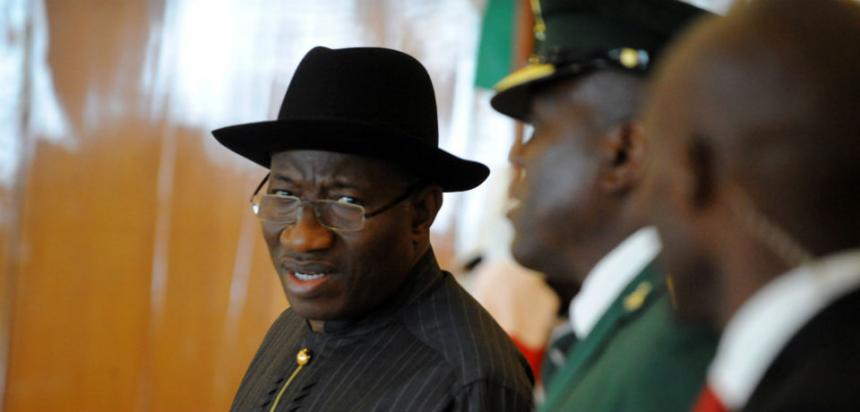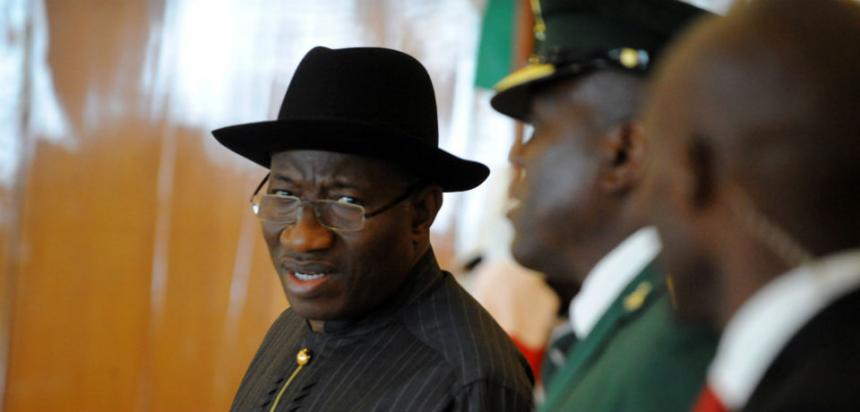 I am in love with President Goodluck Ebele Jonathan for his tyrannical streak. He does it so perfectly, so cleanly, so evasively and remained absolutely detach from it. Except for the discerning minds who might trace the pinpricks or manifest terror in the nation polity to him, his puritanical mien, brimming face and meekly disposition forbids anyone to tare him with 'status arrogance' and virtual brigandage.
Mr Jonathan remains for me a phenomenal of different cast that needs to be understudied; different to other dictators in living history, both death or alive. His ability to reck havocs and turn away smoothly without tracing them to him has become an artful logic would-be dictators should learn. It is not for nothing that all along he maintained sly and serpentine disposition. Even though President Jonathan has been seen as being inferior in reasoning, dull in imagination, tasteless in statecraft and anomalous in orientation, his sudden acquisition of tyrannical war chest speaks volume.
A tyrannical leader is one who rules without law or pretends that they exist. He looks to his own advantage rather than that of his people, and uses extreme and cruel tactics against his kind as well as others. As an absolute ruler, he is unrestrained by law or constitution. Tyrants usurped legitimate constitutional rights of other Arms of Government and give illiterate interpretation of the law.
For the umpteenth times, Governor Ayodele  Fayose of Ekiti has buried the sublime state of "Fountain of Knowledge" in the cesspool of political hooliganism. President Jonathan pretended not to know that thugs loyal to Ayodele Fayose beat up a judge, Justice John Adeyeye, for being allegedly rude to Mr. Fayose, as Governor-elect. Pro-Fayose's thugs had besieged the court premises as early as 6a.m., while a detachment of policemen from the police headquarters were also seen on major streets and around the court, providing protection for the hoodlums.
The fracas that engulfed Ekiti State that day scuttled the State's Governorship Election Petition Tribunal sitting billed to hold at the High court, Ado-Ekiti. Nothing has been heard of case ever. Justice Adeyeye of High Court 3, who was miffed by the huge number of the thugs as they surged towards the court premises had approached Mr. Fayose and urged him to prevail on "his supporters" to keep a safe distance from the court premises. But an enraged Fayose shouted the judge down. Immediately, thugs numbering about 20 pounced on Justice Adeyeye, beat him up and tore his clothes, while his co workers scampered and shouted for help. There were claims that Mr Fayose personally slapped the judge.
A similar scenario had played out a week earlier when suspected PDP thugs stormed the high court premises, attacked the trial judge, some litigants  and judicial workers in the bid to  prevent hearing in a case to determine Mr. Fayose's eligibility for the June 21 governorship election.
The case in question bothers on the eligibility of Governor Fayose. The 1999 constitution has disqualified persons like Ayo Fayose, having being indicted and impeached as governor in less than 10 years.  The e-eleven asked the Ado Ekiti High Court to determine whether Mr Fayose is barred from being presented/sponsored as the gubernatorial candidate of the PDP on June 21, 2014 Ekiti State Gubernatorial Election, having been indicted/found guilty for gross misconduct by a validly constituted administrative panel as provided for in Section 188(5) of the 1999 Constitution (As Amended).
The saying that power corrupts, and absolute power corrupts absolutely cannot be  more current. Last week, the speaker of the Ekiti State House of Assembly, Hon Adewale Omirin and his deputy, Hon Tunji Orisalade were removed from their respective positions by seven members of Peoples Democratic Party (PDP) caucus of the House, out of the 26 members! The impeachment came less than 24 hours after the lawmakers affirmed that the embattled Omirin remained their speaker and that they have no plan of impeaching him. In their place, the protem speaker of the Monday's sitting, Hon Dele Olugbemi (Ikole II) and Hon Abeni Olayinka (Ado II) were elevated to occupy their respective seats.
The Ekiti House infamy came almost the same time the Federal House of Representatives' Speaker, Aminu Tambuwal was prevented from entering the Hallowed Chambers by the Nigeria Police on the order of President Goodluck Jonathan. This is the first time in a democracy the nation's constitution is left in the hands of the Nigeria Police not only to interpret, but to assume executive power in another arm of government. Shamefully, the Nigerian Police allowed PDP lawmakers seamless entrance into the chambers, while the opposition party lawmakers were prevented from entering the same House. Suleiman Abba, the Inspector General of Police in his crassness has turned the nation's constitution into police gazette and ultimate lawgiver.
There is a reason I should think we are approaching a tipping point of state collapse but for the Nigeria Bar Association, NBA. According to the association, the selective treatment of some of the lawmakers on the day of the incident "raises doubt in respect of the authenticity of the alleged security reports. The implementation of the security measures also lacked transparency and good faith." It also condemned the attitude of some of the lawmakers who scaled the gate of the National Assembly, saying "their acts raise serious questions about the character of persons we elect to represent us and constitute a serious embarrassment to our Country.
"As we approach the 2015 General Elections, all our politicians must not engage in any conduct capable of truncating our nascent democracy. "Political differences may exist but must be resolved with civility and in accordance to law. Our collective interest as Nigerians must not be sacrificed for personal interest."
The NBA urged political leaders to always conduct themselves maturedly and responsibly, adding that "their acts raise serious questions about the character of persons we elect to represent us and constitute a serious embarrassment to our country.
"As we approach the 2015 general elections, all our politicians must not engage in any conduct capable of truncating our nascent democracy. "Political differences may exist but must be resolved with civility and in accordance to law. Our collective interest as Nigerians must not be sacrificed for personal interest", the statement reads.
If this is not democracy by another name, it it left for President Jonathan to tell Nigerians what it is. Little wonder that the PDP national leadership backtracked after condemning the opposition lawmakers who scaled the fence to prevent the PDP lawmakers from impeaching Hon Tambuwal. I have said this elsewhere that the impunity that has become the air President Jonathan administration breaths is as a result of people like Olisa Mentu, the PDP scribe, who speaks before he reasons.
In a deductive streak, the Department of State Security Service invaded the All Progressives  Congress, APC office in Lagos, smashing, destroying every item in the office including APC membership database in a Gestapo's manner. The nation's secret security service who could not tame just two Boko Haram's suspects in their den, who disarmed and killed a few of them in their Abuja Headquarters has suddenly find its rhythm and power. "A petition was received by this service about some activities at No. 10, Bola Ajibola Street, Ikeja, Lagos. The petition alleged that those behind the activities were cloning INEC permanent voter cards, with the intention of hacking into INEC database, corrupting it and replacing them with their own data.
"Based on this information, the service placed the building under surveillance and having been convinced that some unwholesome activities were going on in the building, it undertook a raid of the premises. "In the process, some persons were arrested, three hard drives and 31 Ghana-must-go bags of hard copy documents were recovered and taken away for further investigation. It must be noted that the said location had no signpost indicating whether it was a private or government office", DSS said.
The destruction of the opposition party's membership database by security men is an exhibition of impunity and absolute power carried too far and a scandal that can best be compared with the Watergate Scandal of the United States of America that led to the resignation of the country's president, Richard Nixon in 1974.
To say the least, it is an act of fascism and totalitarianism. Mr Jonathan proclivity to impunity may not be as legendary as those of Adolf Hitler and other demented dictators. But Nigerians should not underestimate the length President Jonathan's lost for power can go.
Now, the APC has said apart from the Lagos centre, the operation is decentralized and similar centres are functional in about six different locations around the country. Shall we await similar invasion in those centres? Can we hazard what will happen in 2015 if the creeping fascism of Jonathan administration remained unchecked? Can President Jonathan and his government still tell the world it is ready for free and fair elections in 2015?
I am the least surprise at President Jonathan's antics and his fascist method. Over the ages, when third world rulers are getting unpopular and they still wish to continue against all odds they resort to all forms of banality. This is the kind of thing you get. From laying siege at the Ekiti High Court to beating up judge the following week; invasion of national assembly to impeaching Ekiti speaker with 7 members out of 26, invasion of opposition ICT office within a space of few weeks.
To make matter worse, President Jonathan was celebrating his birth in London while the nation burns! What a farce? How come a British Prime Minister has not come to Nigeria to celebrate a thing, you may ask? That is how far removed – evasive – President Jonathan is from the nation he governs.
Erasmus Ikhide wrote in from Lagos, Nigeria.
Tell: 23480 5622 5515
Follow me on tweeter @ (erasmusikhide)