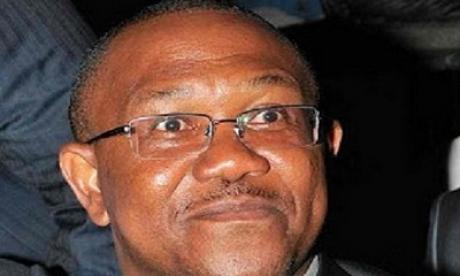 Obi's response to Bianca Ojukwu's obliteration of his political future, published in the Sun newspaper of October 22nd, 2014 needs to be understood in all its ramifications. By his own account, he fulfilled all the promises made to Ojukwu. He must have laughed his head off when he made the statement. Did the promise include abandoning APGA Igbo agenda for a ministerial job? Did the promise include trying to create a wedge between the presidency and APGA? Did it also include absolute financial disrobing of Willie Obiano's APGA administration?
He displayed some intelligence when he asserted:
"LOYALTY TO A CAUSE DOES NOT CHANGE WITH A CHANGE OF PLATFORM"
A very fine escape route, for starters, one cannot serve two masters at the same time. How does his quest for a ministerial appointment relate to greater Igbo agenda envisioned by Ojukwu which APGA represents?
He contended that he installed Willie Obiano. Installation ought not to be the right word. Peter Obi simply land-mined Willie Obiano and made him out to be the American equivalent of "A Fall Guy" with two goals in mind. To protect his dubious transactions and at the same time imprison Anambraians to still regard him as God's gift to Anambra State. The fact Peter Obi knows how to navigate commodities and substances from one country to the other, including making any means of exchange clean and acceptable to the whole world does not mean that he is the smartest Igbo man.
Obi again did not help matters when he tried once more to reap from the brand called "OJUKWU" by contending the following:
"………………..Ojukwu had advised me to continue supporting Jonathan for reasons the late APGA leader made clear to him"
Total nonsense, there is absolutely no difference between the above self-interest motivated flying the kite statement and the one of: "This is my Last wish, vote for him." A statement made by Ojukwu under tremendous challenge of age and health. Could he not have supported Jonathan through APGA platform? Is he not trying to make it appear as if APGA was against supporting Goodluck Jonathan in 2015 and hence his decision to decamp? I just do not know why Obi is relentlessly trying to blindfold the presidency into believing that he is the only supporter in the South East.
On the position of not responding to the issue of his decamping again, I agree with him because all the enabling facts are now before the Igbos and nobody wants to subscribe to dressed-up responses again. Did he betray the Igbos? Did he betray Odumegwu Ojukwu? Does he have a dual personality? Where does he fit into the stretch of integrity and honour? Igbos now know.
His arrogant description of other comments over the incident as frivolous with the exception of Bianca's is very disrespectful to all the Igbos that subscribed to the commentators thought.
I am saying these to Peter, eyeball to eyeball, that the comments came from people that are comprehensively more educated than him, people that has pronounced surname in Igbo land before the geometric advent of the name "Obi", people that could have been the governor of Anambra State if Odumegwu Ojukwu had opted for any of them, people that would not have maintained a dual personality with Ojukwu and people whose wealth history does not require a microscopic examination in terms of origin, people like the owner of Upper Class Hotel, where Peter Obi's mother enjoyed credit supplies of liquor in the 70's and early 80's from the father, as the salary earned by Obi's rank and file police officer father can do very little. Bonaventure Chokwebundu Mokwe, yes "Mokwe" of the 50s till date is one of such people. In the 50s, drugs and money laundering was not known in Nigeria. It was a period when people like my late father, Chief G. C. Mokwe acquired their wealth through arithmetical progression and not N10 – N2 = N3.5m.
Chief Bonaventure C. Mokwe
(OBIRIDIKE UMUCHU)
APGA Chieftain
Aguata L.G.A.