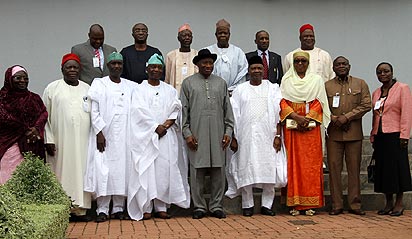 The delegates at the ongoing National Conference on Wednesday called for stringent measures to tackle endemic corruption in Nigeria with many calling for capital punishment to be imposed on any corrupt public official.
A Benue State delegate, Maj-Gen. Geoffrey Ejiga, in his presentation at the plenary yesterday noted that corruption had been the clog in the wheel of progress Nigeria and recommended that capital punishment be introduced to stem the tide of the cankerworm.
According to him, it was reported that in 2005 alone, about 450 million US Dollars was stolen by public office holders in Nigeria.
He disclosed that China, has been able to attain economic height today because of zero-tolerance to corruption, adding that China publicly hangs corrupt officials and the country is better for it. "We can do the same."
Ejiga, equally, urged the conference to come up with solution to the problem faced by minority groups in Nigeria.
Delegates also called for the removal of immunity clause that protects the sitting president and governors from prosecution, arguing that everybody must be accountable at all times to Nigerians.
A former Governor of Ebonyi State and ex-Minister of Education, Dr. Sam Egwu, in his contribution, said the problem of Nigeria was the conspiracy of the elite, adding that there was need for national reconciliation and rebirth.
He said the country is running an unfair system that creates opportunity for those in authority to amass wealth to the detriment of the common man.
"We have listened to numerous lamentations; lamentations about our country. We are running a federal system and yet we do not adopt the tenets of federalism. I don't know whether we are running unitary at the federal level. We have an unfair system but at the roots of all these problems is the Nigerian person," he said.
Also, former Inspector-General of Police, Ibrahim Coomasie (IGP), from Katsina State, called for patriotism and good leadership in order to move the nation forward.
Coomasie who is also the Chairman of Arewa Consultative Forum, commended the inaugural speech of President Goodluck Jonathan and urged delegates to work together in the efforts to make Nigeria better.
While also calling for electoral reform, He said: "We need to be patriotic and serious. We have already spent 100 years since amalgamation. What we need now is good leadership, which must emerge through transparent and credible elections.
"All the leaders that will also emerge must be servant of the people and not masters. They must live by example, assuring justice, fairness and equity in all their dealings. Leaders must also discharge their responsibilities of providing security and welfare of the people," he said.
The issue of insecurity threatening the corporate existence of the nation was also harped on by the delegates, with some calling for restructuring of the Army, Police and Department of State Security (DSS) and others to make them responsive to the emerging security challenges Nigeria is confronted with.