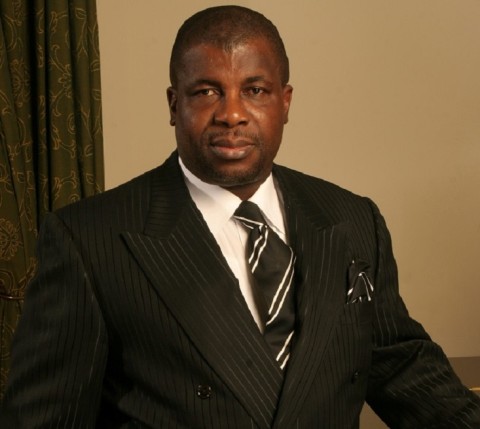 > The time has come for our Oraifite people in Ekwusigo Local Governement Area of Anambra State to face up and confront Wilson Orakwue
> Offor, our government contractor son who prefers to be called Emeka Offor, in a desperate bid to disguise his identity. This is a man that should be baptized with the name
> "fraudulent". This is a man his date of birth is
> fraudulent; he claims to be 55years whereas he was born in 1955 (which means he is actually 59 years). His Knighthood is fraudulent; he is an Anglican
> Knight, yet he has three wives. His name is fraudulent, his
> name is Wilson Orakwue Offor, but he intimidated and stole
> his own brother's name, thus he now goes everywhere with the name of Emeka Offor. His
> businesses are fraudulent; due to the fraudulent nature of
> his businesses, he runs them down. Afex Bank Plc has
> collapsed; Chrome Air has collapsed, Global Scan System has
> collapsed; Guinea Insurance is now sinking. His involvement
> in politics is fraudulent, he is a bigwig of the ruling Peoples Democratic Party (PDP), yet
> during the November 2013 Anambra gubernatorial election, he voted for the rival All Progressives Grand Alliance (APGA). This is a man who does not believe in fair game. He
>  always scams, steals and intimidates. His is pathological.
>
> Our most dubious son, Wilson Orakwue Offor alias Emeka Offor, is the Chairman of
> the Board of Directors, Guinea Insurance Plc. This Insurance
> company is in a serious financial problem, the last time
> that dividend was paid to shareholders was in 2009, when it
> paid a meagre 1 kobo per share to the shareholders. The
> last bonus share was paid in 1997. From 2011 to 2013, this
> Insurance company used a reasonable percentage of its earnings
> for paying fines and penalties to regulatory authorities and
> to agencies such as the Securities and Exchange Commission (SEC),
> National Insurance Commission (NAICOM), Nigerian Stock
> Exchange (NSE), and Corporate Affairs Commission (CAC), for
> various offences. His Insurance business is fraudulently
> managed.
>
> My dear brothers and sisters of Oraifite, our most dubious son donated in the middle of last year one million dollars to
> Rotary international, while the employees of Chrome Oil
> and Global Scan System were roaming the streets of Abuja ,
> Lagos and Port Harcourt looking for jobs. Our gladiator has
> not paid monetary entitlements to his staff. Anyone who has
> business dealings with Orakwue Offor is in tears. Liyel Imoke, the
> Cross Rivers State governor, is crying; National Integrated Power Project (NIPP) officials are
> crying; Nigerian Gas Company  (NGC) officials are crying
> because our dubious Emeka Offor has abandoned the NIPP Gas
> plant contract awarded to him in 2005. This contract was
> valued in billions of dollars. These are fully paid
> contracts left in a shambles. Many of them were not up to 10% completed.
Our so called Emeka Offor has left Calabar, the
> tourism center of Nigeria, to be shrouded with uncertainty
> and in darkness.
>
>
> Just very recently, Orakwue Offor strenuously lobbied
> through Senator Pius Anyim, Secretary to the Federal Government,
> to be counted among the 100 people who would be honoured during
> Nigerian Centenary Celebration.
> Emeka Offor was instead ignored and snubbed by members of the
> Presidential Committee on Centenary Celebration, after they
> find him irresponsible and unreliable.
>
> When he found out that he was not wanted at the Centenary
> Celebration, he fled Abuja on the eve of the
> celebration. He went to our village of Nkalafia, Irefi in Oraifite. He participated
> in the concocted inauguration ceremony of polio vaccine at
> Nkwo-Edo market at Oraifite. This event took place on
> Saturday, March 1,2014. Shamefully, the inauguration ceremony was
> a "no show". Attendance was very poor. Oraifite mothers
> refused to take their children to the polio vaccination event. They reasoned that Oraifite is not known
> for polio decease. They did not
> trust the man, Orakwue. Emeka Offor has a record of
> persistently intimidating and frustrating others who would
> want to contribute positively to Oraifite. Oraifite Town traditionally abhors practices not anchored on the philosophy of "live and let live" which they summarise in the Igbo language as "egbe belu, ugo belu".
>
> Our people now wonder how offor and his accomplice in crime, Alusi Sunday Igboanozue, now feel after the release of Agu-Ugor, Ifeanyi (Ekpe) & Chinedu, given that they boasted several times in public that these fine gentlemen would die and rot in police detention? Our people query Orakwue Offor and his partner in crime: What have you proven to Ogbodu and to
> umu-mmuo? Did you achieve anything from your dastardly act?
> Will you participate at the funeral rites of Joy, Sunday's sister whose death has been traced Sunday? Do you
> know what "ibe-nne" means? Before you become completely
> mad, can you now see that you cannot wrestle with Udene?
> Alusi Sunday and Orakwue, you are no match to Ani Oraifite.
> I hope you do realize that our fights have not begun yet.
> Umu mmuo are still warming up.
>
> Alusi Sunday, I hope you witnessed the jubilation and
> celebration at the Ezumeri Hall and at Ozuda, Ezumeri on
> March 1, 2014. There was jubilation everywhere when Ekpe entered
> Ezumeri Hall; the people were dancing at Ozuda, praising
> Olisa and cursing Alusi Sunday Igboanuzue and Emeka Offor.
> Can you now see that umu Oraifite don't love you? Your
> money cannot buy you love, joy or freedom. You are shackled.
Mike Ofiaeli holds the prestigious traditional title of Udene Jelu Akwukwo of Oraifite in Ekwusigo Local Government Area of Anambra State.